For the sustainable, green workspace of your dreams, start with eco-friendly office supplies.
Well, you're a remote worker now. Look around you. Take stock of the splendor of your professional domain. Gaze in wonder at your steam-powered printer; witness the Amazonian stack of blindingly white paper. Swell with pride at the bouquet of Post-it notes that blossoms from your desktop to the kitchen window and across the impassable jungle of power cords and all the way up the refrigerator. Then ask yourself: "Is this the best eco-friendly home office I can do?"
Then cringe in the inky depths of the Stygian darkness that is your carbon footprint.
You're the Office Manager Now
The sad truth is your head is adorned with a Seussian hat stack: You're the office manager, you're HR, you're the safety guy, you're the janitor and you're IT. Most worrisome, you're in charge of ordering supplies and furnishing this home office paradise. Or best of all. Now that you're in charge, you can finally put together the sustainable, green, eco-friendly home office of your dreams.
Starting With Paper
The best sustainable home office begins reclaiming its eco-footprint by taming the paper tiger. How much you print, of course, depends on how you work. We're all different, and you might be a low-printing person while your co-worker across town prints every email in triplicate. Either way, choosing sustainable copy paper and green printer paper lets you do your part in fighting ecological erosion.
The Best Sustainable Home Office Printer Paper
After exhaustive research, Analog Attorney's vast team of qualified ecological professionals has pinged three producers for their philosophy, their impact and their product. You can trust that these paper companies produce high-quality paper with minimal environmental damage.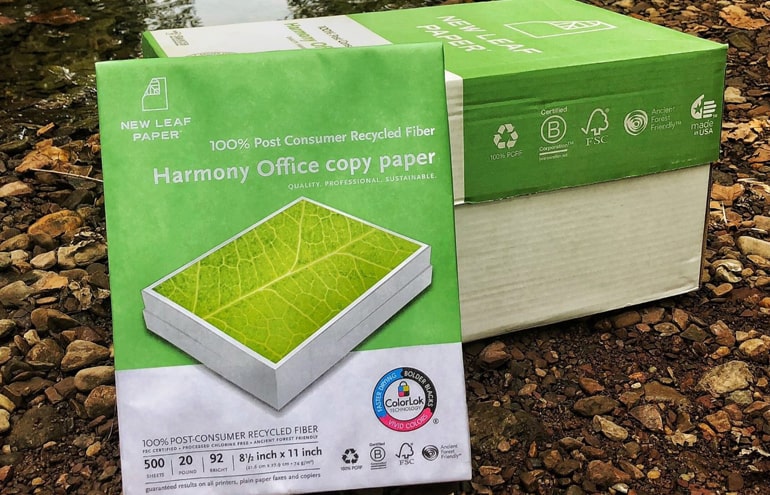 New Leaf
A lot of companies are selling reams of paper labeled as eco-friendly. For Analog Attorney to promote them, the company had to do more, and New Leaf sets the standards for steering the impact of paper production. The company is a certified B-Corporation (meeting the highest standards of verified social and environmental performance). It is certified Ancient Forest Friendly by Canopy, and New Leaf's chain of sustainability has been studied by SCS Global Services, which checks and verifies standards for sustainability. They're Forest Stewardship Council approved, use 100% post-consumer paper, and are a certified woman-owned small business. Their paper uses Colorlok technology so even though it is either recycled or post-consumer paper produced, it prints colors vividly. A basic ream is 500 sheets of 20-lb. bond paper with a 92% brightness rating. Price: $11.99 per ream.

Boise Paper
Boise paper targets sustainability in three ways: social, economic and environmental. The company supports sustainable practices for the production of its paper, plants new trees, and funds literacy programs. They have foresters on staff and are members of the Sustainable Forest Initiative, Programme for the Endorsement of Forest Certification. The Boise Aspen products are reams of recycled paper and offer non-jamming, top-of-the-line paper for various office uses. Price: $58.29 for a 10-ream carton (5,000 sheets) on Amazon.
EcoPapers Tree-Free Printer Paper
Disclaimer: Analog Attorney has not used this product. EcoPaper sources the fibers for making its papers from post-agricultural waste and recycled post-consumer paper products and, yes, the paper is made from harvested banana plants, tobacco bushes and cigar manufacturing, or mango fruit waste. They are not bright white but instead clearly show the unbleached, raw threads and chips from source materials. They are weird, no doubt. And if you are looking for a perfectly unblemished chain of sustainable production, it's hard to guarantee the growers from which EcoPaper harvests bananas and mangos used sustainable farming methods. But you can't get further away from deforestation than not using trees to make paper. Their reams are wildly expensive and are included here for the sake of showing the laudable efforts various companies are making to find alternatives to forest-based paper production. Price: 100-sheet box of banana paper, $10.99; 100-sheet box of cigar paper, $19.98; 100-sheet box of mango paper, $16.98.
Other Paper Products for the Best Sustainable Home Office
Sticky Notes
A few companies are making erasable or whiteboard sticky notes. There's even an Indiegogo page for one of them. But Analog Attorney doesn't buy it. The value of Post-it notes lies in their portability and the ease with which you can throw them away as you burn through a SWOT party trying to figure out if it's worth it to keep Steve on as a junior assistant (it is not). But sticky notes are paper and there are a lot of them in the world, so sustainable production would be welcome.
Fortunately, two companies have stepped up to offer three worthy versions for your best sustainable home office.
Post-its Greener Notes
The inventors of the ubiquitous sticky note recognized the call for greener production, so they launched Post-it Greener Notes. They are made with the remarkably precise measurement of 67% plant-based adhesive and 100% recycled paper. They are not only made from recycled paper, but they're also 100% recyclable. Price: $8.99 for six 3×3 pads.

Onyx & Green Sticky Notes
This company says they use raw materials such as jute, bamboo, organic cotton, cork, sugar cane by-products, and wheat straw along with recycled materials from newspapers to spend coffee grinds. They are an FSC-certified Canadian company and are beginning to own the green product lines on Amazon. However, their website doesn't offer much information about their processes. When it comes to vetting the sustainability of paper products, skepticism is probably wise. But the breadth of products and the top-notch reviews seem to indicate they do good work. Their sticky notes look exactly like any old sticky notes and seem like a good deal. Price: $4 for four small pads of 50 sheets each.
Productivity and Journaling Tools for Your Eco-Friendly Home Office
Journals and Day-timers
I use journals in my daily work to think on paper, as a long-term diary, and to write down what happened. I carry mine everywhere I go, along with my favorite pen because if I find myself out in the wild with a good idea and nothing to write it down on, I will go murder crazy.
Baron Fig
Regular readers know about my unnatural relationship with Baron Fig products. I adore them. However, I also respect them for their eco-friendly and sustainable practices and if you are trying to build the perfect green office with journals, you should give them a shot. Every purchase at Baron Fig is tallied toward their tree planting program.
Decomposition Notebooks
Despite my undying love for Baron Fig, I am developing a crush on Decomposition Notebooks both for their 100% post-consumer waste materials and their cool name. Also, for the purity of how they deliver on their premise. Their composition notebooks look just like the age-old standby for students and struggling writers, but with cool art and also, that whole sustainable business model thing. The Duck Duck Goose 160-page (80 sheets) Decomposition Notebook shown below is $10.99; a variety pack of 12 small notebooks is $45. Some styles, such as Cats in Space, are available on Amazon.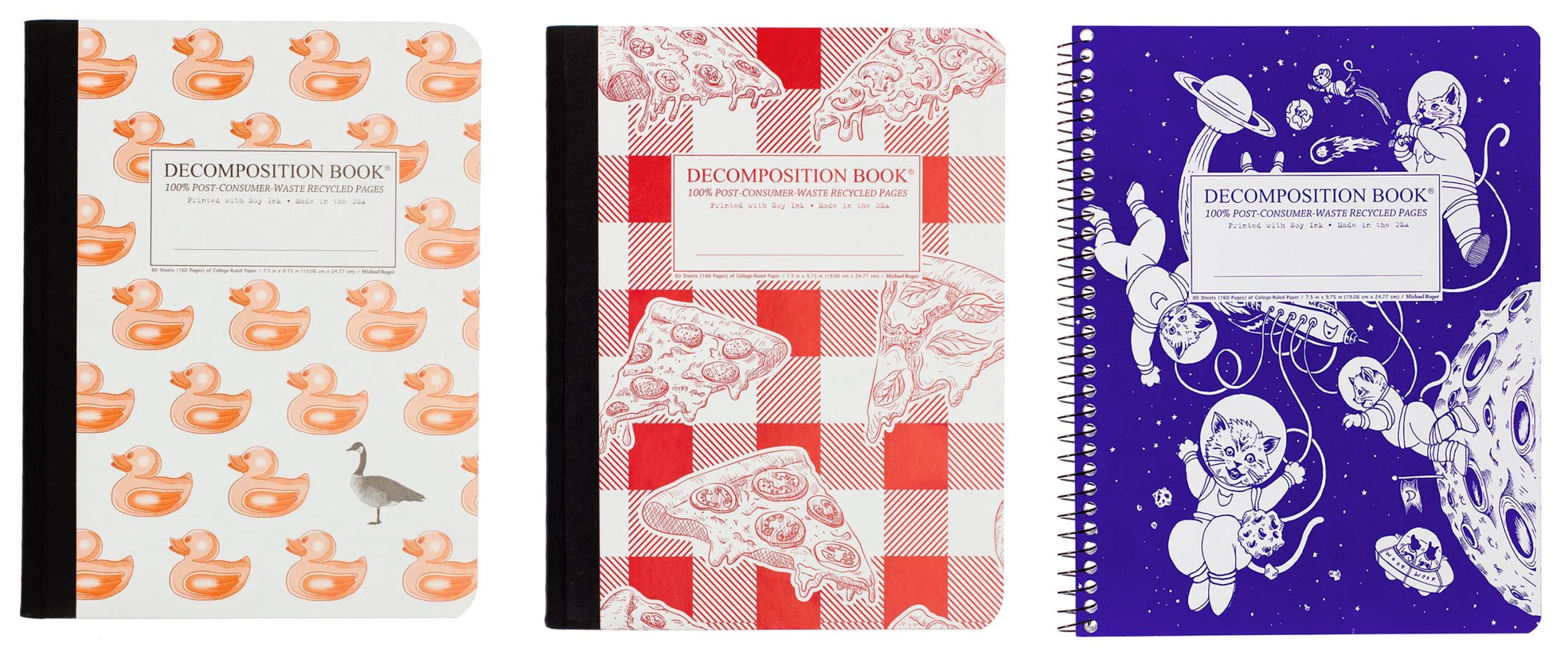 Karst Stone Paper
You can't get a more sustainable forest-saving paper than a paper that isn't paper. Stone paper is a rising material in the sustainable office supply world. The name is slightly misleading, as it makes you think they make this stuff in a quarry. It's made from calcium carbonate, which is the brilliantly white stuff some paper manufacturers coat their actual paper with. Someone figured out the coating could be made into paper (I am making this WAY simpler than it is) and, voila, stone paper. Karst is the best-known maker of journals, but more companies are catching up. Oxford makes stone journals, as does A Good Company. Karst journals are Euro-sized A-5 hard-cover journals of 144 pages that are the same thickness as 100 gm paper.
They're great for fountain pens, tear-resistant and, just to be clear, no trees died to make them.