TechnoLawyer publisher Neil Squillante has takeaways from the latest TechnoLawyer Top Products Awards.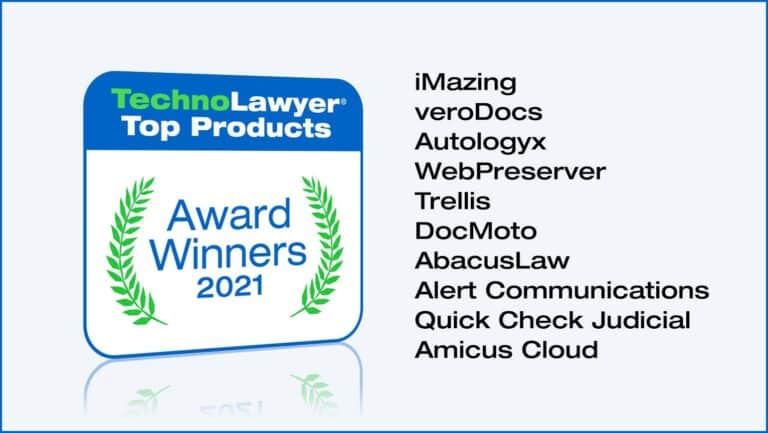 'Tis the season for legal technology predictions, which are entertaining but seldom useful. I prefer looking back because recent history — actual events — can often predict what lies ahead. For example, Attorney at Work's Top 20 Articles of 2021 captures the zeitgeist of what's on the minds of small law firms.
Yesterday at TechnoLawyer, we published our annual awards, aptly titled TechnoLawyer Top 10 Products of 2021. Chosen by the subscribers of our flagship TechnoLawyer newsletter, these awards serve as a buyer's guide and also reflect important trends in legal technology. I explore five in this article.
1. Smoking Guns Galore If You Can Defensibly Preserve Them
Social media and chat services have made it abundantly clear that many, perhaps most, people feel an irrepressible need to tell the world about … well, everything. With billions documenting their life from the banal to the audacious, these services have become a treasure trove for discovery. It's challenging to obtain a damaging admission during a deposition, but social media feeds and chat threads contain more admissions than a Taylor Swift confessional.
With the delete key a tap away, it's vital to defensibly collect this evidence while you can. Two TechnoLawyer award winners do just that.
DigiDNA's iMazing is an app for Mac and Windows that exports data from iPhones, including messages from Apple's iCloud and Meta's WhatsApp. These two services encrypt all communications and lack a web version so exporting directly from an iPhone is the only way to preserve this data.
Pagefreezer's WebPreserver is a Chrome extension that captures webpages, entire websites, and social media content from Facebook, Instagram, Twitter and YouTube. WebPreserver generates a certificate for authenticating this evidence in court.
2. Legal Research Tools That Find the Previously Unfindable
Legal research tasks used to fall into one of three groups with time as the limiting factor — doable by any law firm, doable only by large firms such as 50 state surveys, and impossible. Nowadays, any lawyer can buy certain 50 state surveys off the shelf. Even better, advancements in artificial intelligence have made previously impossible research tasks as easy as a Google search. TechnoLawyer award winners Quick Check Judicial and Trellis illustrate this important change.
Quick Check Judicial, available on Thomson Reuters' Westlaw Edge platform, gives you a judge's-eye view into your motions. Upload up to six briefs (three from each party) to generate an interactive report with potentially relevant cases not cited by one or both parties, citations that may have been implicitly overruled, incorrect quotations and more. One click lets you drill down to the source material in Westlaw Edge.
Trellis lets you search state court dockets to better understand your judge, opposing counsel and the opposing party by analyzing their historical record. You can also use Trellis to track cases of interest via email alerts. Trellis adds new states at a fast clip and will likely cover all 50 before any other dockets search provider, most of which focus on federal courts.
3. The Cloud Doesn't Always Mean You Need to Use a Web Browser
In the early days of cloud computing, I used to point to iTunes as a model cloud application because it provided the best of both worlds — online content in native Mac software. Web apps have come a long way since then but when working with Word documents and other files, desktop apps still have significant advantages because they can leverage technologies in the underlying operating system.
This may explain why DocMoto from CHL Software won a TechnoLawyer Top Product Award. DocMoto is a document management system (DMS) built for law firms. You can host your documents in the cloud (or on a local server) while using native Mac and Windows desktop apps to access those documents. These applications function like the macOS Finder and Windows Explorer but with advanced DMS features such as document check in/out, secure file sharing, and a client portal. DocMoto also integrates with Clio, Outlook, Gmail, and other products in which you often need access to your documents.
4. Practice Management Has Become So Big It's Getting Smaller in Focus
The practice management software revolution that began approximately 30 years ago has clearly succeeded with dozens of available products. Most of these offer the same core features. To differentiate, some software companies have decided to specialize and serve niches within the legal industry. This has paid off for AbacusNext as reflected in its two TechnoLawyer awards for AbacusLaw and Amicus Cloud respectively.
In 2020, AbacusLaw began offering Practice Management Suites — specialized features for certain practice areas such as family law, personal injury, business litigation, estate planning, etc. A key aspect of Practice Management Suites lies in the ability to automate document creation thanks to technology from sibling product HotDocs.
Around the same time, Amicus Cloud began using artificial intelligence to save users time. For example, it automatically tags and summarizes documents, and files them into the correct folder.
5. Automation Doesn't Only Save Time — It Creates More Billable Time
I mentioned at the outset the futility of most predictions but there's one exception to the rule — automation. Increasingly, lawyers realize they need to save time on unbillable tasks to bill more time on client work. Automation takes many forms but it all boils down to saving time.
TechnoLawyer award winner Autologyx is like Zapier on steroids. It enables you to connect the software you already own to create new streamlined workflows. For example, you could connect your DMS, e-signature software and email service to automatically email agreements to parties and file their signed copies when returned. If you can think it, you can automate it with Autologyx.
Fellow TechnoLawyer award winner veroDocs is a template management system that resides within Microsoft Word. These templates ensure document consistency across your firm. veroDocs also includes document assembly tools for using a data source to generate documents and apps for automating workflows such as filing documents into your DMS.
Rounding out the award winners, Alert Communications offers human-powered automation with its 24/7 bilingual answering service for law firms. Alert Communications goes further than call centers by covering all aspects of client intake, including responding to web chat inquiries, adding leads to your practice management system, and even securing signed retainer agreements from qualified prospects.
Congratulations to the TechnoLawyer Products Awards Winners!
The trend is your friend as they say. Embracing one or more of the above trends can save you time and help you better service clients this year and beyond. Congratulations to the winners of the TechnoLawyer Top Products Awards of 2021 and to their law firm customers for being ahead of the curve by using these award-winning products.
Illustration ©iStockPhoto.com
Subscribe to Attorney at Work
Get really good ideas every day for your law practice: Subscribe to the Daily Dispatch (it's free). Follow us on Twitter @attnyatwork.