Most of the software lawyers use is in the cloud — here are the benefits of transitioning to cloud-based law practice management software.
Lawyers have used software to help them practice law and run their firms for many years. The software lawyers have used since the 1990s has run the gamut, from legal research and dictation tools to software for word processing and legal billing. In other words, legal software has been used by lawyers to increase productivity and streamline their daily work processes for decades now.
The Rise of Cloud Computing
Until recently, the software that lawyers relied on to run their firms was premise-based. Now in 2021, cloud computing software is the most prevalent. In fact, even before the pandemic, lawyers were adopting cloud-based legal software at higher rates than ever before. According to the 2020 ABA Legal Technology Survey Report, 59% of lawyers surveyed were already using cloud-based software pre-COVID. Notably, the results of another survey conducted by MyCase in mid-2020, showed the social distancing requirements of the pandemic have only served to accelerate this trend.
The MyCase survey results showed that 76% of lawyers agreed that COVID-19 will have a long-term effect on the way their firm uses technology. Additionally, the vast majority of lawyers — 90% — reported that because of the pandemic, their firms were relying on cloud-based software to get the job done. Finally, 70% of lawyers agreed that as their firms continued to face uncertainty, cloud technology, including law practice management software, was paramount to their firm's future financial stability.
The reason cloud-based legal practice management software is so valuable to lawyers in 2021 is because it provides a secure, central repository for all case-related information. As a result, your firm's data can be easily accessed from any location by all attorneys and law firm employees.
More likely than not, like most law firms, your firm is already benefiting from having some functions in the cloud. Imagine how much more efficiently your firm would run after making the transition to a full-fledged law practice management system, thus enabling your firm to have the vast majority of its data easily accessible in a cloud-based system?
Benefits of Cloud-Based Law Practice Management Software
Interested in learning more about the benefits of running your law firm using cloud-based law practice management software? You're in luck! This very topic was discussed at ABA TECHSHOW 2021 during a presentation that covered the ins and outs of law practice management software. This presentation included an overview of many of the features offered by this type of software, with an emphasis on the value of the increased efficiency that it offers.
Below you'll find the visual notes from that session, which were sponsored by MyCase, along with three highlights from the presentation on the many benefits of law practice management software.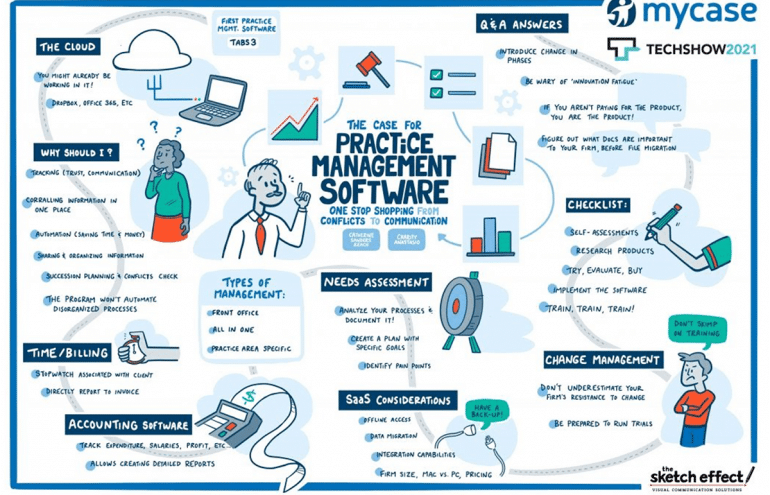 Easily Accessing Centralized Law Firm Data
At the outset, the presenters explained that one of the top benefits of cloud-based legal practice management software is that all law firm information is conveniently and securely located in one centralized location. The type of information that can be accessed using this type of software includes, among other things:
Some law practice management systems even include built-in e-signature capabilities, lead management tools, integrated email, and 2-way text messaging.
Another important benefit offered by cloud-based law practice management software is the ability to communicate and collaborate securely, even when your firm's workforce is dispersed. The presenters explained that secure, encrypted online client portals should be your communication method of choice. This is because with client portals, all discussions related to a case are grouped together and easily accessible using any internet-enabled device, 24/7, day or night. Importantly, these online conversations are less disruptive than a phone call and much more efficient. With the click of a button, you can receive and respond to messages from clients right in the software, allowing you to be a responsive lawyer – even when you're working outside of the office.
Getting Paid Promptly
The presenters emphasized the value offered by law practice management software's built-in time tracking and billing features, which make it easy to track time, invoice clients, and accept online payments. Instead of wasting time creating and sending out paper invoices, cloud-based legal billing features make it easy to quickly and easily generate electronic invoices using any internet-enabled device. Once created, the invoices can immediately be sent to clients electronically, who can then instantaneously pay their legal bills using a credit or debit card.
In other words, as long as your firm uses law practice management software with remote billing and accounting tools built-in, it's business as usual even when your firm's workforce is displaced from the office. Using this software, your law firm's billing processes are streamlined, making it easier for clients to pay their legal bills. In turn, this means that you firm will get paid quickly and reap the benefits of the hard work performed on behalf of your firm's clients. In other words, the ability to remotely track time, invoice clients, and accept online payments can make all the difference to your firm's bottom line and ensure your firm's continued success in the immediate future and beyond.
Choosing Law Practice Management Software
Finally, the presenters offered advice on choosing the right software for your firm. They emphasized the importance of ensuring that you fully understand your law firm's workflows. The next step is to figure out which features your firm needs in order to ensure the highest levels of efficiency. Once you've done this, you'll need to choose the legal software that is the best fit for your firm — one that will streamline your firm's processes and reduce redundancies.
To find that best fit, make sure that the software's features work the way your firm needs them to. According to the presenters, the best way to do this is to test drive the software. Most companies will offer a free trial, so make sure to take advantage of it. Similarly, take advantage of demos, webinars and training sessions provided by the software company.
Then, once you've settled on a specific platform, make sure to train your employees on how to use it. Otherwise, your investment of time and money will go to waste. So make sure that your employees are on board with your choice and then take advantage of the training webinars and tools offered by the provider. That way your employees will easily be able to get up to speed and feel comfortable with the software.
Get the Checklist
Those are just a few tips from this presentation that will help you to choose the right law practice management software for your law firm. If you're still on the fence and would like more advice, download this ebook: "Choosing Legal Practice Management Software – A Checklist and Guidebook for Small Firms."
---
MyCase is a complete, cloud-based law practice management solution for your law firm, providing the tools you need to collaborate and work remotely. With MyCase, all of your important case details – documents, contacts, calendars, emails, tasks, invoices, and more – are available anywhere with an internet connection in a single, organized location.
Additional connectivity features for remote work include built-in Client Intake, eSignature, Internal Chat, Text Messaging, and a Client Portal so neither clients or fellow staff are ever out of reach regarding case matters. With guided data migration and easy-to-learn functionality, MyCase makes it easy to get up and running quickly.
Illustration ©iStockPhoto.com
SPONSORED CONTENT. Product Spotlight showcases content provided by Attorney at Work sponsors and advertisers. This does not constitute an endorsement by Attorney at Work. See Terms and Conditions for more information.