Who are these "enterprising lawyers"? Actually, they are easy to spot. Look for the more engaged and happier lawyers in the crowd. Deeply invested in the power of the work they do for their clients, they have ample interests beyond the practice of law as well. And they seem to have more energy for getting things done than anyone in the crowd. You probably know one or two—you may even be one yourself! In this interview, we talk with Todd Flaming—a big-time litigator in a small Chicago firm. That's him in the photo below, in Canada with his dad and a couple of very big fish. 
Todd Flaming
KrausFlaming LLC
Chicago, IL
University of Chicago, J.D. 1993
Loyola Marymount University, B.A. 1988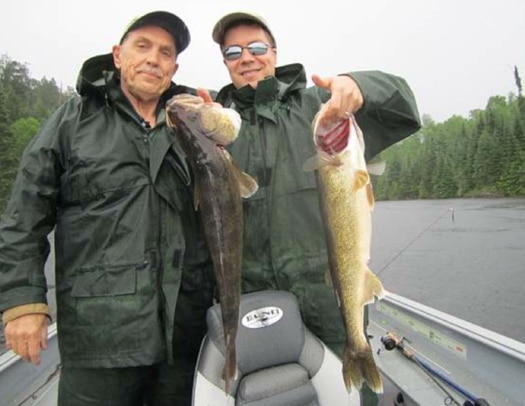 What is the focus of your law practice?
My partner Ken and I litigate business disputes. I handle patent litigation, mainly. Ken handles executive departures, which involve severance benefits, non-competes and trade secret issues. We both litigate the sorts of disputes most businesses face, including deals that go bad.
Why do clients hire you?
Largely our business comes from people who know us very well—either clients who have worked with us in the past or lawyers who know us and trust us with referrals. For some cases, I team up with other attorneys. For example, I get calls from patent lawyers with litigation matters for which they want a litigator with a broader base of experience. Our strengths as a firm are simple. Combined, Ken and I have four decades of litigating and trying cases around the country. Yet, we are able to bill at rates the best larger firms charge for mid-level associates.
Who was your mentor and, in a sentence, what did they teach you?
I can't answer that, because I never had a single mentor. I learned from almost every lawyer I worked with. Bill Schopf taught me that he who gets closest to the truth wins. Steve Weiss taught me how to run a case and law firm efficiently. Peter Baugher taught me about business development. Paula Litt showed me how to prepare a case strategy to win. Brad Nelson taught me how to lead a witness in a deposition. Cary Kappel taught me the Zen of patent law. Greg Smith taught me you can have a successful law practice and still go skiing. And my partner Ken Kraus has an instinct for litigation that is nearly impossible to match, so I learn from him all the time. The list goes on.
What about practicing law did you learn the hard way?
My first witness, in a small trial we did as a favor for the client, told me one thing and then backed away from it under oath. I still won the trial, but I had to resort to the law. People will give you their version of what happened, but you want the truth. So you have to grill and put the fear of God into your witness before he or she goes in front of a judge, jury or court reporter.
Why would someone call you "enterprising?"
We designed our operation to fill a particular market need. Give clients a way to have only very experienced lawyers handle a matter but at affordable rates. Our model provides clients the advantage of having the work handled by only two lawyers, each very capable and fully informed on the case. Contrast that with the traditional approach of having inexperienced lawyers do quite a bit of the work for most significant matters. With our model, clients pay for less time overall and the quality of output is uniformly high. We cut out aspects of a more traditional practice that would add to the cost. And we designed our own case management software to provide instant access to any case information, which improves our efficiency and organization. Our model enables us to do what we consider high quality work, but do it much faster and at associate rates. Our enterprising idea was to give clients that option. And it works very well.
What is the first thing you "check" each day?
Email. You have to check it all the time. In our business our clients need us to be there for them. We are their front line of defense or attack. There is no off-the-clock life for a lawyer who represents clients in serious matters.
What is your favorite technology tool?
Notepad. It's a small text editor available on any Windows machine. It has absolutely no bells or whistles. So you can do just about anything with it.
What is your favorite non-technology tool?
My favorite low-tech tool is still the trusty yellow pad.
How would you describe the décor in your office?
Simple and functional.
What are people most surprised to learn about you?
I'm known as a techie, but I don't use social media. I think it's a waste of time.
What do you use every single day that you could actually easily do without?
I use what I need and don't waste time or money on things that I don't. That same philosophy governs how we handle a case and how we run the firm.
What three things must you always have in your brief bag?
A yellow pad, a pen and business cards.
Where do you turn when things go really badly?
I am fortunate to have Ken as a partner. Ken is very good at assessing a situation and having the right instinct about how to handle it.
Where do you think the practice of law is going?
The practice of law has always been about the lawyer, not the law firm. A legal representation is a very personal relationship. You need to know and trust your lawyer. Large law firms are a necessity for an increasingly cross-border world of growing complexity. I expect that big firms will get much, much bigger, with offices in cities you've never heard of. But for matters that don't require that kind of representation, I see clients looking beyond the perceived safety of an established brand-name firm, where the billing rates are high and the people doing the work may never have talked to the client. I expect more work will go to lawyers who are on their own, after having spent a decade or two working at larger firms.
Where are you going?
We are where we want to be. We are small, focused on what we do best and (we joke) looking for a few good clients. We don't need and can't take on too much work. The clients who hire us are getting a very good deal, and we are happy and proud to represent them. We do work for companies who are household names and who work with the best large firms in the world, but who are also sophisticated enough to send some of the work our way.
More About Todd Flaming
Todd Flaming is a Chicago trial lawyer who represents companies in commercial cases, including complex disputes over patents, trade secrets and technology. His experience ranges from contract and tort claims to statutory claims, including patent infringement and Paragraph IV (Hatch-Waxman) litigation. He has handled trials, arbitrations, mediations, as well as class actions in courts around the country. You can read more about him and his firm at www.KrausFlaming.com and in this Chicago Lawyer magazine article.
We are always looking for enterprising lawyers. If you'd like to suggest someone to profile, send information to merrilyn@attorneyatwork.com.
More Enterprising Lawyer Interviews on Attorney at Work