In this MyCase guide, you'll learn the new standard for law firm connectivity, like client Intake, Internal communications, and more.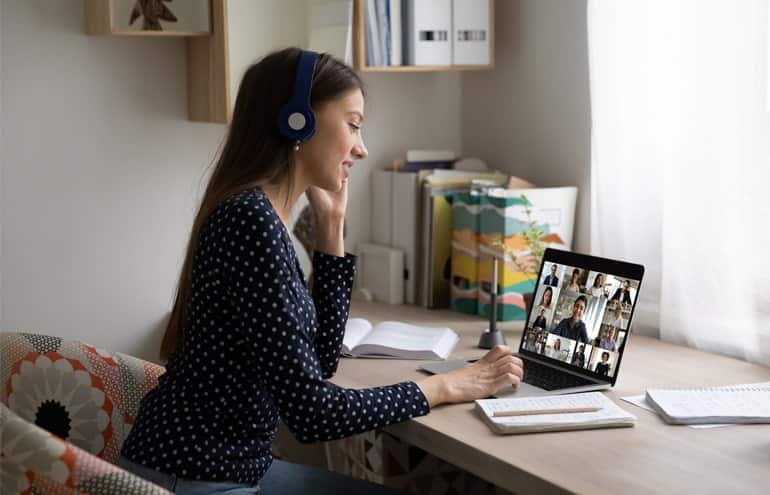 Law firms are in the midst of a remote working revolution. As a direct result of social distancing requirements and stay-at-home orders, interactions have been dramatically altered, impacting both the office setting and productivity of working professionals. This is especially true in the legal profession, where technology that connects staff members to each other and to clients virtually has become an absolute necessity.
Yet as the industry shifts toward software dependence, many legal professionals continue to rely solely on antiquated communication methods — like phone calls and emails — to stay in touch with stakeholders of their cases.
In this guide, you'll learn the new standard for law firm connectivity, highlighting Client Intake, Internal Communications, Obtaining Client Signatures + Countersignatures, and 2-Way Text Messaging tools designed specifically for law firms.
Client Intake
The demand for contactless options has risen steadily among legal consumers. Potential clients are doing their due diligence by researching attorneys online; they expect to contact lawyers through their websites and immediately provide intake information.
Digital intake forms reduced the time it takes my firm to onboard a client by 8 days.
— Jason Kohlmeyer, Kohlmeyer Hagen Law Office CHTD, MyCase Customer
Online client intake solves these problems and makes it possible for potential clients to retain your firm's services no matter what the situation. Having an option available for swift client onboarding can make your firm instantly more attractive to prospective clients with an urgent need for legal services.
Internal Communications
When your firm's workforce is dispersed across their homes or offices, keeping in close contact with fellow staff becomes difficult. Email alone as a means to communicate pressing case matters simply doesn't cut it; your firm's employees need a solution far more immediate in order to work as a unit effectively and efficiently.
Instead, look to communication tools, like internal chat, that can be integrated into the tools you're already using for case and matter management. Having a number of different built-in communication methods is a cost-effective option; it also provides a more secure, centralized system of record for all internal law firm communications.
eSignature
Wet signatures are no longer favorable in the legal marketplace. Obtaining one typically requires an office visit, risking the participants' health and causing unnecessary delays to perform a mundane task. Alternatively, you can mail important documents for signature, but that can take days or weeks. With in-person meetings becoming exceedingly less ubiquitous, it's expected that savvy businesses now offer online signature options for clients.
eSignature has become a standard practice in our firm.
— Brandon Osterbind, Osterbind Law, PLLC, MyCase Customer
Enter eSignature. Using eSignature, you can easily prepare and send documents to a potential or current client and then monitor the status of all outstanding signature requests. Upon receipt, the recipient can sign and return the document with just a few simple clicks, circumventing the costly delays associated with obtaining a wet signature.
Two-Way Text Messaging
Whether or not your team is operating out of your physical office(s), effective client communication is key. Clients need to be able to reach out to your firm and receive answers to their questions in a timely manner and in a format that fulfills their needs. Delayed replies to their inquiries can result in missed court dates and deadlines, unanswered questions, and can damage attorney-client relationships.
Text messaging is a great way to communicate with clients who don't otherwise use email.
— Erika Longanecker, Tri-Cities Family Law, MyCase Customer
Text messaging tools allow you to quickly update clients via a connectivity method they're comfortable using in their everyday life, without needing to circulate your personal cell phone number.
MyCase for Law Firm Collaboration
On their own, these four solutions are a big step toward bridging the connectivity gap between firms and their clients and staff. However, when communication tools such as these are built into your law firm's law practice management software, your firm will experience higher productivity, tighter collaboration, and an increase in billable hours — no matter where your employees or clients are located.
MyCase is a complete, cloud-based law practice management solution for your law firm, providing the tools you need to collaborate and work remotely. With MyCase, all of your important case details – documents, contacts, calendars, emails, tasks, invoices, and more – are available anywhere with an internet connection in a single, organized location.
Additional connectivity features for remote work include built-in Client Intake, eSignature, Internal Chat, Text Messaging, and a Client Portal so neither clients nor staff are ever out of reach regarding case matters. With guided data migration and easy-to-learn functionality, MyCase makes it easy to get up and running quickly.
Illustration ©iStockPhoto.com
SPONSORED CONTENT. Product Spotlight showcases content provided by Attorney at Work sponsors and advertisers. This does not constitute an endorsement by Attorney at Work. See Terms and Conditions for more information.