Trying to navigate long PDFs can be easier said than done. All too often, we're left to scroll endlessly, skim page thumbnails, or search the text for the section we need. That's where PDF bookmarks can help, giving readers one-click access to each section of the document.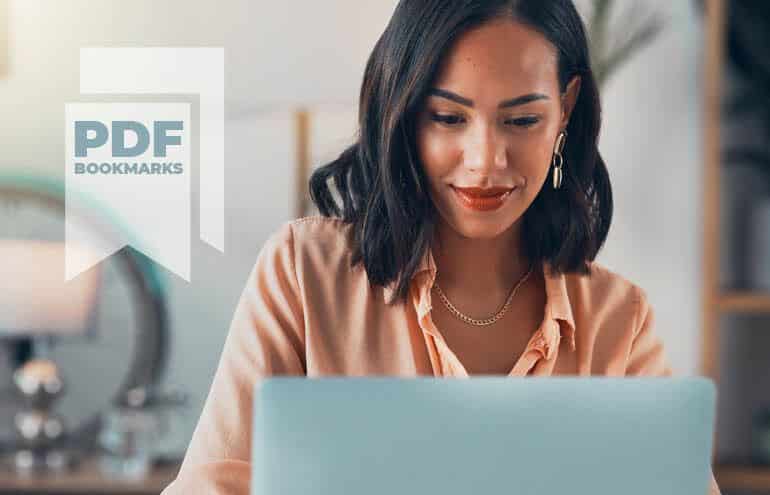 The following tips, adapted from Affinity Consulting Group's "Adobe Acrobat for Legal Professionals," show how to use bookmarks to make PDFs user-friendly.
Bookmarks Improve Navigation
Bookmarks make it easy to navigate long PDFs. Open the Bookmarks panel and click on a heading to be taken directly to that section of the PDF. They work just like the Navigation pane in Microsoft Word. You'll find the Bookmarks panel on the left-hand side of your PDF. If you don't see any icons to the left of your PDF, click on the arrow to expand the panel area and reveal the panel icons.
Once the panel icons are showing, click on the Bookmark icon to show the document's bookmarks (if any).
You can set up bookmarks for the title page, table of authorities, table of contents, exhibits, headings, and more throughout the PDF.
Create Bookmarks Automatically
Manually adding bookmarks, however, can be a tedious process. In fact, I don't recommend it except as a last resort. Instead, let Acrobat do the work for you when you create the PDF.
How you create PDFs matters. If you're creating a PDF based on a Word document, it's best to create it directly from Word. PDFs created directly from Word have a smaller file size and are higher quality than PDFs created by scanning paper.
When you scan a piece of paper, the scanner takes a picture of it and saves it as a PDF. This results in a larger file size. Further, while you can make a scanned document text searchable, Word documents converted to PDFs are automatically text searchable.
Creating Bookmarks From Word Styles
Acrobat can automatically create bookmarks from your headings when you convert the document to a PDF if you use styles to format your documents. If you aren't using styles to format your documents, I can't recommend them enough. Creating bookmarks is just one of the many benefits of styles. You can learn more about styles here: "Four Steps to Taking Control of Document Formatting With Microsoft Word Styles."
Once your document is formatted using styles, you need to tell the Acrobat Word add-in which styles to use when creating bookmarks. You'll most likely want to create bookmarks for any heading styles.
Click on the Create Adobe PDF Preferences button on the Acrobat ribbon in Word.
Navigate to the Bookmarks tab and check the box to Convert Word Styles to Bookmarks.
Then, select the styles you want to use for bookmarks.
The Heading 1-9 styles are typically selected by default.
If you use Word bookmarks, you can also create PDF bookmarks based on the Word bookmarks.
Once you've told the Acrobat add-in which styles to use, you need to create the PDF using the add-in. From the Acrobat ribbon in Word, click on Create PDF. Note: If you create the PDF by printing to PDF or using Word's native creation abilities, it won't honor the settings you selected from the Acrobat ribbon.
Creating Bookmarks When Combining Files
When combining files into a single PDF, Acrobat can automatically create bookmarks for the first page of each file. For this magic, you'll need to combine the files using Acrobat's Combine function.
There are multiple ways to access this feature, but the easiest way is from Acrobat's File menu. Under Create PDF, select Combine Multiple Files into a Single PDF. Add the files you want to combine, then click on the Options button in the Combine Files toolbar. Check the box to Always add bookmarks to Adobe PDF to create a bookmark with the file name linking to the first page of each file.
Editing Bookmarks
Having Acrobat create bookmarks can save a ton of tedious work, but you may still need to clean up some bookmark names. Right-click on the name of a bookmark to rename it. You can also drag and drop them to reorder them or nest them.
Automatically Show the Bookmarks Panel
Adding bookmarks to a PDF only makes it easier to navigate if people reading your PDF know to open the Bookmarks panel. Make it easier on your readers by setting the Bookmarks panel to automatically open when the PDF is opened. This is a file-specific setting that travels with the PDF.
From the File menu, click on Properties. To show the Bookmarks panel automatically, go to the Initial View tab. Change the Navigation tab dropdown to Bookmarks Panel and Page.
While you're in Properties, double-check the Description tab. Depending on how the original document was created, you might have an inaccurate title or author listed here. You can either delete that information or update it.
About Affinity Consulting Group
Affinity Consulting works with law firms and legal departments on strategy and technology engagements that help them create a great place to work and deliver excellent services to clients by improving how work gets done, aligning their stakeholders, while focusing on profitability.
©iStockphoto.com

Don't miss out on our daily practice management tips. Subscribe to Attorney at Work's free newsletter here >