In their best-selling book Time Management for Attorneys: A Lawyer's Guide to Decreasing Stress, Eliminating Interruptions & Getting Home on Time, Shawn McNalis and Mark Powers offer strategies to manage your scarcest resource. Here, Shawn explains how to use one of the "key time template blocks" described in the book. Using it can help you beat back constant interruptions and get more out of your day. 
Attorneys are most productive when allowed to focus on their work without constant interruptions. To accomplish this, we recommend that you schedule three important time blocks into something that we call the "Three-Part Power Hour." Here's the formula:
The first time block is spent meeting with staff.
The second part, the power hour itself, involves going behind closed doors and focusing on production.
The third part, returning phone calls, happens after production time, and allows you to return calls from clients.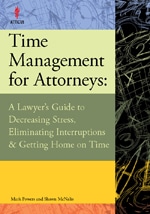 Most people report that they are the freshest and most able to handle their complex work first thing in the morning. So, ideally, schedule your power hour in the morning, before the challenges of the day set in. If you often go to court in the mornings, block out your mornings as court/production time. If you can't manage to schedule production time in the morning, late afternoon is the next-best time.
Meeting with Staff
The first part of the three-part formula focuses on meeting with staff. The purpose of this meeting is to answer questions and to delegate items. A key strategy here is to instruct staff to group all their questions together and for you to delegate tasks at this meeting. We call this technique "batching"—the theory is that grouping questions together increases the efficiency of getting them answered with the fewest interruptions.
Many of the attorneys we work with meet staff members for 15 or 20 minutes in a quick "huddle" to talk about the goals for the day, to give quick direction, to answer batched questions and to delegate tasks. Some attorneys make this a half-hour or an hour-long meeting because they are supervising many files that have quick turnaround times. Use your own judgment on how much time this meeting must take. In this way, you train the staff to batch their questions and save them for this meeting, thereby preempting many interruptions.
Focusing on Production
The purpose of this part of the power hour is to set yourself up for one to three hours of production without interruption, behind closed doors. This is your private time of intense, concentrated production. Plan to spend this time very wisely. Schedule yourself to focus on the most important, A-level, non-delegable work you have.
Returning Phone Calls
The final part of the three-part formula, returning phone calls, is designed to help you learn how to get work done and still maintain the illusion of accessibility. This is when you return the phone calls that have come in while you were "in production." Your assistant or call screener should have made call appointments for you while you were behind closed doors. We suggest instructing the screeners to make the appointments at 15-minute intervals, if possible, depending on how much time the client says they will need. Getting back to clients within an hour or two of when they call maintains the perception that you are available while still allowing you to focus on production without interruptions. It's the best compromise we know of when trying to be both productive and available for your clients.
Shawn McNalis is a Senior Practice Advisor, Curriculum Director and trainer for Atticus, a practice management education and training organization for attorneys. Along with Mark Powers, she developed and wrote "The Rainmaker Program," the marketing manual used by Atticus clients, and an abridged version published by The Florida Bar. They also co-authored Time Management for Attorneys: A Lawyer's Guide to Decreasing Stress, Eliminating Interruptions & Getting Home on Time. Shawn is currently at work on How Good Attorneys Become Great Rainmakers.
Subscribe to Attorney at Work
Get really good ideas every day: Subscribe to the Daily Dispatch! (No charge … lots of updates.)