Sharing your device's built-in whiteboard through Zoom is a royal pain. Why not add a wall-mounted whiteboard in your home office? Here are some picks.
Whiteboards are ubiquitous in office meeting rooms. Which doesn't matter, since most of us haven't set foot in a meeting room in months — and might not again for the rest of our lives. But still, whiteboards are useful,  fast and easy to use — and they look cool. They're a home office accessory you might want to invest in.
Because Sharing a Whiteboard on Zoom Is a Pain
Sure, you can use your device's built-in whiteboard and share it through Zoom. But honestly, unless you're a graphic artist (and you're not, otherwise you'd be at graphicartistatwork.com, which doesn't exist), your drawings will look like they came out of a toddler crafts class.
Besides, It's So Much Easier With a Wall-Mounted Whiteboard
You already have your whiteboard skills. You can snap up a dry-erase marker and scribble a passable balloon quote in which you write "synergy" and smack it a few times for emphasis. Unless you're Keith Carson at WCSH in Maine, who uses whiteboards for a kind of over-the-shoulder commentary that is hilarious. Which brings us to the following important list of whiteboards for your home office.
Like the Quartet Infinity Dry Erase Board
This is the one all the cool kids use. It's a frameless 36 x 24-inch magnetic glass sheet you can mount horizontally or vertically. You can get it in frosted white or solid black — which means it's no longer a whiteboard but a blackboard and there should be a joke there about time travel, but I can't think of one. The surface is scratch-resistant, tempered, and guaranteed for 15 years.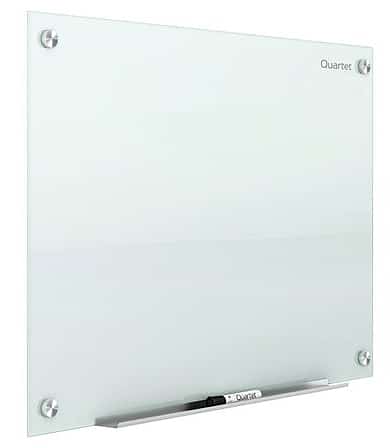 Or the Magnetic Glass Whiteboard
A glass whiteboard that's magnetic. (On Amazon) What else can I say? It's glass. It's white. You write on it. It's magnetic so you can stick stuff to it with magnets, which is important. You have to love a company that understood a niche market so well they named themselves for it. Of course, they're really good at what they do. Their custom switchable whiteboards have removable templates (used a lot in hospitals), which may not have an application in your home office, but you want one anyway.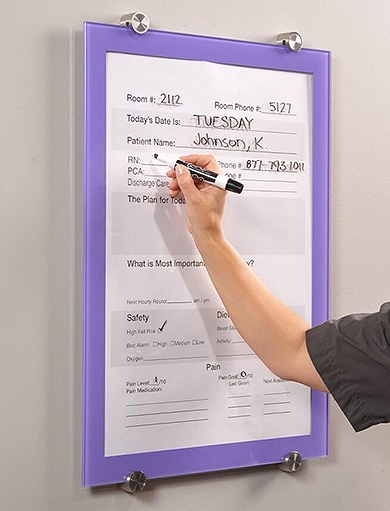 Your Basic Giant Whiteboard on a Stand
You may not want to be so stylish or maybe you don't want to mount a whiteboard in your laundry room/den/lair/office. Maybe you just want to roll one out every once in a while, and maybe you want to have that classic college lecture feel to your whiteboard. In that case, you'll want your basic giant whiteboard on a stand offered by 18 million companies on Amazon, like this one.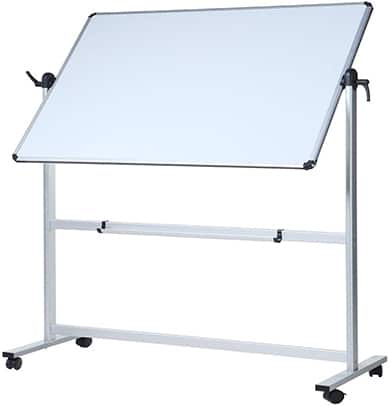 But Scribbledo's Dry Erase Lap Board is probably the one you really want
It's small — just 9 by 12 inches — but Scribbledo's board feels right for the home office. It's clearly designed for grade school students, just look at their website. But I ordered one just so I can make snarky visual comments when I'm muted in a Zoom meeting. You might find it useful for quick sketches you can show on-screen without having to stand up and readjust your camera and accidentally broadcast your cat's litterbox when your laptop falls over.

Looking for more ways to polish your online meeting persona? Here's my early analysis of Zoom backgrounds — and here's a judge's advice on nailing online court appearances (watch for some nifty analog tools).
Photo by Dan Dennis on Unsplash
Subscribe to Attorney at Work
Get really good ideas every day for your law practice: Subscribe to the Daily Dispatch (it's free). Follow us on Twitter @attnyatwork.