Are you tired of constantly switching between multiple communication tools, email inboxes and collaboration platforms in your law firm? If you want to streamline your work processes and become more productive, consider Slack for centralizing your communications.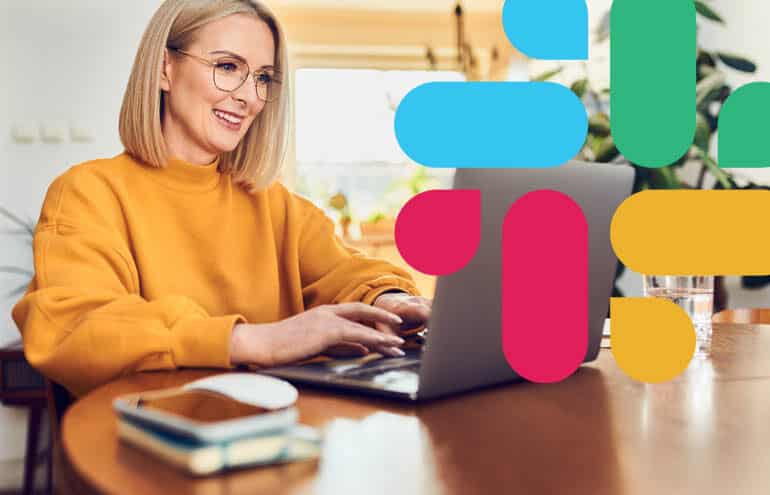 As I've written here before, one of my team's favorite collaboration tools is the chat-based communication app Slack. It not only helps us collaborate, but it helps make our team stronger. Slack started out as a sort of chatroom for workplaces, meant to replace email and text messaging as the primary form of communication. Over time, Slack has added new tools and features that have made it even more robust. For example, Huddles have been added for impromptu audio or video conversations, and Slack Connect allows you to collaborate with outside organizations (your clients and co-counsel). And, naturally, the company is working on the soon-to-come ChatGPT for Slack.
Top Slack Features
Here are the top features for improving your team's productivity.
Channels: Organized Communication 
Slack's channels, which allow team members to discuss specific topics or projects, can be public or private and can be used to share messages, files and updates.
A law firm can create channels for each client, for example, allowing team members to collaborate on a particular matter. By doing so, everyone involved in the matter has access to the information they need to work efficiently.
Integrations: Collaborate More Effectively
Integrating apps like Google Drive, Dropbox, Trello and Zoom into Slack is the key to saving time and improving efficiency because you don't have to leave Slack to use them.
For instance, if your firm uses Notion to manage tasks, then integrating Notion with Slack would allow you to receive notifications, update tasks and boards, and assign tasks to team members from within the Slack app.
Some legal technology apps integrate with Slack, or can be integrated using Zapier. Practice management software Clio and Filevine both have Slack integrations.
Video Calls: Face-to-Face Conversations
Slack's video call feature is excellent for remote work since it lets you have face-to-face conversations and virtual meetings without leaving the Slack app. The video call feature also has screen-sharing, which is particularly useful when collaborating on documents or presentations.
Slackbot: Your Personal Assistant
Slackbot is a useful tool that can automate tasks as well as answer questions. It can also send reminders about upcoming deadlines and meetings to help keep everyone on track.
You can also customize Slackbot to answer frequently asked questions, which can save time when onboarding new people.
Advanced Search: Quickly Find Information
Slack's advanced search functionality allows team members to quickly find specific information or files. The search function can search for keywords, files and even conversations, making it easy to locate information.
Helpful Tips for Using Slack
Use threads to keep conversations organized.
Threads are a powerful tool for keeping conversations organized within different channels. You can keep conversations on specific topics without cluttering the main channel.
Use reactions to show agreement or acknowledgment.
Slack's reaction feature is an easy way to show agreement or acknowledge a message using emojis, without cluttering the channel with unnecessary messages.
Customize notifications.
Slack lets you customize your notifications so you only receive notifications for the channels or conversations that are important to you. This feature ensures that you are not overwhelmed with notifications and can focus on the work that is most important.
Keep context when replying to team members.
To make sure you don't lose context when replying to team members, always reply to the individual thread instead of the general channel. By doing this, you keep the conversation organized and allow your team to have a focused discussion without confusion or distraction.
Keep multiline posts together.
To make sure your messages are easy to read, avoid breaking up multiline posts into separate messages. Instead, hold Shift and press Return or Enter to create line breaks in your message. This creates a nicely formatted, cohesive message.
Edit or delete messages to correct mistakes.
Slack allows you to edit or even delete a message after it has been sent. This can be a lifesaver if you need to correct a typo or you sent a message to the wrong channel or person. You simply hover over the message, click the three dots icon to the right of the message, and select "Edit message" or "Delete message."
Pricing: While there's a free version for individual workspaces, paid versions are well worth it considering the benefits. Pricing starts at $8.75 per person, per month when billed monthly, or $7.25 per person, per month when billed yearly (Pro). For a small price bump, the Business Pro version includes additional security and data export and compliance features.
For more tips on using Slack, read "Three Mistakes You Are Probably Making In Slack and How to Fix Them," also by Tom Lambotte.