To say the iPad has created a buzz in the litigation technology world is an understatement. The sweet little panel has provided a number of novel ways to manage documents and display and mark up evidence. But even as developers create new uses at the podium and in the witness box, there are still other opportunities to use the iPad at counsel table during voir dire. As someone who frequently helps lawyers keep track of information gained in voir dire and then make strategic strike decisions based on that information, I've tried all manner of systems, from Post-its to color-coded pens, tape flags and even customized software. But the iPad—small, portable, unobtrusive and easy to use—seems to hold unique promise. After all, if you can lay it out on a paper grid, why can't you do the same thing, with far greater functionality, with an iPad?
Video: iJuror and Jury Duty Apps Review
For all the promise that new technology holds, we shouldn't yet assume the iPad has provided the answer. For the publication The Jury Expert, I created a show-and-tell video review, below, of two apps, iJuror and Jury Duty, based on their functional ability to replace paper notes, or other PC-based systems. On that, the jury is still out.
Dr. Ken Broda-Bahm is a Senior Litigaton Consultant at Persuasion Strategies. He has provided research and strategic advice on several hundred cases across the country for the past 15 years, applying a doctorate in communication emphasizing the areas of legal persuasion and rhetoric. As a tenured Associate Professor of Communication Studies, he has taught courses including legal communication, argumentation, persuasion and research methods. A past President of the American Society of Trial Consultants, he also blogs at PersuasiveLitigator.com.
Trial and Pretrial Apps
Click on the box below to download Attorney at Work's Top IPhone and iPad Apps for Lawyers for a list of 30+ apps, including links to apps designed for trial and pretrial.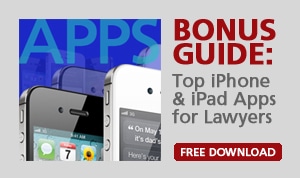 Sign Up for the Attorney at Work
Get one really good idea every day for enterprising lawyers in your email inbox when you sign up for Attorney at Work.