If you have a law blog, it's probably powered by WordPress. Fred Faulkner says law blog WordPress plugins can take your plain-vanilla site to the next level.
If you have a blog, chances are it is powered by WordPress. These days, more law firm websites use WordPress, too. For those who do not know, WordPress is an open-source blogging platform that has matured in many ways to a lightweight content management system. It is used by over 19.5 percent of the top 10 million websites as of August 2013, according to usage reports by W3Techs.
You can set up a site two ways using WordPress: through its hosting services at WordPress.com, or by downloading a copy and installing it on almost any web host. What makes WordPress appealing is that it works right out of the box but can also be customized with themes for look and feel, and plugins for functionality. Themes and plugins can be free, or cost some money for support and licensing. If you started your website or blog right out of the box, it would work and you could be online in minutes. Plugins, however, can really take your site to the next level.
The Plugin Breakdown
A common criticism of plugins is that they may hurt the performance of your website, making it slow and difficult to manage. Those concerns are real — if you don't pay attention to what you are installing and how you plan to use them. However, with the right balance of plugins, hosting and security, you can have a great website or blog that delivers results.
I've put together a list of plugins that I personally use and recommend when I talk about WordPress and websites with lawyers. I've broken these down into categories by the purpose they serve:
Social Sharing
Comment Management
Search Engine Optimization
Site Performance
Contact and Lead Generation
Analytics
Backup and Security
In part one, I will cover the first three categories. Part two will cover site performance, contact and lead generation, analytics, and backup and security.
You will notice that there are multiple plugins listed in each category. DO  NOT install all of these at once. Try one at a time to find the one you like the best. I have noted whether the plugins are free or cost money. If you must pay for one, I have included a free alternative. Note that if your site is hosted by WordPress.com, you may not be able to install some of these plugins.
Final disclosure: While I personally use and recommend these plugins, I do not have any affiliate programs associated with them. You may also find alternative plugins that work better for you. These recommendations are based on personal preference and experience using them.
Social Sharing
Social sharing tools have become a staple on websites today. They serve two purposes. First, to offer your visitors a way to share your website, and hopefully your great educational content, with their networks. Second, to provide links to your site that will have some impact on your search engine rankings. One is dependent on the other. Here are two free plugins that offer you a simple, configurable, way to add the ability to share to your website or blog.
Digg Digg. Simple and configurable in several ways, Digg Digg allows you to have social sharing icons on your website.
Sociable. Similar to Digg Digg, Sociable has alternative icons for you to choose from, among other features.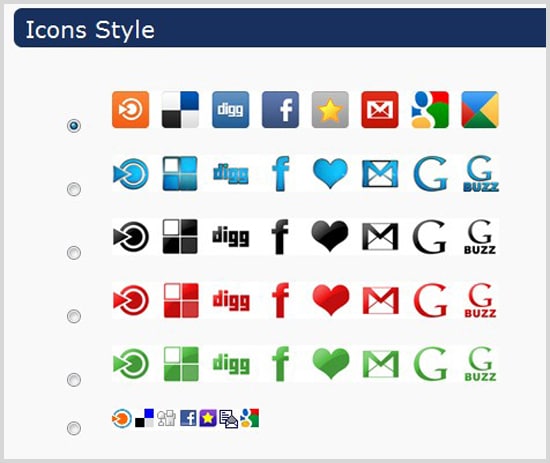 Sociable offers a few different social media icon styles to choose from.
Comment Management
Depending on how you want to manage your site and engage with prospective clients, you will turn on or turn off comments on your website or blog. If you do keep comments on, you will want to protect yourself from comment spam. There are three very effective tools that assist with this.
Akismet. From the creators of WordPress, Akismet was one of the first comment spam tools. This plugin is intended to work with the out-of-the-box comment system in WordPress. Free for personal sites, and a small monthly fee for business sites.
IntenseDebate. It's another tool from Automatic, but this one replaces the default comment system inside WordPress and replaces it with a new tool. It allows for customization of design, but also requires an account at WordPress.com to manage comments. Free.
Disqus. Similar to IntenseDebate, Disqus replaces the default comment system inside WordPress. It offers many of the same features of IntenseDebate, can be managed from within WordPress, and has great moderation features. Free.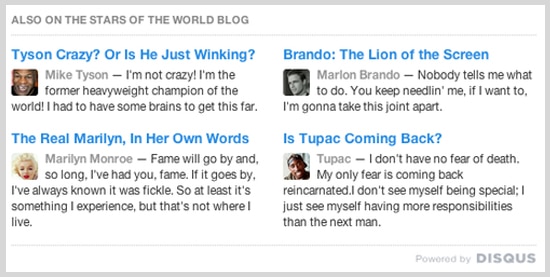 Disqus lets you customize your comments section, with tools for more active discussions.
Search Engine Optimization
Search engine optimization is an art and a science. There are many factors that affect your search engine rankings, some of which are called on-site and some that are called off-site. Luckily there are some great plugins that assist you with the on-site optimizations to give you the best foundation possible.
WordPress SEO. Probably one of the most popular SEO plugins for WordPress sites, WordPress SEO covers all the basics and then some related to on-page SEO factors. WordPress SEO adds a set of fields to your blog entries that allows you to customize the link text and description that would appear on the search result and gives you a preview prior to publishing your post. If you add certain keywords you want the post to be found on, it will run an analysis of your content to make sure those keywords are present and in the right way. This can be very powerful if you want to know exactly how your site will look online. Free.
Google XML Sitemaps. On-page SEO is half the battle. You also want to let Google (and Bing and Yahoo) know that your site exists and the content it should index. That's where the Google XML Sitemaps plugin comes in. It will generate a properly formatted sitemaps.xml file. This will be published on your site as a reference as well as allow you to use that link when submitting your sitemap to search engines through their webmaster tools. As your site updates, the XML site map updates as well, keeping your site indexed appropriately. Free.
With these plugins and the ones we'll cover in part two of this post, you can build yourself a full-featured site or blog for your law firm. Remember, each plugin has pros and cons to their use, so be sure to implement one at a time, see how your implementation reacts, and move on from there.
Plugins
With the right balance of plugins, you can build a full-featured WordPress-powered blog or website for your law firm. Here are a few I personally use and recommend in the categories of performance, contact forms, analytics, and backup and security. Remember, each plugin has pros and cons, so be sure to implement one at a time, watch how your site reacts, and move on from there.
Performance
Have you ever bailed on a website because it loaded too slowly? Do you want that to happen with your website visitors? A site's performance is just as important as the content that is published on it. WP Super Cache and W3 Total Cache are two free plugins that will help speed up your site. These are not necessarily silver bullets, but one part of the larger performance puzzle. Both allow you to optimize portions of your site with proper caches, rules on when to refresh them, how to compress images and more.
Contact Forms
There are lots of ways to create a form on your website or blog to capture an inquiry or lead. Here are two plugins you can use to create all types of forms.
Gravity Forms. Although it's a paid plugin, Gravity Forms offers a lot of options — from custom form creation, multistep forms and custom design, to integrations with several email service providers, which is crucial if you are capturing email addresses for an e-newsletter list. Also, with a paid plugin you get support. Each submission is logged in the WordPress database and can be viewed and managed within the WordPress interface.
Contact Form 7 with Really Simple Captcha. Similar to Gravity Forms, Contact Form 7 is a very popular contact tool. The interface isn't as elegant, but it definitely gets the job done. And it's free. Combining Contact Form 7 with the Really Simple Captcha plugin will help keep the spam down. As with Gravity Forms, you can create all types of forms, but without the direct integration to email providers and other tools.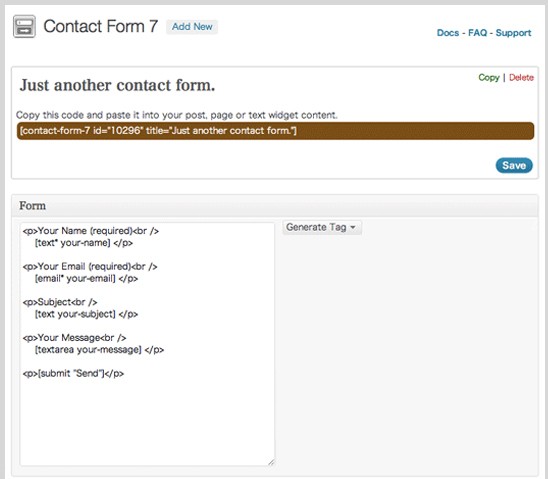 The ability to customize forms expands your online marketing options.
Analytics
If you are going to spend time building up your website and blog, you should take the extra time to make sure you are gathering all the data you can. Google Analytics is a free analytics tool that is easy to set up, though it can at times be complex to configure. There are several plugins that can help, but here is the one I think does the job best.
Google Analytics for WordPress. You will need to create a Google Analytics account prior to configuring this plugin. However, Google Analytics for WordPress covers all the custom configurations I recommend to lawyers, and it will allow you to suppress your activity from the logs when you are logged into WordPress. You can easily configure tracking events like downloads and external links, and much more. It makes getting the data you need easy so you can worry about analyzing, and not about programming JavaScript.
Backup and Security
The downside of using a popular tool is that it will be targeted for hacking and other malicious activity. That's why it is just as important to properly secure and back up your site as it is to optimize and fine-tune it. Here are some plugins that can help.
VaultPress and Backup Buddy. VaultPress and Backup Buddy are tools that you can use to secure and back up your site at regular intervals. And you can set up routines that send you a copy of your configurations to an XML backup of your content. You can do this via email to your inbox or even connections to sites like Google Drive or Dropbox. Paid.
LimitLogin Attempts. If you've read about brute force attacks against blogs, this tool was created to help deflect those. It works just like the name says, limiting the number of login attempts before it blocks you out. Don't forget your password or fat-finger it too many times or you will fall victim to the tool yourself. Free.
Better WP Security. It's a comprehensive tool to secure your website or blog with features of all the plugins above. Free and paid services available.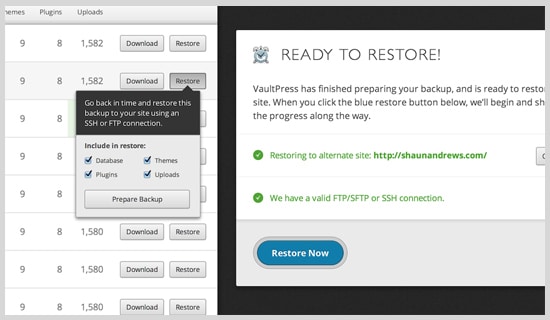 VaultPress allows you to back up and restore remotely.
Jack of All Trades
JetPack by WordPress. Finally, if you want a plugin that offers a lot of the features discussed above and then some more, JetPack is for you. From the creators of WordPress, JetPack bundles several useful features you will find if you use WordPress.com to host your site or blog — analytics, stats, social media management, writing tools and a host of useful widgets. You can get it as a stand-alone plugin for your own hosted blog or site and use some or all of the features. Each is configurable. Free with paid features available.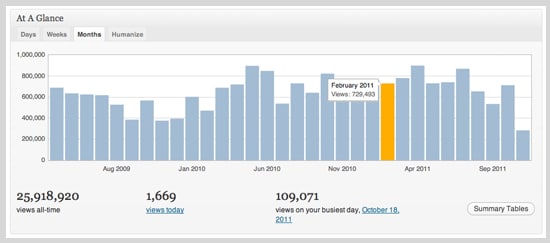 Among other features, Jetpack's easy-to-read dashboard helps you track your site's stats.
Bonus: If you do not have a mobile-responsive designed theme, I suggest you look at getting WP Touch, which will automatically apply a mobile theme to your website so it's easier to access by people using mobile devices.
Frederick Faulkner IV is Principal at AIE Digital, LLC, and helps organizations be more successful online. Previously, Fred was Manager of Digital Marketing at the American Bar Association, where he was responsible for the association's website and many digital efforts, including working on creation of the award-winning ABAJournal.com. Fred is a Google Analytics Qualified Individual, loves the Internet, and is an amateur photographer. Connect with Fred on Twitter, LinkedIn and Google+.
You Might Also Like These Posts …
Illustration ©iStockPhoto.com.