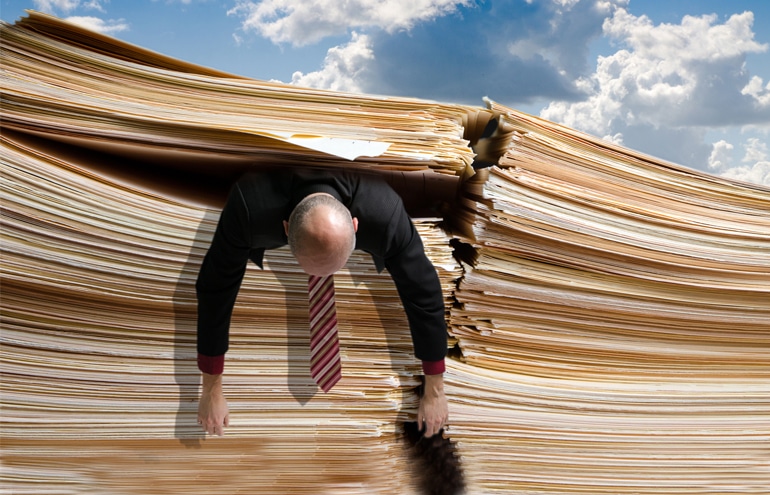 If you're proud of your writing, you probably view your work as more art than science. You approach writing your briefs and memos with the same intensity as writing the great American novel. But judges and clients don't want to read "The Great Gatsby" (218 pages). And they certainly don't want to slog through "A Game of Thrones" (780 pages).
A client wants a memo that paints a clear picture and outlines next steps like a Blue Apron meal kit. A judge wants a Maurice Sendak book: few words, vivid imagery, moving story, and memorable point. No one wants a 1,000-page treatise, or even a 35-page brief.
The point: Your audience wants you to deliver shorter documents. And shorter documents are more effective.
Court-Imposed Limits
The Supreme Court's revised rule 33.1(g) reduced the word limit for opening briefs on the merits from 15,000 to 13,000 words, effective July 2019. Most federal appellate courts have had a 13,000-word limit since December 2016. Many courts also have local and individual court rules setting formatting requirements and page limits.
Court-mandated page- and word-count limits are meant to even the playing field for litigants and manage the court's limited resources. Manipulating your document to save every word you've written violates the letter and the spirit of the court rules—and it doesn't improve outcomes.
Violating page- and word-count limits can lead to monetary sanctions, public censure, and the court striking your filing. The more egregious the violation, the more forceful the response from the court – and the more memorable the lawyer's embarrassment.
Futzing With Formatting Won't Fool the Judge
Rather than rigorously editing their work, lawyers have tried to squeeze their oversized briefs within limits using clever formatting tricks. Do not try this at home (or work).
1. Reducing Line Spacing
In CafeX Communications Inc. v. Amazon Web Services, Inc., a litigant used 24-point spacing rather than double-spacing to shrink a memorandum to fit within the court's 25-page limit. When caught, the court fined the law firm $1,048.09 and directed the lawyers to re-submit a corrected brief. See "Susman Godfrey is sanctioned for wrong line spacing in brief" for more detail.
2. Mangling Citations
In Pi-Net Int'l Inc. v. JPMorgan Chase & Co., the appellant attempted to meet the 14,000-word limit by removing spaces between words in citations. When caught and given the opportunity to correct the brief, appellant then replaced case citations with inscrutable, non-standard abbreviations. The court struck the non-compliant brief. See "Murder Your Darlings: Always Abide By Word-Count Limitations in the Federal Appellate Courts" for more detail.
3, 4 & 5. Shrinking Fonts, Condensing Kerning, Narrowing Margins
In Sanctions for Evading Maximum Page Limits on Court Filings, Prof. Douglas E. Abrams collects cases where litigants used dishonest measures to exceed page limits in court filings. In each case, the lawyer was caught and publicly embarrassed for the effort, and sometimes the consequences were dire for clients.
Beware the Benchslap
As judges grow more frustrated with lawyers' tactics and chicanery, they publish more "benchslap" opinions to embarrass the feckless lawyers. These benchslaps quickly go viral on #appellatetwitter and can lead to lasting reputation damage. See Converting Benchslaps to Backslaps for more on this trend.
Save Your Reputation with Rigorous Editing
Do not assume that you're struggling to stay under page- or word-limits because your arguments are brilliant. A longer brief is not a better one. Long documents usually mean unrefined thinking. Here are four ways to shrink your brief without hurting your reputation.
1. Wipe Out Wordy Phrases
In "8 Secrets to Writing Clearly and Concisely," WordRake founder Gary Kinder explains the eight signs of wordiness: or, as, of, in that, there-that, it-that, to be verbs, and periods. Look for these signs and delete the extra words or replace the phrases with concise alternatives. Take this quiz to see if you can spot the signals.
2. Nix Nominalizations
Search for words ending in -ion. These are likely nominalizations, which are nouns created from adjectives or verbs. Nominalizations invite wordiness and confusion. Try converting nominalizations into active verbs using tips from "3 Secrets to Writing Bright and Lively Sentences."
3. Rewrite Redundancies and Repetition
Search for phrases like "brief summary" or "large in size" and legal doublets like "depose and say." These words expand your brief without adding value. Rewriting these phrases will make your document shorter and punchier.
4. Cut Crutch Words and Throat-Clearing
Avoid empty lead-ins and filler words like accordingly, as such, in any event, to be sure, in other words, suffice it to say, what is more, clearly, and the fact that. These words allow us to ramble while feeling erudite. Cut them and you'll improve your brief. For more tips on what to cut, check out "So Many Useless Words, So Little Time."
An Easier Way to Meet Word Limits
Instead of using tricks, let WordRake help you meet page- and word-limits at the push of a button. WordRake uses complex, patented algorithms to find needless words, weak lead-ins, clichés, dull phrases, redundancies, unnecessary modifiers, and more. Then it presents its suggestions to you in the familiar track-changes style. It can make any document clearer and shorter. Try WordRake for free for 7 days!
Disciplined editing will make your work better and your arguments stronger. If you're short on time, or too close to your document, WordRake can help jumpstart your editing process. And if you still can't bring your brief within the limit, ask for permission to file an over-limit brief.
About WordRake
Launched in 2012, WordRake is editing software designed by writing expert and New York Times bestselling author Gary Kinder. WordRake runs in Microsoft Word and Outlook, and its suggestions appear in the familiar track-changes style. It uses complex algorithms to find and improve weak and confusing language, wordy phrasing, and high-level usage slips. WordRake is available for individuals and enterprises.

SPONSORED CONTENT. Product Spotlight showcases content provided by Attorney at Work sponsors and advertisers. This does not constitute an endorsement by Attorney at Work. See Terms and Conditions for more information.