As you've no doubt learned over the past few months, running a remote law practice is challenging. With businesses opening up again, many lawyers and legal professionals will opt to continue working from home. My colleagues and I have worked this way for the better part of a decade, so the current state of affairs isn't all that different for us. As such, I'm sharing years of trial and error when it comes to conducting your law firm's business remotely.
1. Get the Word Out, or No One Knows You're Open
Federal and state mandates have been effective at convincing people that most businesses have been closed. As businesses reopen, there's confusion over which businesses are opening when. Unless you have messaging online telling potential clients that you are open, they will likely think you are not.
Step one in this new normal is to put out the word across your various online platforms letting people know that:
You're open for business.
How they are able to meet with you for consultations.
Don't assume that people will know how to interact with you. Your firm needs clear, concise and useful communication on the where, what and when of how you will perform consultations with new clients.
Use clear messaging on every page of your website. As needed, change your calls to action from things like "Free consultation" or "Contact us today" to "Free virtual consultation" and "Schedule a video meeting with us today." In the example below, attorney Melissa Leavy promotes consultations that will happen over Zoom videoconferencing.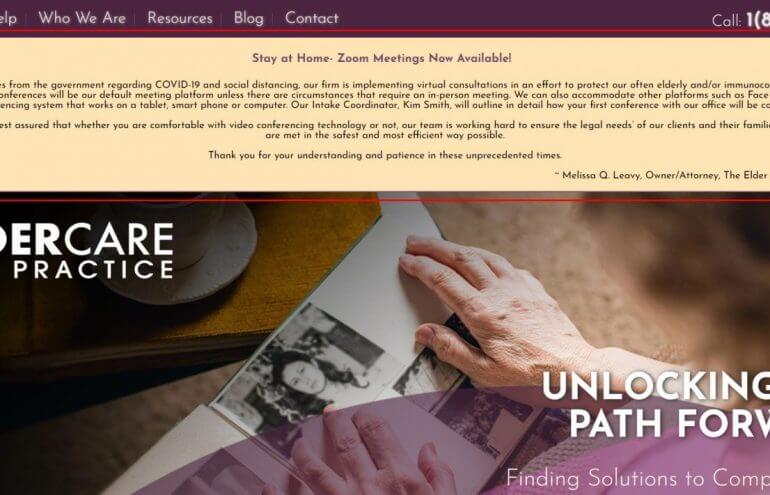 Promote consistent messaging across the web. Once your website is covered, include similar messaging on your Google business listing and social media profiles. (For tips on your GMB profile, read "How to Get New Leads and Clients Now (and After) After the Covid-19 Crisis" by MikeRamsey.)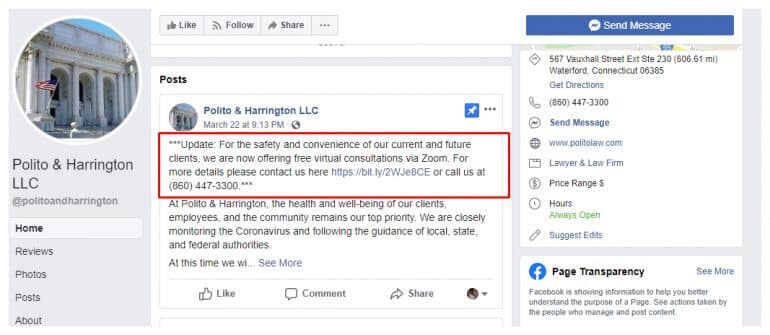 2. Use Videoconferencing as Your Default
Talking by phone is fine if that's all a client has, but nowadays you will find that most people want to be able to see you on a call. After months of getting used to Zoom meetings and Facetime cocktails, many will expect it. Here are some of my picks for videoconferencing. Your choice will depend on security features and the comfort levels of your team and clients. You may want to use different apps for different purposes.
Join.me
Skype (some people hate this platform but I've found it reliable)
Slack
Google Meet
WebEx
Before the shutdown, most lawyers had participated in videoconferences at least a few times a year. Now that everyone's been working from home and even routine meetings are conducted virtually, the need for stability and ease has become much more evident. Here are tips that can help things go smoothly.
Get a good webcam. If you're using a camera that's more than a few years old, it's time to upgrade.
Get a decent mic. Older microphones can make it hard to hear you, and the same goes for headsets. Invest in a high-quality microphone or a camera-microphone combination. You don't want to be the person whose mic cuts in and out.
Use a wired connection. WiFi is reliable most of the time but it can be unpredictable. If you're doing consults on a daily basis or court "appearances," consider running an ethernet connection to your computer. Your video calls will be more stable and rarely freeze or get dropped.
3. Double Down on Tools for Team Collaboration
There are many web-based options for team and project management that work well for law firms. The key things to consider when you're looking at different solutions are ease of use and reliability.
Be Patient as the Office Reopens
For many people, this is the first time they've had to consistently and reliably work from home. Many have been finding they are more productive working from home and may wish to continue doing so, even after the office opens up again. Others will want to get back to their office quickly but will be anxious about their safety and new work rules. Remain patient and listen to employees' concerns. Also, potential clients may need practice in learning how to get the information they need without an in-person meeting. Everyone is handling the crisis differently, so be sure to communicate clearly and frequently.
You will want to communicate more, not less, once things open up again. Help one another out and make sure your team has a platform to share the tips you've all learned along the way.
Illustration ©iStockPhoto.com
You might also like:
"Remote Work Is Trending: How to Make It Work in Your Law Firm" by Tomas Suros
Tech Tips: Remote Work Lessons to Take With You After the Shutdown
"Getting Started With Zoom and Using It Securely" by Sharon Nelson and John Simek
Subscribe to Attorney at Work
Get really good ideas every day for your law practice: Subscribe to the Daily Dispatch (it's free). Follow us on Twitter @attnyatwork.