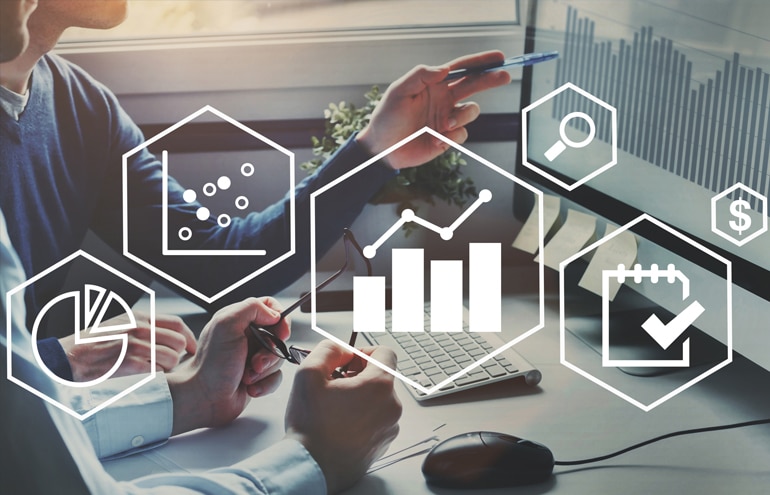 For all the talk of "legal technology" and the well-worn hashtag #legaltech, there aren't all that many legal technology options for law firms. Legal tech writ large is very much in its nascent stages. (Don't let roughly 700 law practice management software systems out there fool you into thinking there is saturation everywhere — because that's not the case.) Take customer relationship management (CRM) software. That canvas is practically blank in the legal space and is ripe for the injection of a robust product delivered by a market leader. If you believe that's true, I'd like to introduce you to Shape — which may indeed be the shape of things to come.
This isn't one of those situations where a software builds while it sells.
Shape CRM: It's Already in There
Shape CRM, from Shape Software, is a market leader in CRM and enters the legal space with a mature all-in-one product. Think of any sort of data your law firm collects, and I'll challenge you to find one sliver of that data set that does not have an obvious home in Shape. If the object of a CRM system is to make marketing more predictable so that you make better decisions about lead management and conversion, then it's also true that the more data you can leverage, the more intelligent your decisions start to become. And, it's all in here.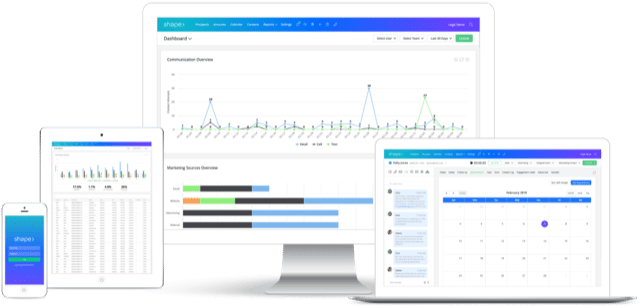 Shape has the information you'd expect: email, calendar, tasks, notes. No surprises there. And it will integrate with your existing productivity software.
But Shape also covers a massive data sinkhole for most law firms: text messaging and phone calls. The worst thing you can do in your law practice, from a management and legal ethics perspective, is to have communications with leads and clients you can't track. Yet law firms routinely text leads and clients and call them (a more traditional problem) without any ability to capture that data.
Lawyers do this because it's almost a business necessity. Even so, firms tend to overlook the business exigency of capturing or recording this information. (Which is opposite from how they routinely and obsessively archive email conversations.) Well, as luck would have it, Shape offers SMS messaging and phone call integration. An, it treats all data sources as equal and integrates them into the CRM system so lawyers can email, talk, text and manage their calendars all from one place. Then, Shape can draw data insights from all those inputs.
Dashboard Confessional
Of course, the effect of that data becomes muted if it can't be input easily, or efficiently rendered. Fortunately, Shape's thoroughly modern interface makes it easy to get your data in, in the first place, and then to understand what it means. Static onscreen options make it super simple to send an email, create a task, send a text or start a call. Obvious symbols for each function are arrayed in a ribbon across the top and down the side. Law firms reluctant to adopt new technology because of the presumed downturn in productivity will be surprised at just how easy it will be to implement Shape. That's because it's so darn intuitive.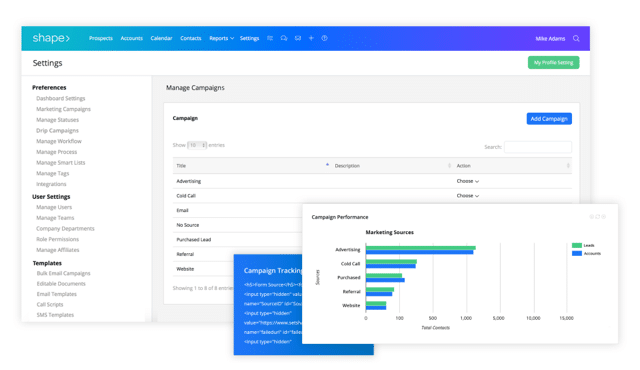 In addition to making basic operations obvious, Shape spends time establishing easily accessible data collections so that law firms can more easily review statistics and spot trends. Shape is very dashboard-heavy, which is one of the better developments of modern software systems. The user homepage features a number of dashboards focused on direct, important, basic metrics — like how many new prospects are there, and how many you have converted over a given period of time. You are delivered information near at hand on contact types, marketing sources and appointments. These are all things that law firms search for, and try to combine across various silos.
Shape delivers this information in a consumable version, like the dashboard on your car. If your tastes happen to be more refined (perhaps you're a Grey Poupon man?), any and all dashboards in Shape can be customized. And, if you prefer to view or print and analyze reports, Shape has scores of those, too.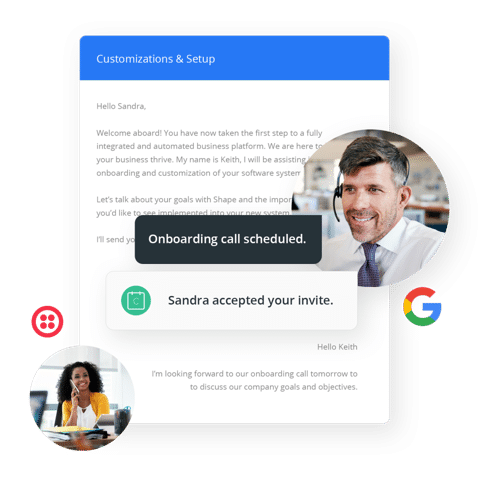 Shape Automation Is Next Level
Every CRM software contains at least some level of marketing automation, but Shape takes it to the next level. As alluded to earlier in this review, Shape can send text messages and emails for you, including via the use of automated messages. You can run your drip campaigns through Shape, as well as activating options for trigger events. Not only that, Shape's ability to drive your marketing efficiency can extend to process management within your firm. Since Shape provides the ability for law firms to sync calendars, add tasks and create and sync workflows, it offers lawyers the opportunity to streamline the entire client lifecycle, from first impression to last. Consider the power of being able to systemize your whole case workflow, from lead to close. Shape gives law firms that opportunity.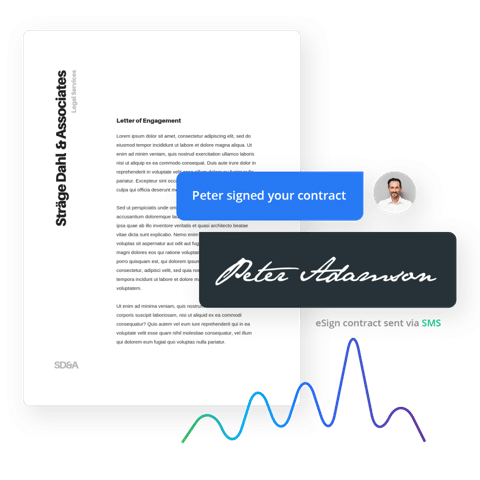 In addition to the marketing automation features you might expect from a CRM, Shape also features more of the intake tools you need to close clients. These include document automation features, a proprietary e-signature tool, and payment processing options. That means you can acquire a lead, get a fee agreement signed and take payment … all in one place.
Maybe CRM stands for Can't Really (ask for much) More?  OK, maybe that's a stretch; but if you're looking to intake and convert clients, Shape has everything you need.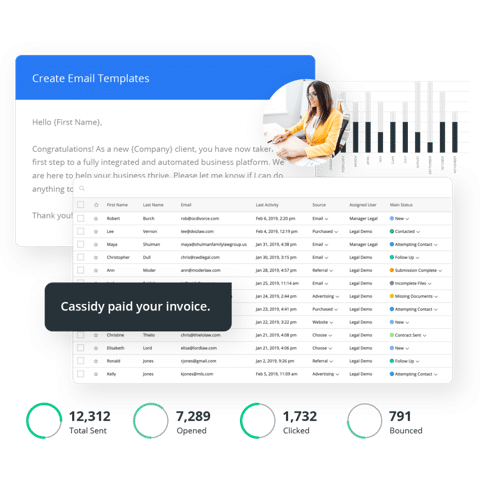 The Shape You're In
If the foregoing sounds like rocket science to you, don't fret. It's simply the result of removing barriers surrounding data management, relaying tactical information in a constructive way and offering the tools and features to help lawyers close the deal — in a single package. And that's what Shape is: the whole package. Perhaps the most complimentary thing that can be said about Shape is that it's practically a lite LPM software — that's how much stuff is packed in here.
This is what a mature CRM looks like in legal.
You've been talking about it for years; it's time to get in Shape.
Attorney at Work's sponsored Product Reviews and Product Spotlights showcase news and features from legal technology industry leaders. For more information, click here.