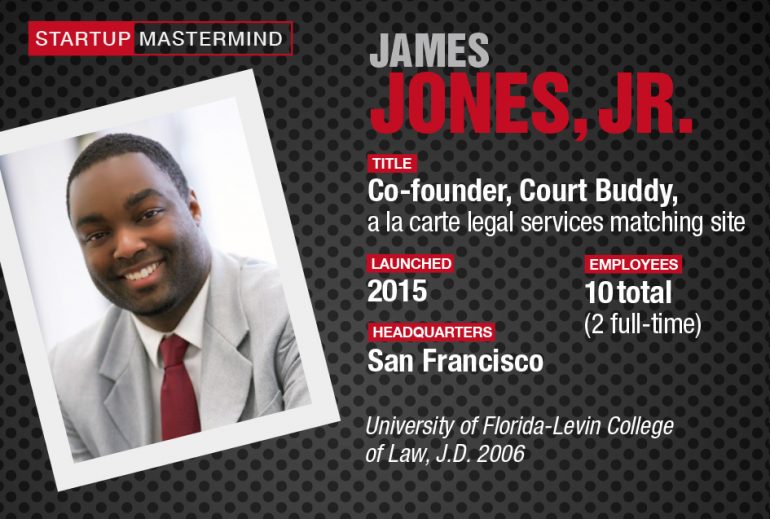 James Jones Jr. bumped up against a problem most new lawyers face when he first hung his shingle: where to find clients. That later led to a big idea. After practicing law for a decade, Jones and co-founder Kristina Jones launched Court Buddy in 2015. Their platform uses instant-matching technology to provide a la carte legal services at flat rates to consumers and small businesses. Once matched with a pre-screened attorney, consumers can instant message, video chat and make secured payments using the platform.
Court Buddy won the 2017 American Bar Association Brown Select Award for Legal Access, as well as an inaugural American Entrepreneurship Award in 2016. In February, the company received seed funding from early-stage investor 500 Startups and was selected for its Silicon Valley accelerator. This summer, the company will close on its next round of fundraising.
Productivity Habits
What's your best productivity habit? I listen to a good audiobook. That gets the creative juices flowing. (Right now, I'm listening to three: "Good to Great: Why Some Companies Make the Leap and Others Don't," "Play Bigger" and "The Power of Broke.")
I usually have a document open called "Ideas" where I write down different ideas I come up with during the day.
When do you wake up? 6:30 a.m.
What's the first thing you do after waking up? I go into my daughter's room and kiss her, then put on an audiobook and start getting ready for the day.
How do you handle email? I'm pretty obsessed with email. I think it's a bad habit. If something pops up, I take a quick look at it.
What's the one habit you wish you could kick? I wish I didn't jump every time I saw an email pop up.
What do you let slide? Menial tasks that I can do later. If it doesn't involve big thinking, I usually set it aside.
What's the best advice you've ever received? Surround yourself with people who are smarter than you. That makes you better. And choose your friends and associates wisely.
What's your nightly routine? I read my daughter bedtime stories, then once she's asleep, I look at things on my to-do list that I didn't get to during the day. I consider what I can do in the couple of hours I have before shutting down for the day. l read news articles and maybe a book or two.
What time do you go to sleep? I try to go to bed around midnight. If I can get five to six hours of sleep, I can function. By the way, I don't drink coffee, energy drinks or any of that stuff.
Court Buddy: A Deeper Dive
How did you get the idea for Court Buddy? When I first opened my practice, I had no clue how to get clients. I did what I thought made the most sense: I started going to lunch with other attorneys. I started with colleagues who went to law school with me. I asked what they did, and I realized it was a guessing game — even they didn't know, and they had been out on their own for a couple of years. They were trying to figure it out, too.
In law school, we weren't taught the business of law, or how to market our services. We were taught how to get a job and work at a law firm.
What differentiates Court Buddy from the competition? We use instant-matching technology to provide a la carte legal services at flat rates to consumers. Users choose the rates they're willing to pay. Court Buddy competitors have a bidding system. A consumer submits an inquiry and 20 attorneys respond with quotes. Attorneys get into a bidding war. That doesn't make sense. If consumers can't choose the rate they want to pay, and attorneys have to bid against each other, consumers may be confused.
What business problem are you solving? Consumer users of our platform are middle-income wage earners. The average middle-class American makes $25 an hour. They can't go to a traditional law firm and cough up a $10,000 retainer for their case. They want certainty, predictability and transparency when spending on legal services, just like they have predictability and transparency when it comes to a mortgage payment or when they budget for a vacation.
On the lawyer side, our users are solo attorneys and small law firms. They don't have a big marketing budget but they do have marketing needs. They need to get clients.
What are your revenue sources? Lawyers pay either a monthly membership or per client, a pay-per-match membership. Once clients engage an attorney, they can submit payments for each task the attorney performs through our secure payment portal. There is a transaction fee for that. And when they make their payments, they see itemized bills. They see what services cost. Our focus is on transparency.
We recently received a seed investment of $150,000 from 500 Startups, and we're working out of their San Francisco offices. We're part of their accelerator program and have been actively fundraising.
What's it like being part of an accelerator program? To make a food analogy, it is like being at a buffet where you get to choose what you want to eat. 500 Startups provides a buffet of marketing, selling, rapid scaling, and best practices and fundraising tips from industry leaders from companies such as Google and PayPal. You simply choose what you want based on your company's needs. You literally learn how to grow your business in four months. And you get an investor in your company and access to a global network of other investors and entrepreneurs, which is the icing on the cake.
What have you had to change along the way in response to customer feedback? We launched the web-based platform in 2015. In 2016, we then launched the secure payment portal, CB Direct Pay, and the mobile app version of Court Buddy, a messaging, videoconferencing and phone call app called Court Buddy Chat.
Even though lawyers are highly regulated, some consumers expressed concern about paying an attorney they had never met in person. CB Direct Pay enables consumers to have protected funds they can transfer to the attorneys when work is completed.
On the flip side, lawyers wanted a better, faster way to communicate with clients. Court Buddy Chat lets them do that.
What do you hope your technology will grow to in the future? We are U.S.-based. Our system matches consumers with solo and small firm attorneys in 36 states right now. We intend to expand to all 50 states and outside the U.S. Ideally, we'd like this to be everywhere on the planet. If people get to Mars, then we want to be on Mars, too.
Best tip for starting a legal tech company? Make sure you really want to do it. There will be tons of hard work and many sleepless nights. It's not easy. It has to be something that's near and dear to you.
For an update on James' latest entrepreneurial ventures, follow him on LinkedIn. For the story of Court Buddy, listen to his podcast with Bob Ambrogi, here.
Illustration ©iStockPhoto.com, photo courtesy of James Jones Jr.
Subscribe to Attorney at Work
Get really good ideas every day: Subscribe to the Daily Dispatch and Weekly Wrap (it's free). Follow us on Twitter @attnyatwork.