Tabs3 Cloud includes access to the billing and financial features tens of thousands of legal professionals have come to trust.
The legal landscape is always evolving, and for some firms, that might even mean the literal landscape outside your window changes. Even with the return-to-office push, many law firms are still accommodating remote or hybrid working arrangements.
The legal industry, like many others, requires a bit more portability in today's landscape, but not at the expense of security and compliance. To keep up with billing and trust accounting, not to mention the competition, you need a cloud-based option you can trust with sensitive client data.
A Cloud Solution that Matches the On-premises Interface and Security
The right solution is here: Tabs3 Cloud offers your firm all the features of Tabs3 Billing and Financials in a cloud environment, including Trust Accounting, Accounts Payable, and General Ledger, without having to worry about on-premises servers and backups.
Tabs3 Cloud offers your firm:
Increased productivity: Streamline your administrative tasks, reduce manual or duplicate data entry, and eliminate errors from waiting to enter data when you are in the office.
Improved collaboration: Collaborate effortlessly with your team, clients, and other parties, enhancing your responsiveness and efficiency.
Cost savings: Eliminate the need for on-premises server infrastructure and potentially reduce IT maintenance costs with a cloud-based solution.
Data security: Bank-grade security protects your clients' confidential information and the firm's data, helping you maintain client trust.
Client satisfaction: With your practice running smoothly and efficiently, you can provide better service to your clients, strengthening your professional reputation and priming your practice for scalability.
This can translate to scalability for practices of all sizes by improving client satisfaction while maintaining client trust.
Tabs3 Billing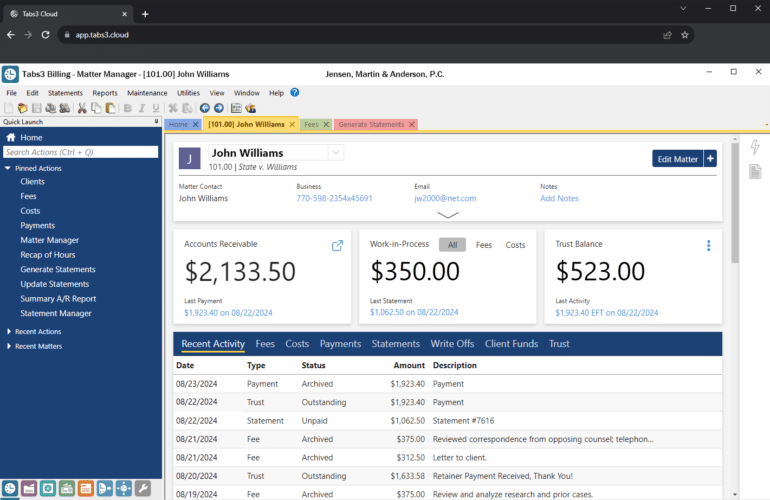 Tabs3 Billing in the cloud provides you with virtually unlimited billing rate flexibility and all the information you need for a financially healthy legal practice. Tools like the Matter Manager enable simple and quick access to billing-related items for each matter. Whether you're working from the courtroom, the boardroom, or your living room, you can access:
Client contact information
Work-in-process
Accounts Receivable
Recent payments
Trust balances
Statements
Tabs3 Cloud provides you the ability to complete common billing tasks, track time with stopwatch timers, turn billable hours into fees, do batch billing, send electronic invoices, and set up easy online payment processing.
Tabs3 Financials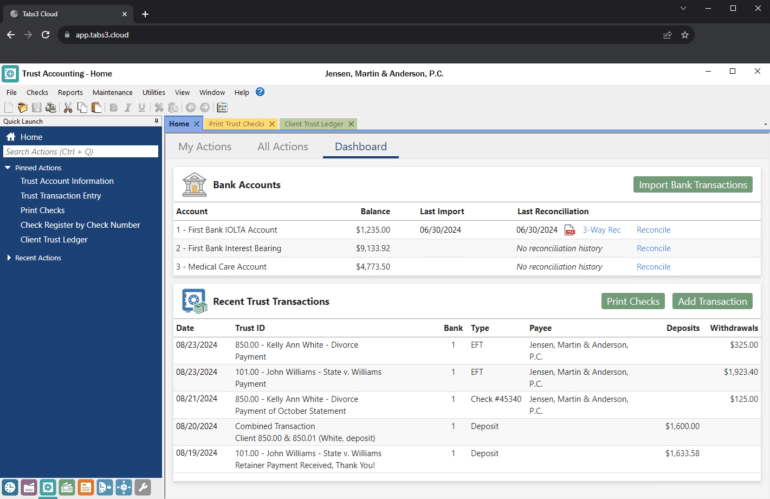 Tabs3 Cloud offers a range of accounting features, including trust account tracking and management, with built-in safeguards to prevent compliance violations and malpractice claims. The platform also simplifies three-way reconciliations and can automatically convey trust account balances to clients, just like the on-premises version of Tabs3 Financials.
You can also efficiently manage accounts payable with remote access to:
Vendor invoices
Payments
Advanced client costs
Transaction status
How Tabs3 Cloud Works
This new option hosts your billing and financial information in a private cloud, making it easy and secure to access from anywhere.
Tabs3 Cloud is easy to access from any browser. Simply log in using your credentials and get to work. From here, you can enter fees, create invoices, enter trust funds, run reports, and more, all from one integrated suite of applications, just as you would at your office desktop computer.
The Tabs3 Team takes care of backing up your data and updating the software so you don't have to worry about coordinating with IT to perform these repetitive routine tasks.
And even if you're in the cloud, you won't feel adrift: if you have questions, you can reach out to our reliable, US-based support team.
Access the Reliability and Experience of Tabs3 Anywhere
Tabs3 Cloud is the definitive solution for legal professionals seeking billing and financial tools that are powerful, flexible, and easy to use both on-premises and off. Your firm can experience the benefits of cloud computing without sacrificing functionality, security, or compliance.
Elevate your practice and take it anywhere you need to go with Tabs3 Cloud.
Request a demo of Tabs3 Cloud and find out how you can enjoy the full functionality of Tabs3 Billing and Financials with no additional hardware and the same easy-to-use interface.
SPONSORED CONTENT. Product Spotlight showcases content provided by Attorney at Work sponsors and advertisers. This does not constitute endorsement by Attorney at Work. See Terms and Conditions for more information.