PPE products in the workspace may become more common as the arctic caps melt, releasing untold prehistoric and perhaps alien pathogens into the air. And look, it's not paranoid to think, hey, maybe I need more than just a mask in the age of COVID-19, as Steve hacks his way through another coughing fit two socially distanced cubicles away.
Perhaps you need to get professional.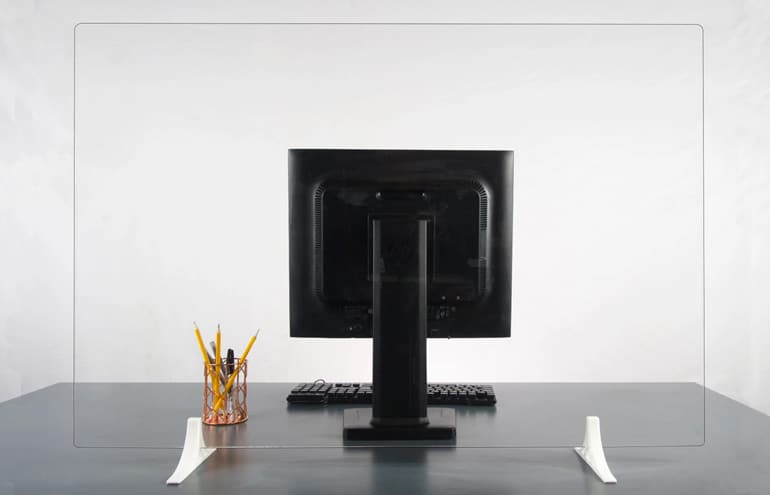 First, Get a Sneeze Guard
Vertical sneeze guard science has progressed significantly from maybe this shower curtain will work to the space-age beauties featured at Stauber. This U.S. company manufactures simple, durable plastic products to solve unique problems for businesses. Their product line includes sponge holders, lightbulb changers, key fobs and sneeze guards. If you're worried about your insalubrious co-workers breathing all over you, Stauber's 24-by-36-inch freestanding vertical clear acrylic guard should stop their virulent contamination in its tracks.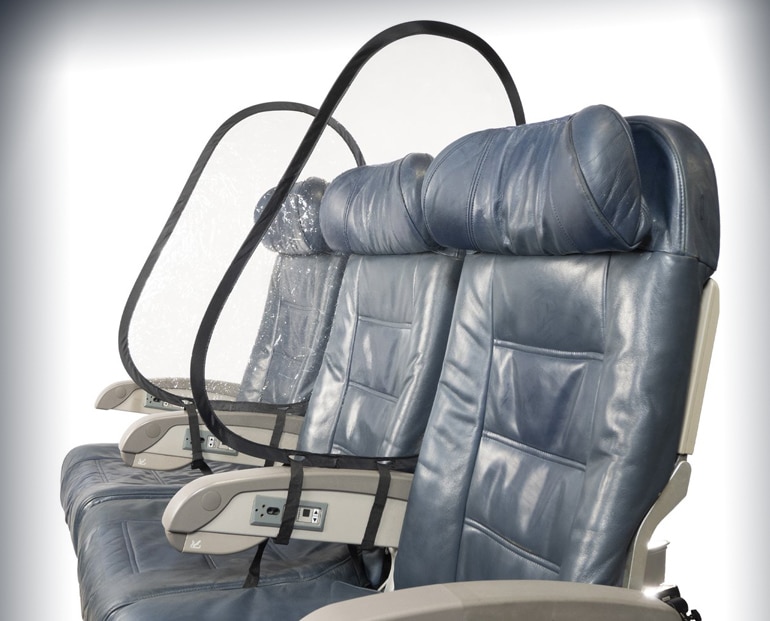 Portable Airplane Sneeze Guard
I don't fly much, but when I do, I assume my fellow passengers are riddled with typhoid. That fear just adds to the general anxiety of believing a 70-ton machine full of jet fuel and fire will travel safely from Boston to Sault Ste. Marie at 750 miles an hour without plummeting. But not anymore! Now I can pop one of Stauber's portable airplane sneeze guards between me and Hi, this is my first time flying, and can we talk all the way to Denver?
And it's not just COVID problems. I'm 99% positive United tracks my tickets to make sure I sit next to people who chew with their mouth open and sing along to their '70s rock powerhouse playlist because, good lord, that's how I fly. I will use these things forever. I will use them on a plane, on a bus, on the train — at my dining room table. Portable airplane sneeze guards are my life now.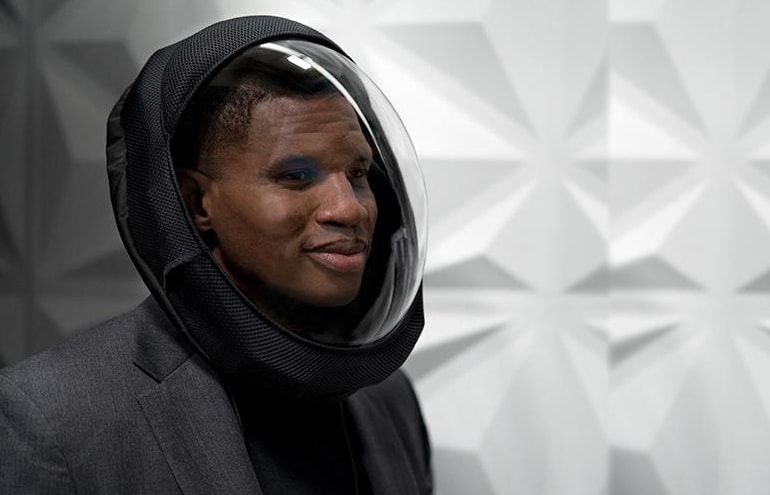 The Mother of All Masks
I hate masks. I wear them because I'm not a psychopath and I love people, but criminy, they are a pain. Plus, are they even good enough? I use a K-95 because all the P-95s sold out in May, but I still wrap my head in a blanket and whirl nunchucks around my dome to keep people away from me. Or I did until I found MicroClimate's Air. Sure, I look like I beamed down from the U.S.S. Accounting Department, but with powered airflow, double HEPA filters and its sealed full face shield, I have an unobstructed view of everyone staring at me.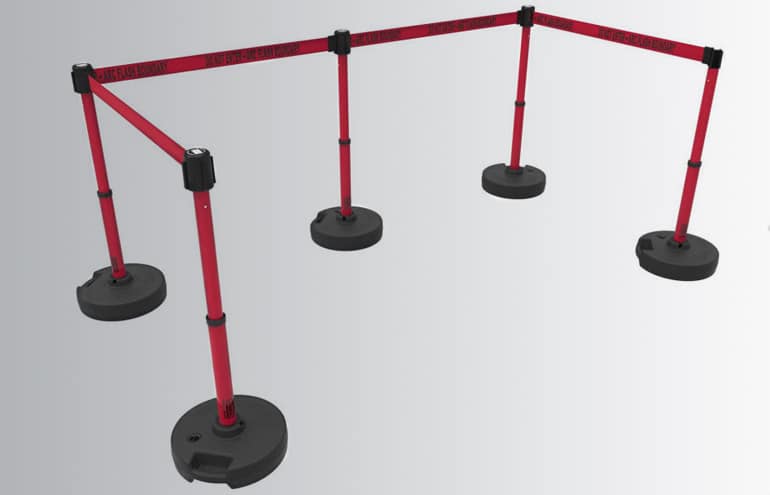 They Can't Get You If They Can't Get You!
The best way to prevent your befouled friends from contaminating you is to use PPE products and enforce social distancing. Nothing does that better than the PL4597 Plus Barrier Set X5 Do-Not-Enter Arc Flash Boundary (in red). Clearly mark your pathological perimeter by installing it around your desk. Will Margaret have to scooch her desk back 3 feet? Yes, but it's in the name of safety. Of course, some people will stop at nothing to cough in your face. If none of the PPE above will keep you virus-free, you may have to upgrade.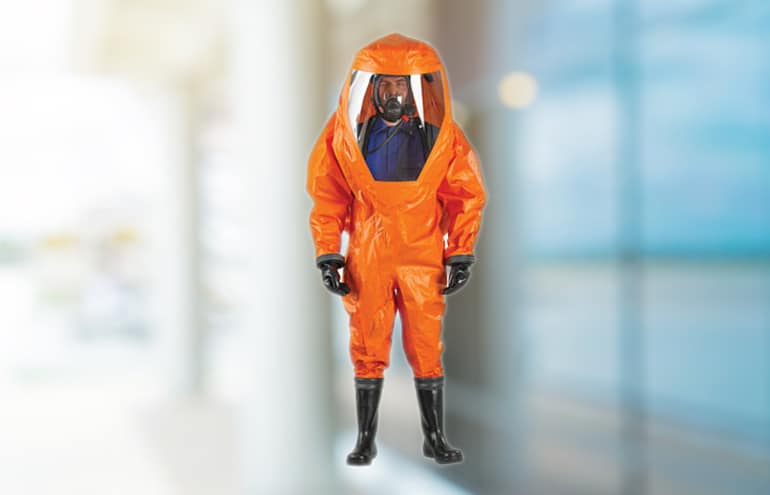 The Full Modal Jacket
The Ansell Microchem 6000 is the ultimate protection suit. It protects you from biohazards like you're sealed in a vault. It's the ultimate in PPE product style. It has an attached hood and gloves, welded seams, and elastic wrists and ankles. And look, it's made from a co-extruded multilayer high-performance barrier laminate with scrim reinforcement. I don't know what any of that means, but I'm pretty sure if you wear it long enough, it'll grow its own microbiome.
In closing, wash your hands, wear a mask, keep at least 6 feet away from others, and reach out to tell us how you are staying safe or sane. But stay behind the sneeze guard when you do.
Subscribe to Attorney at Work
Get really good ideas every day for your law practice: Subscribe to the Daily Dispatch (it's free). Follow us on Twitter @attnyatwork.