Use a simple form builder tool to create responsive law firm client intake forms for your website. Done right, your forms will deliver information that helps you evaluate new cases more quickly, get back to people faster and, ultimately, take on more cases.
How many cases is your firm losing out on because your intake forms are too burdensome and your entire process is too slow? With responsive client intake forms, you can get those cases along with better information that will increase your case evaluation efficiency.
Let's face it, for some areas of law, good cases only come around so often, while other practice areas are extremely competitive. Good cases will go elsewhere if your intake process is too burdensome. Or, a good case may slip away because your client intake form doesn't ask the right questions.
Get More Cases With Online Client Intake Forms
Settling up an online intake form and automating your process isn't that difficult. Once you decide on a form builder, you download a plug-in for your website. Then, you can create intake forms with a user-friendly form builder and add it to your website.
(Ed. Note: Be sure to first check with your IT person or website programmer to make sure the plug-in is compatible with your version of WordPress, and with the other plug-ins installed on your website. Form-builders aren't usually risky add-ons, but better to be cautious.)
Once you have the form in place, you will get a link or code to embed wherever you wish on your website (your home page, your contact page, and your practice area pages for example). You can email the direct link to the prospective client or instruct them where to find the webpage. You will then get their completed form back instantaneously once submitted.
This process has dramatically increased the number of intake forms our firm has received, and the information we get is much more helpful. The result has been an increase in clients and a more efficient case evaluation process, which means we get back to prospects faster.
How Online Client Intake Forms Work
In its simplest form, you can recreate your current client intake form in a form builder app using fill-in-the-blank questions or checkboxes, and post it on your website.
However, many form builders have an advanced feature called conditional logic that allows you to assign conditions to questions. So, if a condition is met (or box checked), a specific action will be performed. If you're an employment lawyer and handle a variety of cases, your initial question could ask what type of employment issues the person is contacting you about. Based on the response, the form will populate with the questions you designate as applicable to that issue.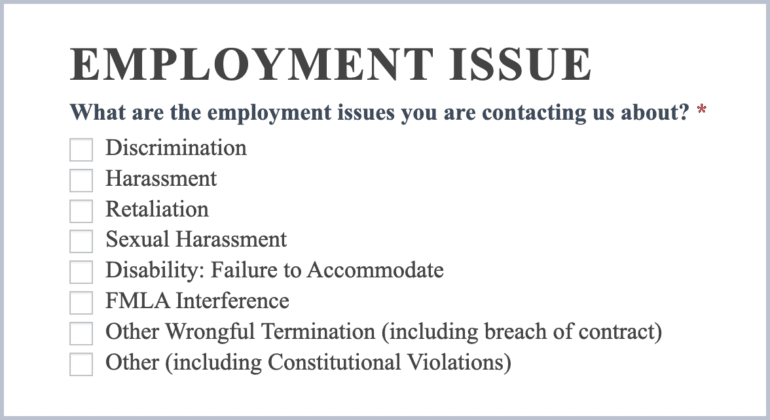 For example, if the potential client checks the "discrimination" box, the form will populate with questions designed to elicit information that helps you determine whether the facts of the case satisfy the elements required to bring a successful employment discrimination claim. Using simple conditional logic, you streamline the process (reducing the number of follow-up questions and admin time, for example)
The potential client can select additional issues and the form will populate with questions related to that claim. (Here is an example of how this works in our firm's intake form.)
With more tailored questions, you reduce the number of follow-up questions and get information delivered to you that is easy to evaluate. In most cases, the system is much more convenient for the user as well.
Once a form is completed and submitted, most form builders will automatically email the completed form responses to your designated email address. From there you can save the response as a PDF. Or, the form builder can automatically save the responses in PDF and email them to you. Most form builders have this option or allow you to download an additional plug-in with this feature.
If you have a CRM system or marketing automation platform (like Hubspot) in place, look for form-builder features that integrate with your CRM system so you can automatically import responses instead of copy-and-pasting into the CRM. At a minimum, you should be able to export the form fields into an Excel, Google Sheets, or CSV spreadsheet file.
What Are Some of the Best Form Builders?
There are a variety of form builders and many offer a free basic version that may meet your needs. Here are the top three highest-rated form builders for websites built on WordPress:
WP Forms has perhaps the most features of any form builder. Among these features are add-ons for Hubspot and Google Sheets integration. WP Forms offers a free lite version, and users can upgrade to a basic plan for $99 per year (now on sale for $49.50).
Formidable Forms is another highly-rated form builder. While Formidable does not have quite as many features as WP Forms, it boasts all the essentials to create complex forms, including conditional logic, file upload and the ability to accept payments. Formidable's basic version is priced at $79.99 per year (now on sale for $39.99), but like WP Forms, it also offers a free version with limited features.
Gravity Forms rounds out the top three highest-rated form builders. Gravity has comparable features to Formidable, but unlike Formidable, it does not offer a free lite version. However, Gravity does boast the lowest regular price at $59 per year for its basic plan.
You can explore other options and see reviews here.
Note that you can also build fillable forms in Adobe Acrobat and then post PDFs on your website or email them to potential clients. You can then extract the data manually or use a PDF converter to export it into a variety of formats for use in Excel, Google Sheets and your CRM systems.
Which Form Builder Should You Use?
Your choice of form builder should be based on your needs and budget. Some features to consider include:
Save and continue (so clients aren't frustrated when they step away to gather information and must start the form over again)
Conditional logic
File upload field (for sending supporting case materials)
Visual drag-and-drop interface for user-friendly form building
Multi-page forms
Email notifications — including the ability to customize confirmation messages and receive alerts when completed forms are submitted
Payment acceptance (because it's nice to collect your fee or retainer all in one place)
Design capability (for more customized forms)
Integrations and compatibility with other software platforms (such as your CRM)
The options listed here are compatible with WordPress websites. If your website was built using a different platform, such as Wix, you will need to find a form builder compatible with that platform.
Before making a final decision, I recommend identifying a few different form builders that meet your needs and taking them for a test drive.   
Related Articles on Attorney at Work
Image ©iStockPhoto.com