Working with two monitors can save you time — and take you closer to the nirvana of a paperless law office.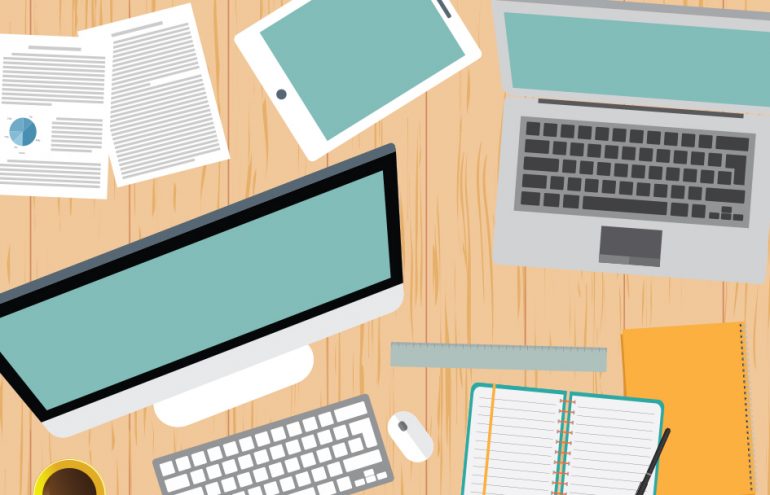 When I interview people via Skype, I explain that I have the Skype window on my notebook computer screen, which also holds an embedded camera. I take notes on another, external monitor and update information on a third monitor.
Using multiple programs while executing a given task is nothing new. That's why I, along with legions of computer users, use multiple monitors when we work. Consider these advantages:
You can keep more documents open and visible, so you don't need to "uncover" windows as you work. This time-saver alone makes external monitors worth the cost.
If you'd like to (ahem) do other work during a meeting where you share your screen, just share one screen and do your work on another.
Even though there are good reasons to print documents you review, potential eye strain from monitors is no longer one of them. Today's monitor technology is markedly better than that of even 10 years ago, thanks to market leaders like Apple's Retina Displays.
A multiple-monitor setup takes you closer to the nirvana of a paperless office.
Creating a Multiple-Monitor Setup
You'll need certain things to make an external monitor (or monitors) work properly for you.
Internal video card. On enterprise-grade computers, video cards ought to drive at least one large monitor. If you're buying a new computer, find out how many external monitors it can power. Entry-level video cards can't always handle more than one, even when hooked up to a "video splitter" device. If you want to use two or more monitors, consider upgrading the video card.
External video card. I use an external video card plus software to use a second external monitor with my computer. For the most part, this setup works flawlessly. (I drafted the post you're reading on said monitor.)
It hasn't always been smooth sailing. The card I use connects via USB to my computer. That means it uses the main processor and not the video card, so I have experienced lags in performance (which an OS reinstall seems to have eliminated, but that's another story).
Monitor arms. You may require monitor arms as well. Having monitors off your desk can keep more of your desk clear for other things. Also, an ergonomic rule of thumb is to keep the top of each monitor at eye level. (I haven't achieved that, especially since I use a sit-stand desk, but I have no complaints.)
Notebook dock. The cable you connect to a notebook is just one of several when you bring a notebook into an office setup. That's why many Windows notebook users set up a dock on their desks with all required cords already connected.
Choosing Monitors
Worried about monitor specifications? Don't be. When I interviewed Kenneth Mau, ViewSonic's senior product marketing manager, he offered several basic specifications, including a minimum size of 24 inches, a minimum resolution of 1920 by 1080 (also called 1080p, or HD) and a 60 hertz refresh rate, which are sufficient "even for movies and most media applications."
That said, if you're contemplating a multiple-monitor setup, consider one extra-large — 32 inches or larger — monitor instead. Larger monitors tend to be disproportionately more expensive given their increase in size, but they'll take up less space on your desk. And they do sometimes go on sale.
Tips for Configuring Your Space
Using multiple monitors lets you configure your workspace in interesting ways.
Portrait mode orientation. The monitor on the left side of my desk stands on its end, supported by a monitor arm. It's great for reviewing or drafting documents. It also takes less space on my desk. Note: I couldn't use it this way without a monitor arm since the stand included with the monitor only enables landscape orientation.
Target Display Mode. Macbook users may want to enjoy the huge, lovely screen on their home iMacs. Doing so requires an inexpensive cable (less than $20) and a keyboard shortcut. That's because Apple builds Target Display Mode into every Mac. (You can read about my experiences with this here.)
Note: I tried to find an equivalent feature that would connect Windows 10 notebooks and computers, but I couldn't. If Windows does offer this feature out of the box the way the Mac does, please let me know in the comments below.
Make the larger screen your main screen. When you work with multiple monitors, you can use the notebook screen as a secondary monitor. Extra software is needed on Windows to do this. On Macs, go to System Preferences and use the Displays panel to set the larger monitor as your main monitor. Simply drag the menu bar strip at the top of the icon for the main screen to the screen you want as your main display from now on.
Each time you connect to the external monitors you use, the Mac remembers which one you designated as the main monitor.
External monitors on the go. Your tablet can serve as an external monitor too. You will need an app on the tablet and (quite likely) a corresponding app on your computer. (I use Air Display on my iPad and Air Display Host on my computer.)
Once connected, the tablet behaves just like an external monitor. You may want a stand for the tablet. Many tablet covers also act as stands to prop them up.
Do you use multiple monitors in ways that aren't covered here? Please share your tips and tricks in the comments below.
Illustration ©iStockPhoto.com
Subscribe to Attorney at Work
Get really good ideas every day: Subscribe to the Daily Dispatch and Weekly Wrap (it's free). Follow us on Twitter @attnyatwork.