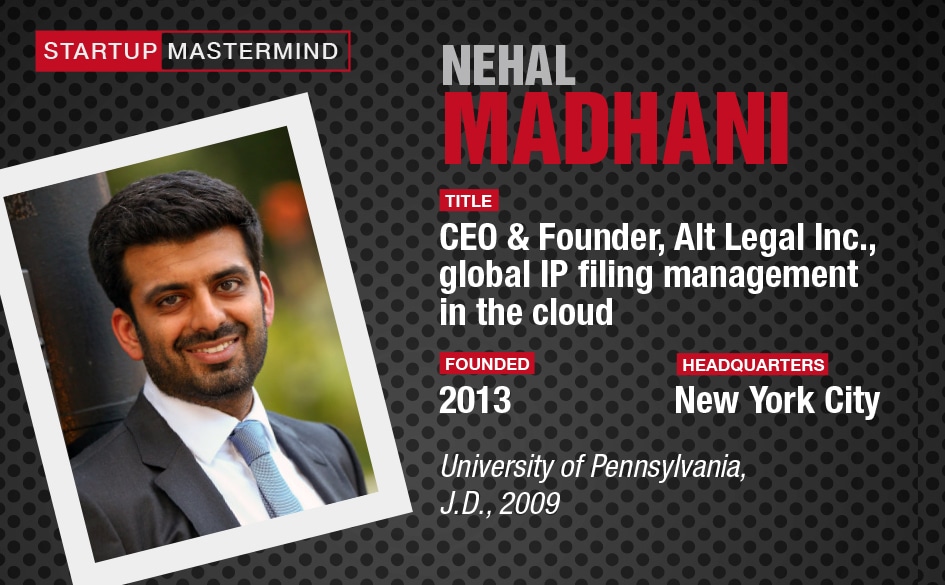 When Nehal Madhani left his practice at Kirkland & Ellis four years ago, he set out to create an online marketplace to connect lawyers and businesses. First, he learned to code. "I wanted to understand the underlying technology," says the CodeX Fellow. Over time, it became clear that the productivity tools his new company was building could be deployed to solve some of the frustrations of practicing intellectual property law. Today Alt Legal handles hundreds of thousands of trademark and patent filings and deadlines every day.
Productivity Habits
When do you wake up? Usually, 5 a.m. I try to sleep four or five hours a night. There's a lot of coffee in this world, right?
What's the first thing you do after waking up? Aside from making coffee, I usually spend time reading the news and listening to NPR. Then I start on my inbox.
How do you handle email? I try to reply to the easiest emails as soon as I get them, and I save harder emails to address in the morning or evening.
What's your best productivity habit? I try to minimize context shifting. I allocate blocks of time to different types of tasks. That's not always possible in a legal technology company. Also, I've discovered audiobooks. I play them at 2x speed. It drives my wife nuts, but it makes more sense this way.
What's your favorite productivity tool? Wunderlist. It's good for navigating my personal and professional to-do lists all in one app.
Where do you like to work? Anywhere with good Wi-Fi, but most of the time I work out of our New York City office. We're three blocks north of Penn Station.
What's the one habit you wish you could kick? I still struggle with being able to shut off and step away from the business. I'm always thinking about it in the back of my mind.
A Deeper Dive into Alt Legal
Why did you leave law practice and start a technology company? Before law school, I had started a business called "Blue Freak," and ran it through law school. It was an online marketplace that enabled college students to buy and sell items from one another, both online and offline. It was my first exposure to entrepreneurship. I ended up loving it.
Once I started practicing, I noticed problems with the way legal work was being done that technology could solve. A lot of time is spent on administrative or repetitive work that could be done by technology.
What business problem are you solving? Our software helps law firms and legal departments manage intellectual property filings. Preparing IP filings can be cumbersome. But once you submit filings, you constantly have new deadlines to manage for each filing. With hundreds or thousands of filings, this becomes tedious. One client manages over 20,000 IP filings today. Missing a deadline can have grave consequences. Our software automates the process.
How has your background helped you develop your technology? After leaving practice, I wanted to learn the underlying technology. I spent the first few months teaching myself computer programming. I built the first iteration of the company's software on my own. I first tried PHP and absolutely hated it. Then I moved on to Python. It was logical and easy for me to understand. I used Python and Django as a framework to build the technology.
Now we have a team of programmers. Our head of technology is a former IP paralegal.
What have you had to change along the way in response to customer feedback? We started off as an entirely different company — it was originally a marketplace to connect lawyers and businesses. We offered productivity tools like client intake, file storage, a secure messaging platform. After a few months, we shut it down. We kept the productivity tools we'd created and focused on automating the process of managing IP filings.
Have you integrated with other technologies? Aside from government databases, we integrate with Clio, a practice management system, and Microsoft Office 365. Customers want us to integrate with other practice management systems, invoicing software (QuickBooks would be great for them) and Google Apps.
What do you hope your technology will grow to in the future? IP is a global market. Our customers want us to bring the same level of automation to other major IP offices. This year, we're adding support for Europe, Canada, Australia and New Zealand. This will keep our legal researchers busy as we adapt our software to the laws of each jurisdiction.
How are you growing the company? We have taken in a little angel investment from legal professionals and some customers. We run our business mostly through revenue, and we were running on revenue alone, but because we have growth opportunities today, we will run losses to the extent that we must to capture any opportunities we can.
What's the best advice you've ever received? One of our investors keeps telling us to think big and act small. We have broad, ambitious goals of tackling international IP and how we want to change the industry. We can only achieve those goals one step at a time. We need to see what works before we invest resources.
Read more about startup masterminds here.
Illustration ©iStockPhoto.com, photo courtesy of Nehal Madhani.
Subscribe to Attorney at Work
Get really good ideas every day: Subscribe to the Daily Dispatch and Weekly Wrap (it's free). Follow us on Twitter @attnyatwork.