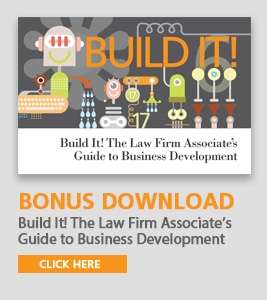 Big firm or small, there's a single question the partners ask about young associates: "Is she a keeper?" And, while legal skills certainly count, we all know what ultimately swings the pendulum on that question.
"Can she bring in clients?"
Help has arrived — just in time for fall — in the form of our newly updated e-zine. "Build It! The Law Firm Associate's Guide to Business Development" is packed with practical advice for new lawyers from Attorney at Work's top contributors and best-selling book authors. You'll find expert advice to help you:
Figure out what to do NOW about marketing
Locate your inner networker — and successfully work the room
Avoid common mistakes
Build your image
Develop rewarding relationships
Recover from setbacks
Show them you're a keeper!
Download Your Free Copy
"Build It" is packed with tips for developing a successful law practice from year one, along with links to dozens of marketing articles and resources. Some of the features you'll find inside include:
Business Development Starters for New Associates by Sally Schmidt
17 Things I Wish I Knew as an Associate by Jay Harrington
20 Legal Marketing Maxims by Bob Denney
Laying the Groundwork for Effective Networking by Teddy Snyder
How to Ask for Business? Ask the Experts from the Legal Marketing Association
Keep Your Referral Sources Vibrant by Mike O'Horo
Download your copy of "Build It!" here. As always, it's free to anyone who subscribes to Attorney at Work.
Illustration ©iStockPhoto.com
Subscribe to Attorney at Work
Get really good ideas every day: Subscribe to the Daily Dispatch and Weekly Wrap (it's free). Follow us on Twitter @attnyatwork.