Many small and midsize law firms feel inadequate when competing against big firms with big money behind them. So, how can a small law firm compete effectively? Outmanuevering bigger firms doesn't require big spending, says Neville Pokroy. He points to 10 factors that will give you an edge when you step into the ring.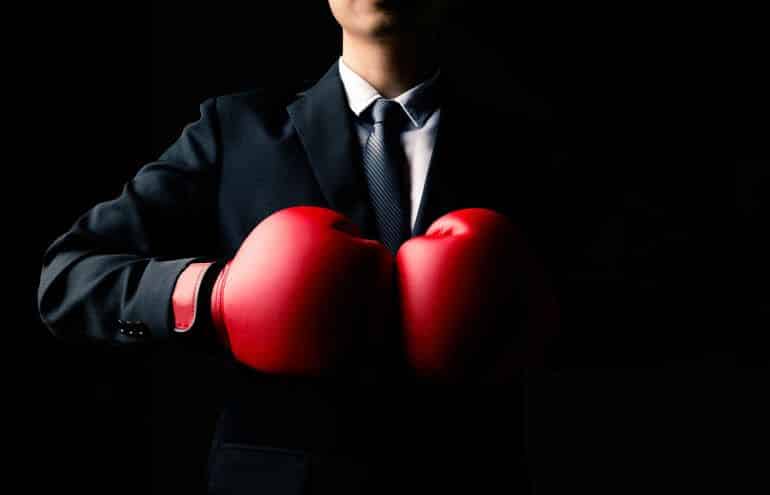 10 Factors That Lead to Small Law Firm Success
It's pretty simple to compete successfully with larger firms, as long as you keep these factors in mind and follow through with a few proven strategies — most of which are easy to implement and quite cost-effective.
Here are the 10 most important must-do factors that contribute greatly to midsize and small law firms' success.
A business perspective. You are running a business and a law firm — maintaining that perspective will help you view things differently.
Strategic thinking. You don't need to overspend your marketing budget to be successful. Instead, be smarter than the big firms — and your immediate competitors. Be strategic. For example, look for the things you can do that are meaningful to clients that your competition has not yet contemplated. This will require self-examination and reflection, but it is worth it. The following few factors will help you go about defining your strategy.
Differentiation. Differentiated positioning and a clearly defined target audience — for both referral sources and clients — are prerequisites for growth. Potential clients need to understand how they will be treated and why they should choose your firm instead of a competitor. They are looking for a reason to hire you. Your referral sources expect to know that as well — after all, they need to be confident you will treat their referrals well. This factor is crucial because it forces you to look at your firm through your client's eyes. By highlighting what makes you different and defining your target audience (or audiences), you give your lawyers a new way to compete. 
Relevance. Few firms think about this, but relevance is the most important thing you need to communicate to clients and referral sources. If your positioning and messaging are not relevant to your audience, why would they care to do business with you?
Focus expands your market share. Remain laser-focused on your target audiences with your marketing. And remember, marketing should be viewed as an investment (not an expense) — it should always have long-term benefits beyond the next transaction. Combined with the following factors, this brand-building and positioning approach to marketing has led to sustainable growth for small law firms — without excessive spending.
The combination of brand and lawyers — your lawyers, their expertise, and their reputations — are the critical raw materials for your law business. The two together are crucial and must be showcased to support your positioning. This seems obvious — without people on board, your brand is irrelevant, but it's something most firms ignore or have never considered.
Content really is king. Showcasing lawyer expertise through the dissemination of content builds both the firm's and the individual lawyer's reputation. And it resonates over time. Content can be shared through writing, speaking, and by hosting or speaking at webinars and seminars. In today's world, if you cannot be easily found on an internet search, you are not perceived as a leader in that topic. If you are current and up-to-date on relevant topics within your practice, you must be seen as a thought leader and publisher of such content. 
Reach. You can magnify your law firm's reach significantly if you take advantage of all the capabilities of digital tools. For example, in addition to your newsletter and website, sharing content via LinkedIn or aggregators such as Lexology or Mondaq gives your content a significant boost and respectability. Use these tools diligently and wisely.
Individual lawyer coaching on personal business development. All lawyers must buy into the fact that they are business developers. However, not every lawyer has the same skill set, particularly regarding business development. Helping individual lawyers develop these skills and feel comfortable doing so is a significant growth factor when built on a strong firm brand.
Market across all levels of the firm. This ensures that the firm (brand), its practice groups, lawyers and business professionals are aligned. By working at all levels of the firm, you ensure that all of the firm's resources are pushing forward in the same direction, thus maximizing your potential for success.
And Three Things That Don't Help a Small Law Firm
As with anything in life, must-do's need to be offset by don't-do's. Here are a few common errors that lead to failed growth.
Don't try to compete with your budget. You'll never have enough money to compete head-to-head with bigger competitors — so don't try. You need to think strategically and outflank them.
Don't simply copy your competition. Smart marketing will differentiate you as long as what you do is relevant. Know what they do, but never follow blindly. Become a leader in your market; it doesn't cost any more and will stand you in good stead.
Don't believe social media or digital marketing is the savior of your business. So many firms have bought into this false promise and failed dismally. If you view these tools as a part of your strategy, you are more likely to have them contribute positively. Thinking you can use digital to do it all on its own is a potentially costly mistake.
Lead, Don't Follow
Encouraging partners, lawyers, and business professionals to apply creative and strategic thinking will help improve performance and allow your firm to punch above its weight. Leadership is the key, simply because success will be limited if you follow what everybody else is doing.
This article represents the tip of the iceberg that makes up the strategic approach to growth many firms desire but do not actively pursue. Consider these factors and commit to a higher level of business performance. That alone will provide greater personal and professional satisfaction for everyone in your law firm.
Image © iStockPhoto.com

Don't miss out on our daily practice management tips. Subscribe to Attorney at Work's free newsletter here >