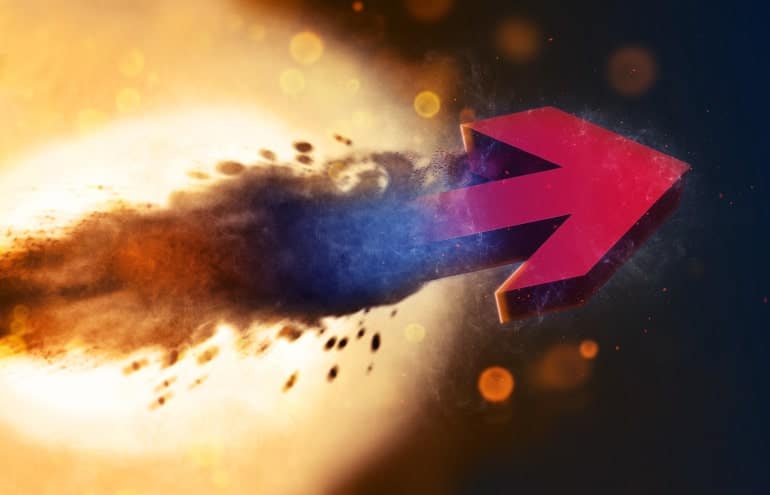 Rocket Matter's latest set of updates is headlined by new prebill features, along with improvements to communication and file-sharing tools.
Legal tech investing has been a bit like a real-life version of "Supermarket Sweep" (90s version) of late. (Get your shopping carts ready, and buy as many SaaS products as you can! And, go … !) Cloud software in the legal vertical is so hot right now. With all this significant movement, it's fair to wonder where recently acquired companies stand now.
In September 2020, Rocket Matter (and LexCharge, its epayments service), TimeSolv and ImagineTime, were all acquired by ProfitSolv, a new company established by Lightyear Capital. And so, I recently spent some time talking with Larry Port, Rocket Matter's founder and CEO, and Ed Case, the company's VP of Product. Now, let me assure you that these guys remain intimately involved in what's happening at Rocket Matter, including leading product development. Larry, in particular, seems just as excited now as he did when he founded Rocket Matter as one of the first cloud-based case management software companies all those years ago. (Then again: Larry is always excited.)
But I know what you're thinking: I'm burying the lead. So, let's get to those Rocket Matter product updates.
The Rocket Matter Fab Four: Billing Updates, New Communication Tools
Automated prebilling. Rocket Matter's latest spate of updates is headlined by its new prebill features. Prebilling is an essential component of law practice for firms where more than one person touches an invoice before it's finalized (read: most law firms). But, lots of law firms use antiquated processes for managing the prebill process, including paper (gasp) or janky software. Rocket Matter's version of prebills converts the process to an electronic one and modernizes the entire flow. Users (staff, paralegals, attorneys) can work up prebills in real-time, in an electronic format. They can make and respond to comments, generate bulk/global edits, add discounts and generate invoice previews — all from the convenience of a single dashboard, from which they can manage the rest of their practice, too.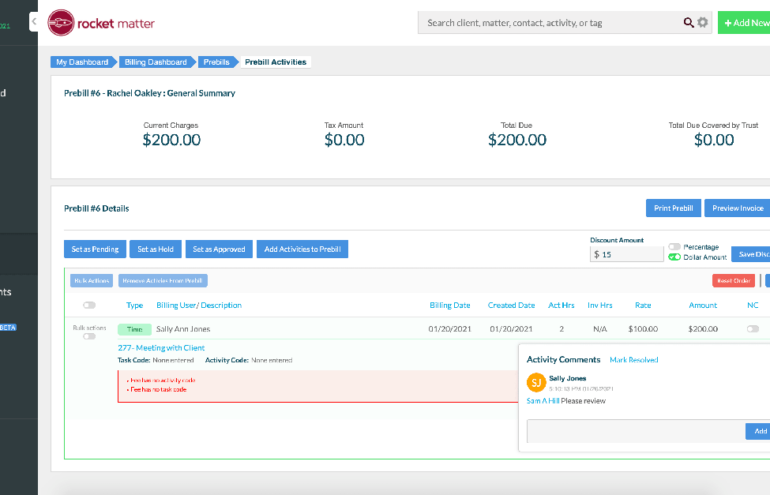 Rocket Matter's granular permissions options also mean that only the team members you want reviewing or editing prebills will be allowed to do so. In terms of process management, users can automatically generate prebills for review at predetermined intervals. And, once you're done with prebills, Rocket Matter's batch billing engine can spit out those invoices like a, particularly salty llama.
That's kind of a big deal since there was no prebilling component to Rocket Matter at its last iteration: an invoice preview was the only feature accessible in this space. That's like John Coltrane Giant Steps.
Audit Rules. Sticking with the theme of billing (one close to the heart of most law firm owners, who are laser-focused on revenue), Rocket Matter has also added billing audit rules to its new feature set. In the simplest terms, this means users can create and manage billing criteria. This puts rails around billing updates and management and can be particularly useful for law firms needing to submit billing to providers that require parameters for the submission of billing. (This is particularly useful for insurance defense firms.) The new billing audit rules will generate flags at time entry and during the prebill process, alerting users if they make an invalid. The user can override the invalidation, but it will still show up in the prebilling process for a final review. A number of different criteria can be developed via this system, including flags for when a limit on billable hours per day has been breached, for required LEDES codes, deviation from an established billing code, and even for specific language used in a time entry.
So, if certain of your staff are as overzealous as a handsy defensive end, this is your method for keeping them in check.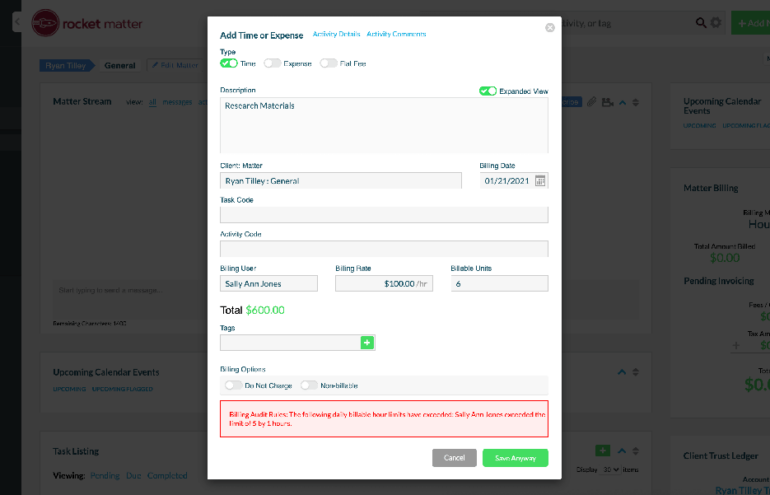 Rocket Matter has also made some improvements to its communication and file-sharing tools as part of its latest set of updates.
Two-way sharing. There's been much ado about client portals attached to law practice management systems. The idea is that these holding containers are an effective and convenient way for law firms to share information with clients and colleagues. But the team at Rocket Matter shared with me that the no. 1 support ticket they receive relates to law firms locked out of their client portals. It's true: Any time a system sets up a barrier for entry (like a password attached to a client portal for file access), a measure of convenience gets traded out for access to the vault. It's just another step, another access management protocol to remember, for the user and customer (client). So, Rocket Matter has built out an additional two-way sharing option. Law firm users can now request documents or files from clients, or send documents or files to clients, directly from the Documents tab within a matter. An automated email gets sent out for requests, and clients are provided a unique and secure pin for uploading files. This represents a similar attribute that client portals offer, with perhaps less friction.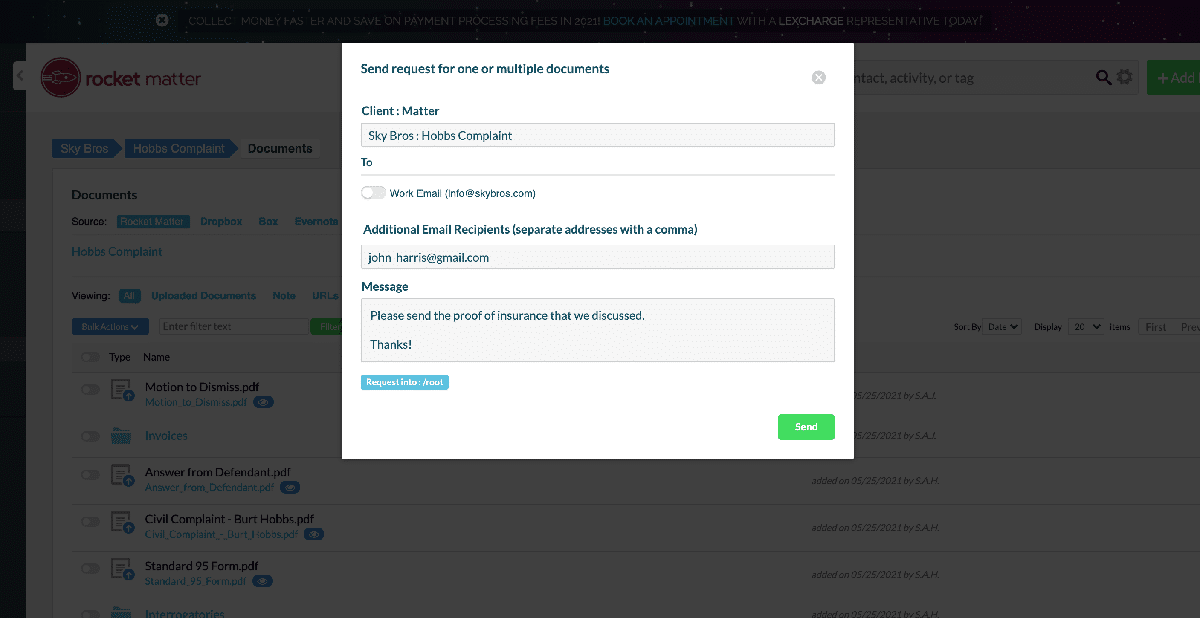 Embedded esignatures. Even as the coronavirus pandemic continues to be reined in here in the U.S., it's unclear when or if someone will ever want to touch your pen again. So, for law firms that rely on esignatures now, the viability of that option is probably not going anywhere for the foreseeable future. Up to this point, Rocket Matter had integration tools for esignatures. As of June 2021, Rocket Matter will feature an embedded signature tool available to its users. The number of signatures available will be based on a tiered pricing model, which will include an unlimited tier. As relational databases for client management, the chief advantage of law practice management software has always been the staggering amount of information and features that can be stuffed into these systems. Thus, access to an esignature tool within Rocket Matter is another way the software saves users time, effort, and money.
The More Things Change, the More They Stay the Same: Existing Rocket Matter Feature Highlights
As referenced above, Rocket Matter has been a successful entry in the law practice management software space for almost 15 years. That doesn't happen by accident. There are a lot of things Rocket Matter has done well for a long time that help it stand out from the crowded offerings in the vertical. This next list is but a smattering of a larger and most impressive feature set.
Project Management
Rocket Matter has always set itself apart through its unique approach to project management and an associated focus on lean law practice. Rocket Matter is one of the only case management software providers to offer Kanban boards. Its robust project management feature also delivers workflow management tools, including easy-to-use transitions between workflow segments and the ability to track cycle time for process components and filtering capabilities to identify out-of-scope items. Efficient law firms make more money; and, efficient law firms rely on project management. And, in some practice areas — again, looking at you, insurance defense —some clients (like insurance carriers) are beginning to request information about law firm process management and efficiency metrics.
Reporting
Rocket Matter has built an impressive business intelligence (BI) platform within its suite that allows users to generate KPIs meant to support data-driven business decisions. Rocket Matter users can also build and modify their own reports and have access to many pre-built reports out-of-the-box.
Recurring Billing
As pricing pressure from legal consumers continues to affect law firm rate setting, many attorneys are considering adopting (as well as actively changing to) alternative billing methodologies. Rocket Matter supports that choice via a number of different mechanisms. Users can set up recurring billing options (monthly, annual), payments (for a set period of time, or forever), or payment plans. Rocket Matter even offers the option to generate notifications for evergreen retainers, allowing clients to "top off" retainer amounts, which is a highly effective cash flow management system for law firms.
Conflict Checks
Rocket Matter's conflict check options are extensive. The tool features a full-text, global database search, allowing for exact or partial matches. And users can export conflict check results.
The new and improved Rocket Matter builds on a long history of success.
Moving forward, Rocket Matter will continue to offer practice management software any law firm can take advantage of, while also building specific features useful to practice areas like family law and insurance defense, where existing tools, such as batch billing and document assembly, are already changing the game.
---
Schedule a demo or access a free trial to find out more.
Attorney at Work's sponsored Product Reviews and Product Spotlights showcase news and features from legal technology industry leaders. For more information, click here.
Illustration ©iStockPhoto.com
Subscribe to Attorney at Work
Get really good ideas every day for your law practice: Subscribe to the Daily Dispatch (it's free). Follow us on Twitter @attnyatwork.