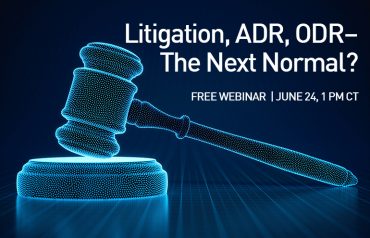 Join the College of Law Practice Management on Wednesday, June 24, at 1 p.m CT / 2 p.m. ET for  "Litigation, ADR, ODR — The Next Normal?"
Description: Pressured by the pandemic, we're all retooling rapidly. The Supreme Court is hearing arguments by phone. Trials and grand jury proceedings are happening in Zoom-land. More disputes are being resolved online than ever. Judges are presiding from home and in sneakers. We have known for years that dispute resolution is too hard, too slow and too expensive, even for prosperous participants. For everyone else, the burdens are always tedious and often unjust.
Is this all temporary? Or is it a sea change?
Jordan Furlong of Law 21 will moderate a panel of experts to discuss the future of litigation. Panelists include:
Nicole Nehama Auerbach — litigator, and co-founder of pioneering law firms Valorem Law and ElevateNext.
Sohail Mohammed — electrical engineer,  New Jersey Superior Court Judge, court innovator and teacher
Darin Thompson — lawyer, teacher, and knowledge engineer for the Civil Resolution Tribunal, British Columbia
Save your place and register for free here.
The College of Law Practice Management is a professional, educational and honorary association dedicated to the improvement of the law practice management and to the enhancement of the professional quality of and public respect for the law.
Attorney at Work is a proud sponsor of the College of Law Practice Management.
Illustration ©iStockPhoto.com