With spellcheckers and online grammar guardians such as Grammarly, proofreading has become a nostalgic pastime for some writers. But proofreading is more than spotting typographical errors; it is a chance to impartially consider usage and sentence construction.
Like mindfulness, proofreading contributes to peace of mind. You can't control the past or the future, but you can control the document in front of you at the moment. Focusing on it calmly but intently, with what Buddhists call the curious beginner's mind, will yield the best results.
Word nerds and judgmental readers (and, alas, I am one) will reject your ideas in knee-jerk fashion if you misconstrue "your" for "you're," or "its" for "it's," "theirs" for "there's."
Give Your Message the Life It Deserves: Proofread Your Work
Here are some habits I employ that may prove useful to you.
Don't just do something. Stand there. This is apt for so much of life. Don't attempt to proof a piece just after you've completed it. Wait 30 minutes, a day, a week, as your schedule allows, before reviewing it. Try to come at it more objectively, with some distance between your copy and the birthing process.
Proof in hard copy. Grab a red pen (yup, red, because this is deadly serious work), print out your piece and move to another room. Go through the work slowly and dispassionately. Our eye sees what it wants to see. Concentrate in a quiet space so you can see any errors your eye and mind want to believe don't exist.
This is about more than typos. Look for words that are repeated too often (for instance, said, work, help or show). Search for weak clauses. Bring skepticism to long sentences.
Tighten those abs. Tightening copy is an art. Master it. Look for widows and orphans. Pay attention to excess punctuation, which almost always points to copy that can be cleaned up. Review my "Writing Lean" post for additional tips.
Lazy phrasing. Beware of phrasing that takes up two seats on the bus when only one is needed. "In order to" is a prime example. This is an area in which you need to be ruthless. (And yes, that sentence could be much shorter.)
Adhere to a style sheet. Make your job easier by compiling a style sheet (see last month's post on "Style Guides"). This greatly reduces judgment calls and reinforces sound usage rules.
That said, relax. Rigid adherence to a certain construction or style can result in a proofreading nightmare. Don't create a word salad because a guide told you to.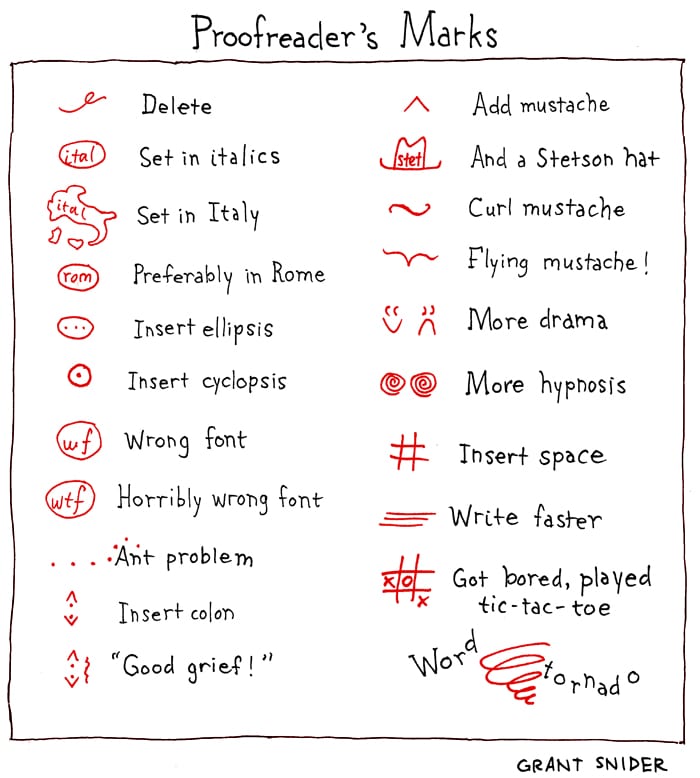 When Possible, Employ a Second or Third Set of Eyes
They may not be as cunning as yours, but they don't need to be. They just need to be new to the copy. Often a dispassionate editor or proofreader will ask a question that reveals a flaw the author was blind to. Listen to and value this input.
Want more? Read this delicious post, complete with Mark Twain truisms, from ThoughtCo.
"Proofreaders Marks" by Grant Snider (Incidental Comics) is licensed under CC BY 2.0
Illustration ©iStockPhoto.com
Subscribe to Attorney at Work
Get really good ideas every day: Subscribe to the Daily Dispatch and Weekly Wrap (it's free). Follow us on Twitter @attnyatwork.