The inaugural Shape the Law Unconference will take place April 29, 2016, in San Francisco, focused on "Wellness, Wealth and Wisdom." Attorney at Work is proud to support the new event as a media sponsor. We asked Jeena Cho, one of the four enterprising Shape the Law founders, to fill us in. Watch for future Shape the Law events — they're just getting started!
Q. First, what is an "Unconference"?
A. An Unconference is a participant-driven meeting that emphasizes the informal exchange of information and ideas, rather than following a conventionally structured program of events. Instead of having predetermined speakers or session topics, the participants shape the agenda themselves at the beginning of the unconference and share information and ideas in a more decentralized fashion. It's a way to foster and boost the impact of "hallway magic."
As described in the PubPro 2016 Unconference:
"You're all experts at what you do, but because you work in relative isolation from others in your role, you've all developed your own systems. There's no hard and fast set of best practices, so there's no one expert who'll provide you with all of the answers you need. This event will be an opportunity to cross-pollinate: learn what others are doing, what works, and what doesn't, and see if others' strategies can be adapted to your situation.
If you've developed a pretty good system for some aspect of your work and would like to share your knowledge, consider giving a presentation. If you face a particular problem and want to know how others approach it, consider leading a discussion on the topic."
Q. Why Shape the Law?
A. The four organizers of this event come from very different backgrounds and currently hold different roles in the legal field.
Laura Maechtlen is a partner at Seyfarth Shaw LLP.
Mary Redzic is in-house counsel at Vionic Group, a comfort shoe company in the Bay Area.
Alexandra Devendra left BigLaw to start a legal design consulting service.
Jeena Cho practices bankruptcy with her husband in San Francisco and also writes regularly on the importance of wellness for lawyers.
We met online and bonded over our frustration at the lack of community in the profession, especially among women attorneys. There were conversations we were interested in having and topics we wanted to explore, but there wasn't a venue for these conversations to take place. Unfortunately, traditional legal conferences and CLE programs tend to focus on the speakers, and there's not a way to interact with the other attendees.
Q. Who should attend the Shape the Law Unconference?
A. Our inaugural event is open to self-identified women attorneys. The theme for this conference is "wellness, wealth and wisdom." Participants are invited to bring their questions, wisdom, enthusiasm and knowledge. We are planning future events, which will be open to both men and women.
For more information, please visit shapethelaw.com and follow @shapethelaw.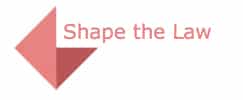 Illustration ©iStockPhoto.com; graphic courtesy of Shape the Law.
Attorney at Work is a media sponsor of Shape the Law.