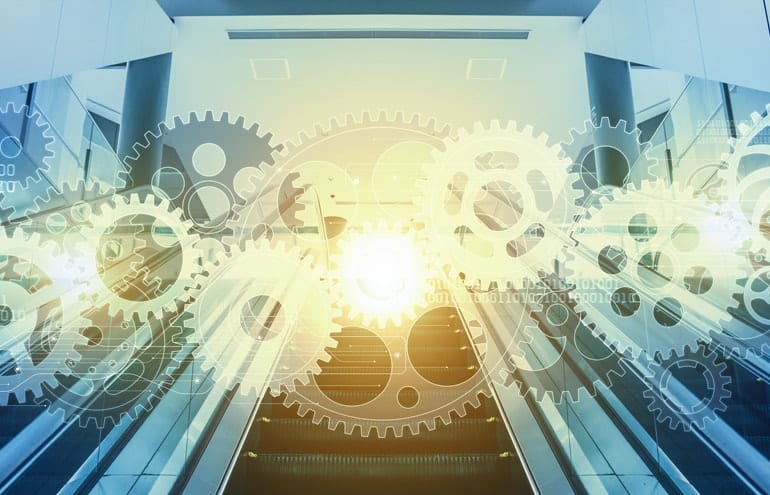 Documate is a modern, cloud-based document automation software with easy-to-use features for complex template building, client intake and data management.
When Microsoft released the Windows Vista operating system, people hated it. Microsoft's response? Release a stripped-down version of its operating system, the simply-titled Windows 7, which became a favorite of many a Windows user. (I still miss Windows 7!) And, if Windows Vista was the Edsel of operating systems, Windows 7 was another one of those successes bred from failure.
One man's feature list, as it turns out, is another man's bloat. The fact is that, as the life of a software product extends, developers tend to add more features but don't strip out old ones or make them simpler to understand. Over time, software tends to become harder to use, not easier.
Document Automation Software
Document automation software remains critically underutilized despite obvious efficiency advantages. Common complaints against existing tools mostly apply to overwhelming, antiquated feature sets and complicated user interfaces. Small firm managing attorneys want to get into their software without learning to code or hiring a consultant to build it out for them. In sum, many attorneys view document assembly as too complicated to adopt.
But there is a different path forward.
Modern "no-code" document assembly technology is now available that leverages the cloud and is easier to use, with powerful feature sets for your law practice.
Documate is that tool.
Documate is a modern cloud-based document automation product with easy-to-use features for complex template building, client intake and data management. But Documate isn't only a winning solution for law firms seeking to add internal efficiencies. Its template-building and interview-generation tools make it a viable program for attorneys who want to make it simpler for clients to submit document-specific information (e.g., client-facing intake), or to buy documents directly from law firms through a "TurboTax" like platform.
Exit Interview: Building Document Logic in Documate
Creating the system logic necessary for turning templates into client-specific documents in Documate is decidedly not about combing through documents, looking for insertion points. In fact, the preferred method is to start outside the document and build a guided interview or questionnaire. As an attorney who manages documents all day, you'll know the inputs required, for the most part. Documate offers a list of question types you can use to fill your documents, from basic contact information to complicated if-then logic chains. The intuitive builder page allows you to flesh out your question set — once you pick a question type, it's just a matter of typing out what you want it to say. You can combine questions, chart sections, and add informative headers to documents.
The functionality of the Documate builder can be favorably compared to the ease of use of a wiki. You can run a preview screen for any interview you build at any point in the construction process. Users get unlimited pages and unlimited questions for document creation.
If you can use SurveyMonkey or TypeForm, you can become a Documate pro.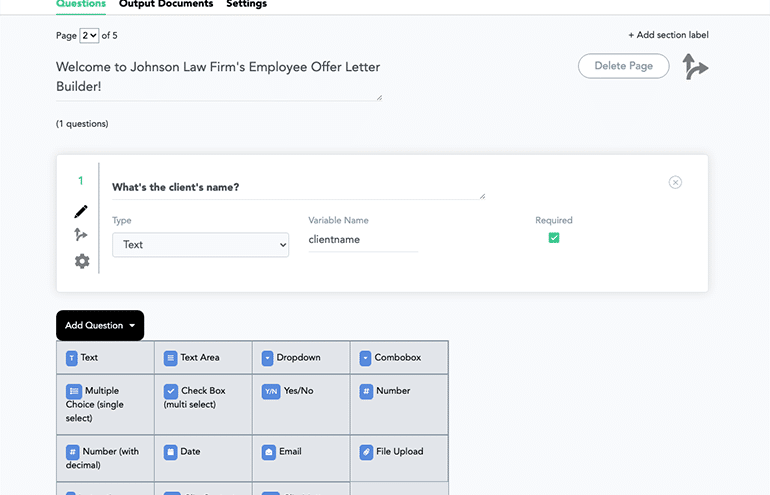 Launch Phase 1: How to Generate Documents from Templates
Once you set up the Documate interview questions (the data you need to gather), the next step is to upload the template document. PDF or Word works for uploads. Then you tag it with the question types you just created so the interview responses can flow into the final document. Documate has a Word add-in and functions everywhere Word does: Word for Mac, Word for PC and Word Online.
Now, it's time to get funky with variables.
Users can include simple mail merge-style edits, generate repeating items in any format, access a clause manager, and even add document exhibits on a conditional basis. You can run nested conditional logic until you're blue in the face. Documate can make calculations based on numbers and dates, so you can calculate birthdays and statutes of limitations without pulling your hair out. ("It was my understanding that there would be no math.") Once you've got your interview questions settled and your logic nested, it's time to fly.
If you can drag and drop, you can use Documate. It's a document assembly software with a modern, user-friendly interface.
Launch Phase 2: How to Author a Client-Facing Document Generation Tool ­
(Or How I Learned to Stop Worrying and Love Productizing)
Now, many lawyers will stop at generating documents for clients. But you're not that type of lawyer, are you? You know that it's also pretty dope when clients can create documents for you. A-ha!
Lawyers hate document automation tools for consumers. But, those tools would suck a whole lot less if you're selling them yourself, right?
Documate allows law firms to do everything from client intake to productizing documents, just like LegalZoom.
And, sure, you can attach traditional legal advice to that process … just like LegalZoom.
In terms of logistics, workflows you create for yourself and your staff can also be pushed to clients.
Clients can create their own documents from your templates or send you draft versions of documents. And because you can white label everything, they don't need to know you're using document automation software. Even if you remain involved in the process, allowing for the possibility of your clients performing unpaid data entry for you is pretty impressive, no?
Some of the interview tools accessible via Documate make the system particularly well-suited to becoming a client-facing solution, too. For example, the ability to create section navigation and add videos and images in workflows will allow you to guide clients along the document generation process. Also, conditional logic lets you share specific documents with some clients (but not others) based on the information they provide.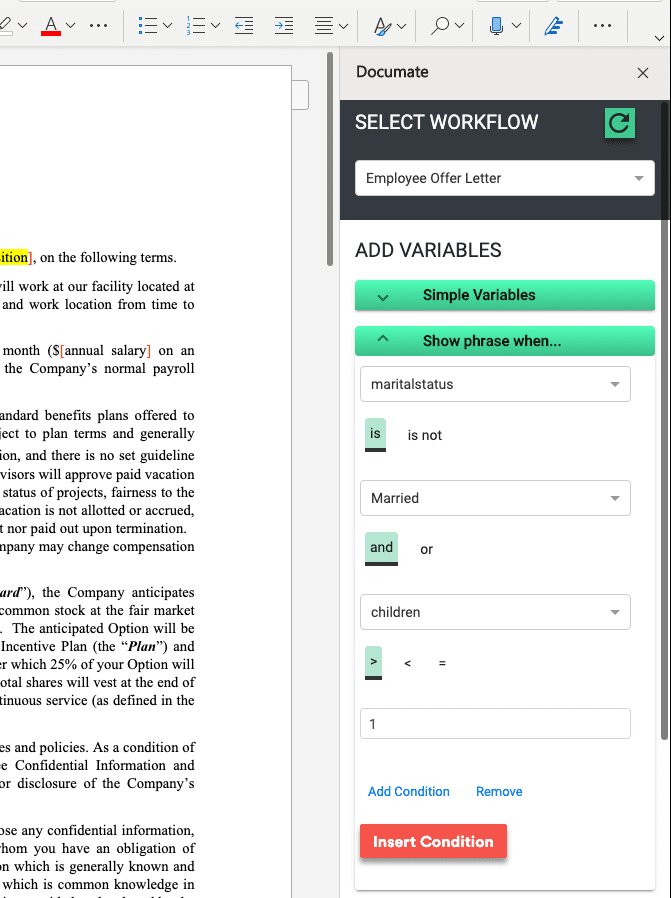 Law firms can even launch client-facing document generation tools through client intake or data forms, including via iFrames. A Stripe integration allows firms to take payment at the document creation level as well. While eSignature is via a proprietary tool, integrations with HelloSign and DocuSign are available. The software also integrates with Clio Manage and has its own client portal.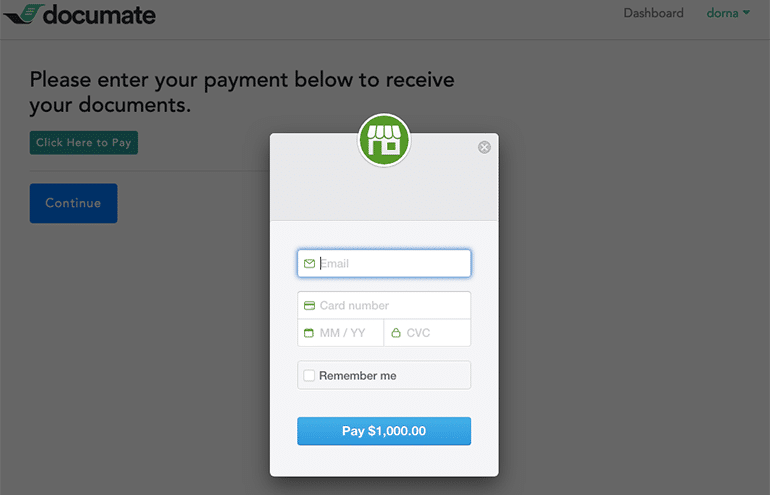 Documate can help you build a TurboTax-like solution for any area of law and any jurisdiction, whether you're using it internally or with clients.
Death, taxes, Documate. All inevitable. Only one of those you want.
Documate encrypts data in transit and at rest, and sets up each client on its own instance of AWS.
The Documate Details
Pricing is reasonable and free trials are available. The customer support is also stellar. And, there are lots of video tutorials if you want to take a deeper dive.
Attorney at Work's sponsored Product Reviews and Product Spotlights showcase news and features from legal technology industry leaders. For more information, click here.
Illustration ©iStockPhoto.com
Subscribe to Attorney at Work
Get really good ideas every day for your law practice: Subscribe to the Daily Dispatch (it's free). Follow us on Twitter @attnyatwork.