Still on the hunt for a gift that will dazzle the techie in your life? We wondered what those in the know — our technology-loving friends and Attorney at Work contributors — have on their own holiday wish lists this year. So while conducting a quick survey on legal technology trends, we couldn't resist asking what would delight them most, should it appear beneath the tree. (We do believe we detect a trend in the responses.)
Something's in the Air
"A GPS tracker for my kids would be nice, but I'll settle for an 'iAnything,'" answered Joe Bahgat of Hub City Law Group in New Jersey. And Joe's not alone. Most of those asked had an iGift in mind, including these:
"iPad Air."
— Sharon Nelson, Sensei Enterprises, Inc., Fairfax, VA
"I would love an iPad Air."
— Marc W. Matheny, Attorney at Law, Indianapolis, IN
"iPad Air 64GB."
— Marriott Murdock, NetDocuments, Salt Lake City, UT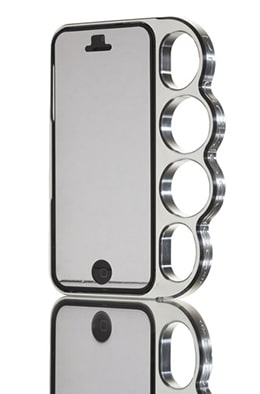 "My old iPad 2, with which my daughter has absconded. Guess I'll have to buy the kids their own iPads!"
— Erik J. Heels, Clocktower Law Group, Boston, MA
"An iPad Air or the Parrot Zik Wireless Headphones by Starck."
— Reid Trautz, AILA Practice & Professionalism Center, Washington, DC
"The latest iPad is always a first choice, but I'd also like to be able to try a Microsoft Surface tablet."
— Jim Calloway, Oklahoma Bar Association, Oklahoma City, OK
"A new MacBook Pro, to complete my conversion to the dark side."
— Vivian Manning, Barriston LLP, Barrie, CA
Speaking of iObsessions, we're eyeing these Knucklecase iPhone covers (surely not as sensible as the Otterbox currently in use, but oh, my). Then again, there's that LEGO-compatible iPad case from SmallWorks on Mashable's holiday list. Decisions. Decisions.
But Truly, All I Really Want Is …
Not all of the responses were i-related, though — a few are resisting the lure:
"Bose headphones."
— Simon Chester, Heenan Blaikie LLP, Toronto, ON
"A fully functional Luke Skywalker Speeder Bike."
— Mark Tamminga, Gowlings, Hamilton, ON
"I'd really like a pair of Bluetooth headphones. I just haven't bought them yet."
— Jeff Taylor, The Droid Lawyer, Oklahoma City, OK
"Samsung phone watch or Fit Bit health monitor."
— Chelsey Lambert, Law Practice Management & Technology, Chicago Bar Association, Chicago, IL
"This year it would be something to upgrade/streamline our office/personal cloud file storage/access system. (I haven't quite settled on a specific product yet.) I'm really interested to see what'll be new at the Consumer Electronics Show when I get to Las Vegas in January."
— Mark Rosch, Internet for Lawyers, Rio Rancho, NM
"I would love a QZ10-Torch-slider BlackBerry. It would be great to have a big screen and a physical keyboard, too — but we all know that won't happen. I'm loving my Microsoft Surface RT tablet: Finally a tablet that lets me work on native Word, Excel and PowerPoint files — this is a game-changer — at least for those of us still living in the Windows world. I would also love to find a Surface Pro 2 so I can have the full power of a Windows laptop in a tablet. While a clear business case can be made for it, I will have to negotiate with Mrs. Claus for an increase in the tech-gadgets budget to see one under my tree."
— Dan Pinnington, LAWPRO, Toronto, ON
Illustration ©iStockPhoto.com