This article may help you understand the realities of using ChatGPT and other AI-generated content in your law firm marketing efforts.
ChatGPT has been a hot topic in the marketing world lately, and for good reason. A recent LinkedIn post spurred a conversation with several of my legal marketing colleagues (including Attorney at Work columnist Annette Choti). Here is a deeper dive to help readers understand the realities of using ChatGPT and other AI platforms in their marketing efforts.
Let's be honest, whether you run a solo practice or work in a large firm, who really has time to write their own website content and blog posts? As a practicing lawyer, your time is extremely valuable. Still, just because you don't have time for something, that doesn't mean it isn't crucial to your business. Many lawyers turn to third parties for help with marketing — including writing their marketing content and articles. Of course, in exchange for time saved, you will spend money on those services.
Enter ChatGPT
You'd have to be in a media blackout to have not caught wind of this new AI-powered chatbot. Launched in late 2022, ChatGPT responds to questions with close-to-human-sounding content on any imaginable topic — including law — in a variety of text formats, from full articles to poetry. For example: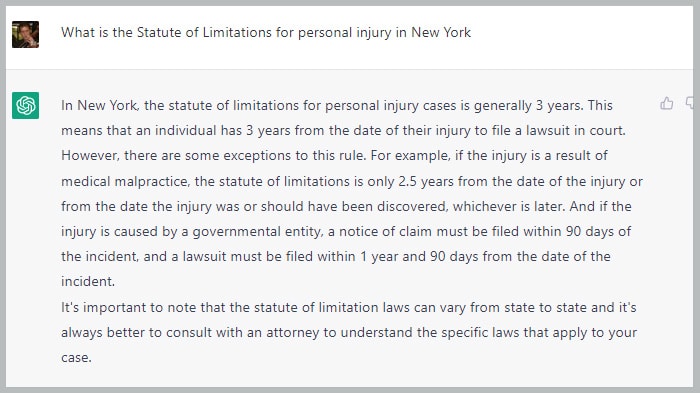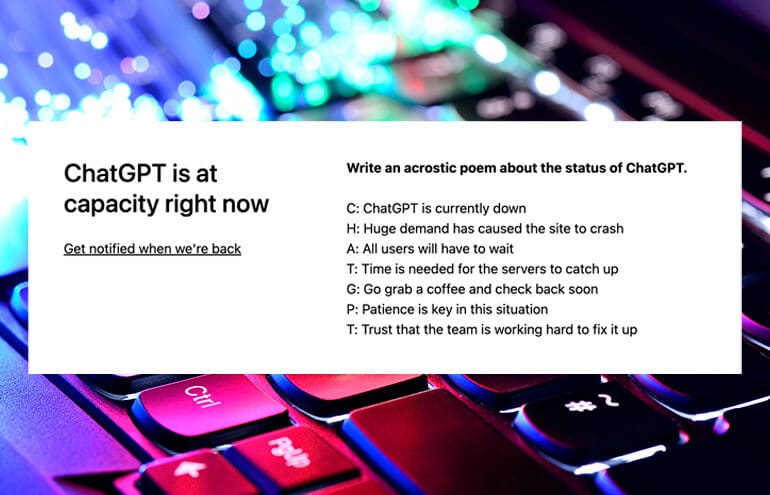 Many in the law firm marketing world are wondering how they can leverage AI to cut costs and create content at scale.
So, is ChatGPT an answer to getting the marketing content you need quickly and for less money? Or is it Pandora's box? Let's look at what we know now and the potential impact ChatGPT could have on marketing in the legal realm.
Is AI-Content Spam?
The question of how Google will treat AI-generated content — and how it will affect your SEO and page rankings — is a big one for marketers. According to John Mueller, Google's Search Advocate, AI content is considered spam and spam has been historically penalized by the search engine. However, in light of revelations that CNET and Bankrate had been using AI to draft articles, Google appears to have changed its stance. Google's Public Search Liaison Danny Sullivan recently said: "[O]ur ranking team focuses on the usefulness of content, rather than how the content is produced."
Or Just Really Bad Writing?
It's important to note, however, that the AI-generated articles CNET and Bankrate were publishing were so error-ridden that they have stopped the practice, for now.
These seemingly contradictory statements from Google have left many people in the legal marketing world scratching their heads about how to proceed with AI-generated content.
Let's look at some other things to consider before using AI in your marketing.
Hold On! Factors to Consider Before Using AI to Generate Legal Marketing Content
While it might be tempting to leverage this potentially time- and money-saving technology as soon as possible, now is the time for caution. Here are just a few factors to think about before jumping in.
Will ChatGPT Content Be Watermarked?
OpenAI, ChatGPT's parent company, has discussed plans to watermark all content created by ChatGPT cryptographically. This way, Google and other search engines could detect and flag the content as AI-created through an embedded pattern in the content that human readers can't "see." A watermark could help with issues regarding academic plagiarism and the mass creation of misinformation or propaganda. With this watermark, Google will automatically know if you used AI to create your content — but how they treat it remains to be seen.
That said, Google has an incentive to prevent a torrent of AI-generated content from flooding the internet.
What Will Google Do With AI-Generated Content?
No one knows what Google could or will do when ranking AI-generated content, especially once the technology exists for it to detect the source. Many observers predict Google will continue to reward human-created content and penalize AI-generated content.
Even though ChatGPT content has yet to receive a watermark, many suspect Google already has ways to identify nonhuman-created content and will only get better at it with time. At some point, if that point has not already arrived, there will be no hiding AI-written content from Google. If you want the content you create or purchase for your website to be effective and rank high on Google, stick with human-generated content. Veering off this path may harm your SEO efforts.
How Will State Bars View AI-Created Content?
As an attorney, you not only want your content to rank well and be seen by potential clients, but you also have to ensure compliance with your state bar's guidelines and regulations for advertising.
So, you must consider what state bars think about AI-created content. Can you ensure that the content ChaTGPT or other bots create for you complies with your state bar's requirements?
Given the pace at which the legal profession seems to adopt new technologies, even if state bars decide to get on board with AI-generated content, it could be years or even decades until they do. Remember, until recently the ability to electronically file pleadings with the court or use electronic evidence was not widely available. It took a global pandemic to speed some of that up.
Furthermore, state bars have shown outright hostility toward AI. DoNotPay was set to have a "robot attorney" tell a defendant what to say in a hearing through the use of video glasses and an earpiece in February 2023. DoNotPay has scrapped that plan in light of warnings regarding the unauthorized practice of law from multiple state bars.
You should assume that some state bars will likely prohibit AI-generated content in marketing materials or work product. It's certainly not worth risking discipline, or losing your bar admission, to save time and money on AI-created marketing content.
Beyond these ethics concerns, OpenAI, the company behind ChatGPT, faces legal challenges that should raise questions for users. As reported in TechCrunch:
The U.S. Patent and Trademark Office (USPTO) recently moved to revoke copyright protection for an AI-generated comic, saying copyrightable works require human authorship. And Microsoft, GitHub and OpenAI are currently being sued in a class action lawsuit that accuses them of violating copyright law by allowing Copilot, the … code-generating system, to regurgitate sections of licensed code without providing credit.
Should You Steer Clear of ChatGPT?
When it comes to using ChatGPT for long-form content such as blogs and webpages, you might pump the brakes until we see how developments unfold. That said, you shouldn't ditch AI entirely. You can incorporate ChatGPT into your marketing efforts in several helpful ways, such as:
Social media marketing strategy creation
Brainstorming blog topics
Identifying content keywords
Writing social media posts
Generating advertising copy
Creating website sitemaps
Statistical research
Writing emails
AttorneySync's Gyi Tsakalakis recommends a few other ways to use ChatGPT as well, including using it to create automated responses to client inquiries and FAQs.
If you are involved in your firm's marketing efforts or write your firm's marketing content, remain alert for new developments in the AI space. Before making any decisions about using this technology, however, carefully consider how it may affect your SEO efforts. And, just as you would with human-generated content, make sure all your marketing and blog copy complies with your state bar's ethics rules.
Some FAQs About Using ChatGPT
Is ChatGPT the Only Content-Generating AI Out There?
No. In fact, AI content has been around for years, but the content created by older technologies was nowhere near as good as what is generated by the newest generation. Since OpenAI (ChatGPT's creator) has released an API allowing developers to build apps on its platform, you can expect startups to begin developing AIs for specific uses in various industries.
What AI-Based Writing Tools Are Available?
There are several AI writing tools that speed up content creation and assist with writing tasks. According to Hubspot, some of the more popular products include Writesonic, Jasper, Writer and Rytr.
Is the Use of AI Governed by Rules of Professional Conduct?
The ABA Model Rules of Professional Conduct have not been updated to address the use of AI specifically. That said, it's likely that Rule 7.1: Communications Concerning a Lawyer's Services will apply. Under that rule, a lawyer cannot make false or misleading statements, and a communication is false or misleading if it contains a material misrepresentation of fact or law, or omits a fact necessary to make the statement considered as a whole not materially misleading. Comment 2 to Rule 7.1 states that "[a] truthful statement is misleading if a substantial likelihood exists that it will lead a reasonable person to formulate a specific conclusion about the lawyer or the lawyer's services for which there is no reasonable factual foundation." This comment could be interpreted to mean that if readers base their opinion of an attorney's knowledge or skill based on AI-generated content, it would violate the rule. Also, as with untrained human-generated content, AI-generated content may contain statements that violate more specific rules, such as those regarding calling yourself an "expert" or "specialist" in a given area of law.
Image © iStockPhoto.com

Don't miss out on our daily practice management tips. Subscribe to Attorney at Work's free newsletter here >