Let me start by saying that I'm not an intellectual property lawyer. But I am a lawyer and part owner of a marketing agency. And, while I no longer practice law, I can still spot an issue when I see it. There's a big one lurking for law firms that don't take the simple steps necessary to adequately protect their brand-related intellectual property.
Now it's possible my experience is unique, but in the 10 years that we've worked with law firms, rarely does the issue of intellectual property come up — unless we raise it.
I've always found this strange, but perhaps not unexpected. "The cobbler's children have no shoes," after all. And, to be fair, our non-legal clients rarely raise the issue either. It just seems like law firms should know better.
An Overlooked IP Issue in Law Firm-Creative Agency Relationships
I raise the issue because it's a big one. We all know that intellectual property rights are an essential element of a law firm's value and competitive edge. Law firms invest heavily in the creation and promotion of their brands. And in today's digital and international business world, it's harder than ever to protect and enforce IP rights.
But there's a low-hanging-fruit IP issue — simple housekeeping, really — that is chronically overlooked.
The problem: Most firms hire outside creative agencies or freelancers to produce trademarkable or copyrightable work for them — logos, taglines, websites and copy for digital and print materials. The general rule under the Copyright Act is that the person who creates a work is the author of that work unless the work is designated as a "work made for hire." But rarely do firms request that a "work made for hire" arrangement or an "assignment" of all rights and interest in a work be executed.
In practical terms, that means the three-person agency that was hired by the 800-lawyer firm to redesign its logo may, in fact, own the rights, title and interest to that logo.
Say What?
The above example is simplistic, of course. But law firms, like most other businesses, seem to operate on the assumption that "you pay for it, you own it," which is not always the case. And "law firms" — a collective body of smart, thoughtful individuals — know better.
It's not as if lawyers within the firm, IP experts or not, are wholly unaware of this basic principle of IP law. But for some reason, the marketing department never gets the memo. Or, if IP protection gets outsourced to marketing, firms don't adequately train or supervise those responsible for overseeing and protecting the firm's creative portfolio of assets. We've even had law firm clients ask us — their marketing agency — if a proposed tagline is "taken." We don't touch that one with a 10-foot pole, except to say that in developing any creative tagline concept we do our normal due diligence (Google search, USPTO search), but it's up to the client (or their lawyer) to make a final judgment on intellectual property.
I'm not sure if things ever go deeper than our shallow dive.
Get It in Writing
My guess is that brand and creative IP is not addressed because it rarely becomes a high-profile issue. All it would take is one Wall Street Journal story about a large firm embroiled in federal litigation over logo rights with a freelance designer for marketing agency inboxes to be flooded with "Assignment of Rights" agreement templates.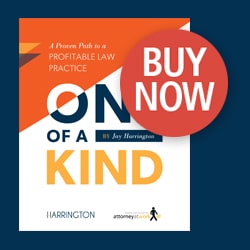 That hasn't happened yet, because most creatives aren't focused on copyright rules either. Many operate loosely, quick to turn over artwork to paying clients and to relinquish, at least intellectually and emotionally, if not legally, rights to that work.
But take note of the modifier I used: "paying."
Just as clients get burned by vendors, vendors get burned by clients. Almost every professional has been in a situation where they were too trusting with a new client and didn't get paid upfront or get the deal in writing. So when the issue of IP comes up, don't expect the creative you're working with to take it lightly.
Our agency has become more attuned to these issues. The default position may be that we have control over our own work, but that's not our desire — we want the client to own its brand. So we talk about it with the law firm before the work begins. And after talking about it — as I learned is good practice in my first year of law school — we put it in writing.
That's because most business disputes don't arise from bad actions, but instead from confusion. Parties begin a relationship with a handshake or email exchange, confident in their roles and responsibilities, and end it with acrimony fueled by different expectations. It's in the best interest of both parties to get clarity before they get started.
That's just good business, for both law firms and their creative partners.