This list of hybrid worker essential gear will make the regular transition from the kitchen table to downtown as smooth as glass.
So it finally happens. You're called back into the office two days a week. It seems like a wonderful idea and you can't wait to see Jan again and pop over the top of your cubicle to gossip with Keith.
Your cubicle used to be your little chunk of the universe, with sticky notes all over the whiteboard, that one calendar with pictures of Turks & Caicos and your favorite coffee cup, left behind when you were sent home for 43 years. You're so excited! But when you get there, your cubicle is empty. All the Post-it notes are gone. So is your coffee cup. The cubicle's been sanitized and reset, and when you pop over the top to make a WTF face at Keith, you scare the crap out of a guy named Ralph, and this is not what you expected from the long-awaited "return to work."
Suddenly you miss your home office. You miss your lamp. You miss your dumb little desk cactus, Mildred. How the hell is this Frankenoffice thing going to work?
Relax. We've got you covered. This list of hybrid worker essential gear will make the regular transition from the kitchen table to downtown as smooth as glass, so you can maintain a sense of continuity — and take good care of Mildred.
The Shared Pain Points of a Hybrid Workforce
Though every job has its unique set of difficulties, there are a few hurdles hybrid workers share. Everyone has to get to the office, has to work in the office, and has to maintain some kind of continuity between their home office and their office office. The common pain points are getting there, being there and producing there.
Krista Chambers is a busy project manager at Chicago's Orbit Media. She's also a busy mother of two, so working at home has been enormously beneficial. However, after 30 years of COVID lockdown, Chambers was going slightly stir-crazy. When Orbit reopened its offices in May, Chambers was all over it.
Chambers discovered she had different work styles for each location. "When I'm at home, I rarely get up from my desk. Maybe I'll go upstairs to get a sandwich. I do a bad job of pulling myself out of my 'screen space.' I definitely feel like when I'm at home, I'm under the gun. I think it's because I'm in a vacuum. But at work, I have a natural cadence. I see co-workers going into the kitchen for water or coffee and it triggers me to get up, to walk around, to have a conversation."
Hybrid Workers Need Desktop Continuity
Your desktop is your workshop. It's your safe space. In some ways, it is sacred ground and subject to taboos and superstitions. You protect your desktop. You fiddle with it constantly, trying to get it just right. You decorate it with totems. It's as much a part of you as your own hands. So when you leave it to go work at a blank cubicle at HQ, it's only natural that you feel out of sorts.
This is true for all your home office tools: your favorite pen, that one notebook you love, a lamp that just works. All of these seemingly unimportant items are actually essential to your sense of continuity. Your tools support you. They're a vital part of what makes you good at your job.
Chambers agrees. "I duplicated my desk. I don't carry a ton of equipment. I have my trusty laptop. I also carry a Bluetooth keyboard and a mouse. But everything else is in both offices: monitors, Post-it notes, my Oxford One Subject 8×5 Notebook, my favorite Yeti coffee mug, and pictures of my kids."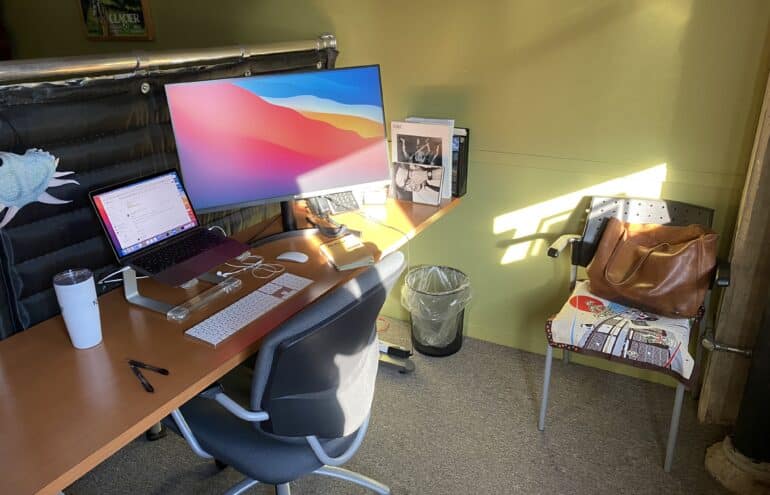 Desk Cloning Is a Thing, Hybrid Worker
When [My Attorney Spouse] and I have to travel, we take our work with us. We'll turn an Airbnb into a home-office-away-from-home-office. It works because we enjoy the benefits of working at home while doing so from Spain. It's a great idea. On paper. But when we get there, it never works as well as we want.
Just last week we were working from a little carriage house in Savannah. She took the dining room table with her fleet of monitors and pyramid of Diet Cokes. I had to make do in the living room by scooching a side table up to a wingback chair and it just didn't work. I missed my lamp. I missed my printer. I missed my space.
It would have been more productive for me to bring my entire desktop with me. Now, dragging a lamp and a chair across four states to an Airbnb might sound crazy — but that's only because it's crazy. Most of us aren't traveling that far. In fact, the time spent commuting for U.S. workers declined by 26 minutes in 2020. That's down from 18 miles into work in 2018 to 14.9 in 2020. But distance doesn't change what you take with you, just how hard it is.
Making your workspace portable is essential for some hybrid workers. Here are three ways to do it.
Desk cloning. If you have a permanent space downtown, buy duplicates of your favorite and most essential desktop items, then have them shipped to work. Of course, you might not buy another Jac Zagoory penholder desktop pen stand or a Chelsea Ship's Bell clock, but you can certainly copy your desk pad, your stapler, your reference books, pencils, pens and pictures.
The portable desk. You can also bring your desktop from home in a box. This is impractical if you're only there for a few hours or a day, but if you work a split week, it's not a bad idea. Sure, it's a pain to pack up and drag your desktop to your car. Or on the train. And yeah, it takes a few seconds to put everything where it goes. But if your desktop is vital, it's worth it.
Just bring the essentials. Maybe the lamp is a bit much. But bringing your legal pads, your pens and pictures of your dog will get your blank cubicle that much closer to your preferred workspace aesthetics.
Neil Squillante's Perfect Proof of Productivity Through Desk Cloning
TechnoLawyer publisher Neil Squillante got tired of lugging his laptop back and forth from office to home. It was a constant source of mild frustration before the pandemic, like when he stayed late at a dinner and had to cab back to his office to retrieve his deck. To alleviate hassle, he duplicated his office.
"Same Mac and eventually same desk, same chair, same iPad, same AirPods, same accessories," says Squillante. "I did this primarily for productivity so that working from home provided the same experience as the office. I'm a believer that ergonomics is essential for productivity. We once even hired an ergonomics consultant who photographed us to show us our bad habits and took us chair shopping. I reversed all my wrist and shoulder pain with better equipment and training."
During the early days of the pandemic, countless people whined about how they were working on a sofa or a kitchen table. Squillante's duplicate office prevented those productivity issues. On March 12, 2020, Squillante worked in his office. The next day he worked at home without missing a beat, never to return to the office except to collect a few items in April and move out in May.
"Duplicating your office at home provides some redundancy, but this was a secondary consideration," says Squillante. "For example, I worked at home a few times when the office suffered an internet outage. But other times I used my iPad as a hotspot in the office." Desk cloning is more about productivity, Squillante says. "It's not a complete disaster readiness plan. During Superstorm Sandy, for instance, both my home and office had no power for three days, so neither location was operational."
If you're curious about the gear in the photo, it's a Herman Miller Mirra 2 chair and a Workrite Sierra HX height adjustable desk.
Getting There: Essential Mobile Gear for Hybrid Workers
You're gonna bring more than your pencils when you shuttle back and forth between offices. You may need to carry files. While the whole world is working digital, there are still some files that must remain physical.
You must also consider how you get to the office. If you drive, then you can carry whatever fits into your car. (Bonus points for people who drive minivans or SUVs because you can carry everything.) If you Uber, you have less space to fill with boxes, and if you use public transportation, you can pretty much carry a tote bag and a half-full banker's box if your core strength is solid.
Ask Yourself: Does This 3-Inch-Thick Discovery File Bring You Joy?
Because part of your hybrid worker essentials planning might be downsizing, you need to Marie Kondo your gear and transport only what is necessary. In this digital age, thankfully, most of your work is in the cloud. Developing a sense of continuity between your home office-office office balance means you're transporting more than files. But you're a lawyer. Hanging files are the song of your people. If you must lug them to-and-fro, at least do so in style.
Three great ways to tote files back and forth: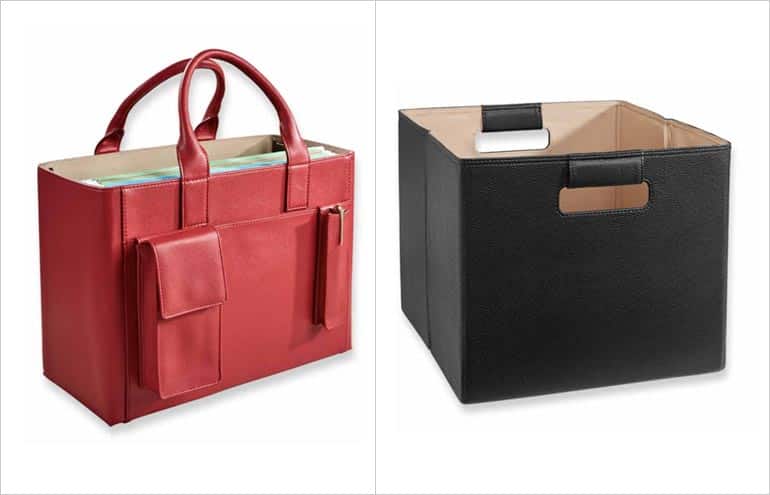 The Office Background Noise Isn't Going to Cancel Itself
Once you get to the office with your box of files and your desk cactus, Mildred, you'll be in an entirely new environment. For the last two years, you've been working in a T-shirt and … well, for the sake of this article, let's just assume those are pants. You've been working in near silence, in absolute control of your work ambiance, and it's been fantastic (except for the crippling loneliness and the crippling loneliness). Now there you are with your desk set up and your laptop open to a blank document you're supposed to fill with top-shelf legalese — but you can't type a single word because STEVE IS TALKING IN ALL CAPS and one of the paralegals is listening to Lorde on her phone's speaker. Out. Loud. Every time you screw up the mojo to conjugate a verb, the goddam elevator doors swoosh open with a deafening ping. You can hear the copy machine down the hall collating a 50-page brief like a machine gun and the new guy chews gum. With. His. Mouth. Open.
Three noise-canceling headsets that Will SILENCE STEVE:
Office Supplies: Presenting Analog Attorney's Qualified Master List of Hybrid Workers' Essential Gear
Because all your office's office supplies are used up or stuck on a ship in the Suez Canal, you'll have to bring what you need to make absolutely certain it's there when you're there.
Hybrid Worker's Essential Gear for Keeping Safe:
Hybrid Worker Essential Gear for Getting It Done
Photo by thiago japyassu on Unsplash.
Related Articles on Attorney at Work
"Five Legal Technology Trends of Note from the Technolawyer Top Products Award 2021" by Neil Squillante
"Building a Successful Remote Work Environment for Your Law Firm"
"Tech Tips: Remote Work Challenges to Take Forward from the Pandemic"
Subscribe to Attorney at Work
Get really good ideas every day for your law practice: Subscribe to the Daily Dispatch (it's free). Follow us on Twitter @attnyatwork.