Here are tips for using online platforms to design and print law firm business cards that won't look like your cat's breakfast.
It's Time to Update Your Law Firm Business Card
Maybe you're packing for your first in-person conference since 2019 and realize your law firm business card is out of date. Or you are planning to open your own practice soon and need something physical with your phone number on it.
If you're lucky, you simply reach out to your marketing department or agency when it's time to design or update your business card. But if you don't have a graphic designer or agency on call, the options for designing and printing business cards online are better than ever.
Fun With Online Design and Printing Sites
Design platforms like Canva and Adobe Express offer free or inexpensive design tools and templates that are relatively easy for non-designers to customize. If you have a flair for design and some time on your hands, these sites are for you. Conveniently, Canva will print your business cards, too. More traditional business stationery business printing and branded swag platforms like Moo, Jukebox, and VistaPrint don't have as many design tools, but they have plenty of business card templates and printing options you can customize to your liking.
How do online design and printing platforms work?
Most platforms offer the following options:
Ready-made templates. You choose from a large selection of mostly inappropriate business card templates and customize one of the templates with your information. Actually, there are plenty of well-designed templates. Just avoid templates with gavels, scales of justice, columns or courthouses.
Semi-customized templates. If you already have a logo and some branding, this is for you. Select a template you like and add your logo. Semi-custom options save you from worrying about layout and design choices but still have your firm branding.
Fully customized cards: This is the option to use when you are working with a designer, or if you've decided to design your own card from scratch. Typically you will choose the "blank" template and then upload a .jpeg or .eps file of your complete business card design, which can be supplied by your designer. Each platform will have different requirements for dimensions, file size, crop marks and bleeds, so read the instructions carefully before uploading. Tip: Don't forget to design the back of your business card, even if you just "paint" it with one of your firm colors. (Tip: Make it a bright color that stands out.)
On Moo.com, for example, you can either upload a full design, design online using their tools, or pick a template (you can't go wrong with "Simply Put").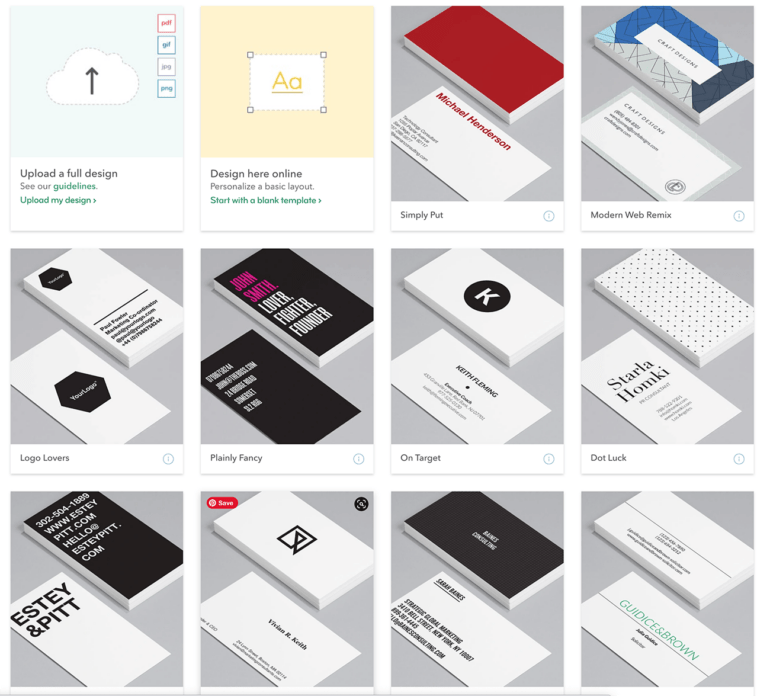 Once you've finished customizing your template or uploading your design file, you will confirm your cardstock color (bright white or cream?), texture (linen or wove?), and weight (usually standard or heavy). Note that a normal business card is printed on 80-pound cover stock, but if you want more gravitas you can upgrade to 100-pound cover stock. Beware that some of these platforms will offer flimsier, cheaper options. And some, like Jukebox, have more paper choices than others. You might ask for a sample of the paper before spending a lot of money.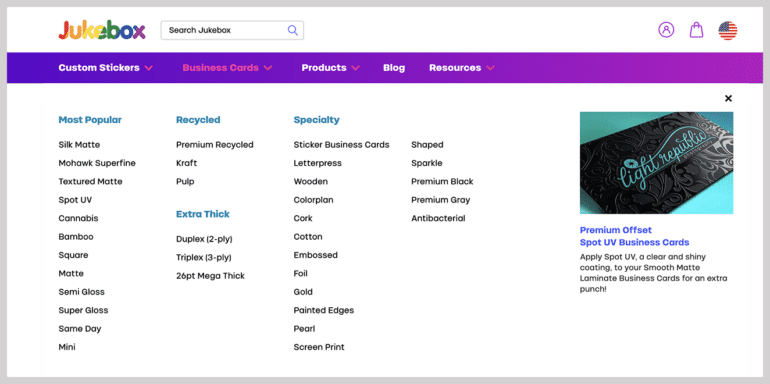 It's a matter of taste, of course, but we'd steer clear of shiny, high-gloss stock because it can look cheap and is difficult to write on. (You may want to add a note to the back of your card after a conversation with someone new.) Choose the thickest weight stock you can afford, preferably with a matte or satin finish. You want people to hold your card and think, "Oh, nice."
If you want to add special features like embossing or foil to the card, that will cost extra.
Finally, you will choose quantity — a minimum order of 50 cards is standard. Most sites allow orders in multiples of 100.
Usually, you will approve a PDF proof of the business card before it is printed.
What You Need to Get Started
You probably already know what you are looking for, design-wise, in a business card. If not, browse through the stack you've collected in your bottom drawer — which ones do you like and why? Do you like a simple design with your name centered on the card? Or is a card with more features — logos, QR codes, taglines — more your speed? If you are using a template or starting from scratch with your design, be sure to browse through the different sites to pick a template you like — and get feedback —before you sit down to create and order your cards. Most sites have a section of templates for "professional services."
Tip: If you don't have a logo, choose a business card design that will make your name stand out. Make sure the firm name is legible. Avoid intricate script fonts and "thin" or "condensed" fonts — they can be difficult to read in small type sizes.
Here's a list of items to consider once you are ready to create your business card:
Logo. Be sure your logo file is high-resolution (300 dpi), sized appropriately for a business card, and in .jpeg or .eps format. Decide ahead of time whether you want a one-color business card or full color. If you are only using one color, be sure your logo file is just one color. (If have a two-color or multi-color logo, you will need to convert it to grayscale or black and white. Sometimes this will take finessing by a graphic designer.) Tip: Put the logo file where you can find it easily on your computer and name it clearly (BUSINESS CARD LOGO) — searching for the right version of your logo to upload is painful if you aren't organized.
Colors. One color of ink will always be less expensive, but with digital printing services, the difference between one-color and four-color printing may not be as big as you'd think. So, if you have a two-color or four-color logo, ask for pricing and see if you can afford it.
Typeface. Traditional printing platforms like VistaPrint or Avery won't have a wide selection of typefaces. Look for a template font that most closely matches your vision for your firm and keep it clean and simple.
Contact information. Create a Word document or text file with your firm name, your name, title, and other contact information exactly as you wish it to appear so you can quickly copy and paste your information into the template. Proofread it so you can copy and paste it without worry. (Then proofread it again.)
QR Code. Some law firms add a QR code that links to their law firm website. Consider adding it to the back of your card.
Headshot. Some lawyers swear by this because adding a photo makes it easier for the people you meet to remember you. This may depend on your practice area.
Online Options for Business Cards
Here's a brief rundown on platforms you can use to create law firm business cards that won't look like your cat's breakfast.
Canva
Canva began as a space to design graphics for social media but it has grown into a full-fledged online design site with professional printing services. You can subscribe for free or sign up for premium account ($119.99 annually for individuals; $149.90 for up to five users) to gain full access to its photo and image gallery.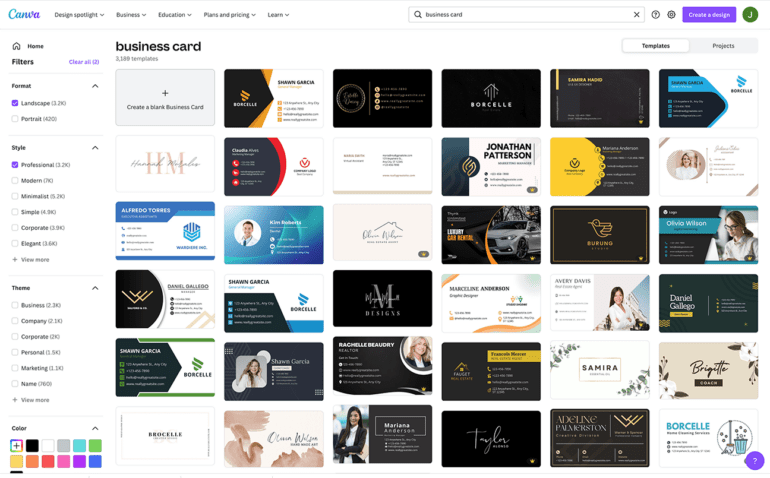 Canva has a wide range of templates to choose from and several design options. A simple centered design like this "Beige Minimalist" template is a safe choice. When you are ready to print, Canva walks you through your choices (below):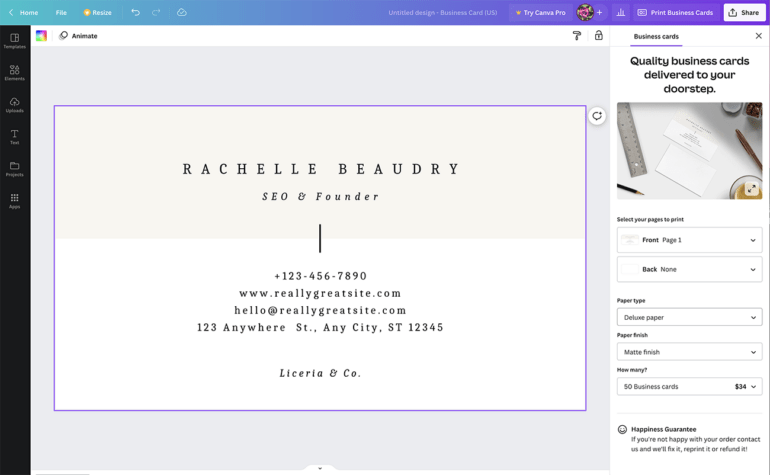 Printing Cost: 50 cards on premium double-thick stock with a matte finish: $34; 100 cards $52.
Moo
Similar to Vistaprint, Moo offers a variety of custom-printed business products, from postcards to notebooks to stickers to business cards. Where Moo stands out is with its size and finish options — gold emboss, silver emboss, spot gloss, raised gloss and even letterpress (shown below) — and its gorgeous designs.
Pricing for special finish cards starts at $46 for 50 cards.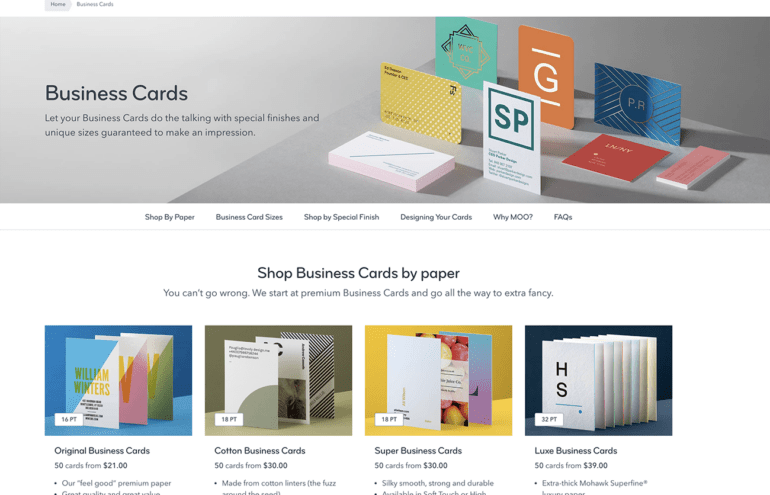 Here's a sample of Moo's letterpress designs — a good option if you prioritize the "feel" of your business card. Remember, you want it to feel substantial when someone takes it from your hand (it should not fold) — and you want it to be easy to find when they search their pockets and bags after a meeting.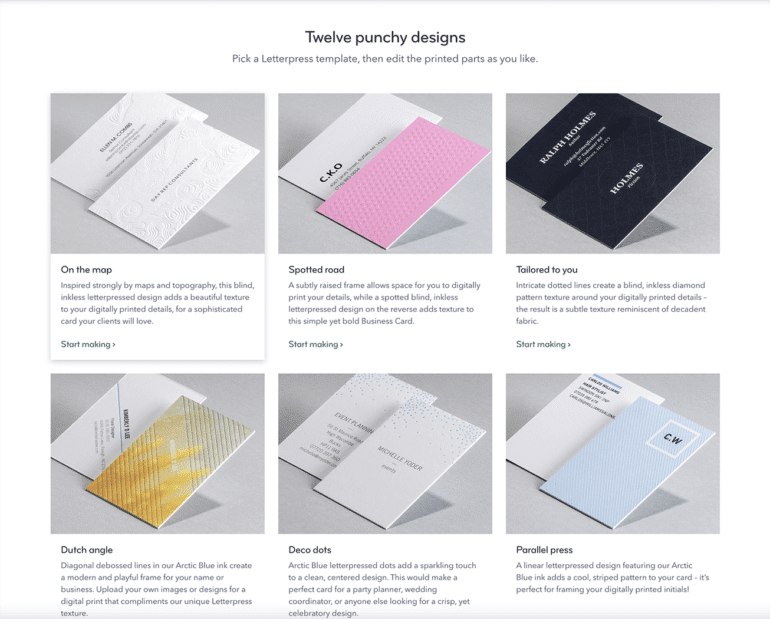 VistaPrint
Most businesses know Vistaprint for printing stationery, calendars, holiday cards, labels, promotional items — and, of course, business cards. If you want it printed, they have it covered. The site also offers design services and an online "logo creator." Its business card designs run the gamut — and its gallery of "law, police, public safety" templates won't disappoint scales of justice fans. If you are looking for something a bit different, you can order magnetic and plastic business cards here, too.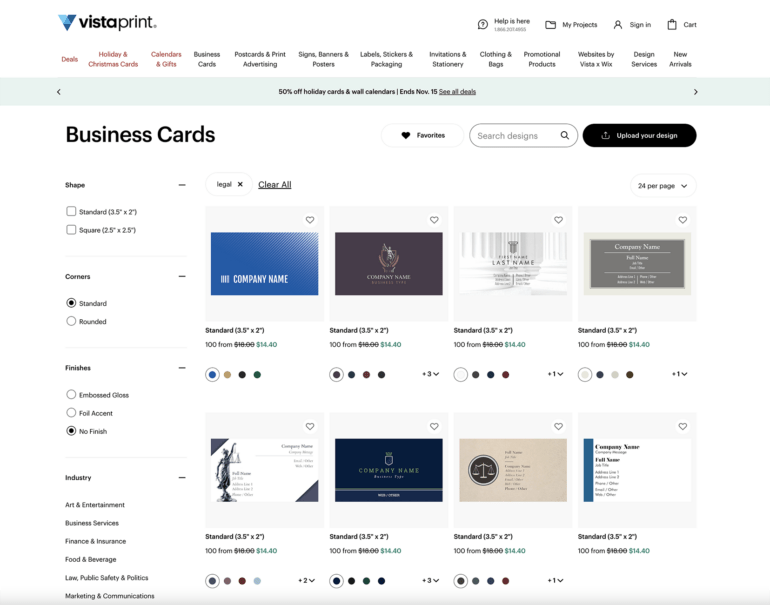 Printing cost: 100 cards on premium plus double thick stock, matte finish: $45.
Freepik, a platform with a number of free graphics resources for designers, also has a number of business card templates.
Good Design Will Set You Apart
Today, you can use online services to get a beautiful law firm business card printed quite inexpensively. Just remember the old "garbage in, garbage out" rule. When choosing a template, keep it simple and stay classy. Spend on better paper and quality finishes over snazzy graphics.
If you are serious about your law firm's image and brand, at some point you will want to bring in professionals to design your identity package. Not the lowest-priced random freelancer on Upwork but people who understand your market. (Not that there's anything wrong with Upwork for discrete projects — it's smart to outsource design production once you have your brand identity in place.) Hiring a design firm or marketing agency may seem like a luxury, especially when you're just starting out. But when you are ready to take the next step with your firm — perhaps when you hire your first or second employee — budget for design and make it a priority. Good design is worth it.
Everything Need to Know About Business Cards
Have you been skimming this post thinking, "OK, this sounds fun, but are business cards still a thing?" The short answer is yes, they are. (Ask the Experts from the LMA.) If you wondering how you will use them, here are lots of good ideas from Merrilyn Tarton and advice from Will Hornsby.
Even if you are a digital whiz, your paper business card is an important business development tool. Here are a few recommendations for ways to put that card — yours or the other guy's — to work. Read the Post >
"Dignified, unembellished" business cards have long been ethically permissible, even when other forms of advertising were not. But you can't overlook the fact that state ethics rules often apply to this seemingly benign form of information exchange. Today's business cards go well beyond name, address and telephone number to include an email address, website, Twitter name, law firm slogan and more. All of these could have ethical implications and cross into looking like lawyer ads. Here are a few things you should know. Read the Post >
Image © iStockPhoto.com