A brilliantly designed handbag is a shield, a satchel and a work of art. When you walk into a meeting and set it on the table, a gorgeously appointed bespoke purse speaks in a strong, proud voice and says, "Put your coffee-stained totes away, Mortals, and witness the breadth of my power!" I'm paraphrasing. There is some truth, however, to the effect of a gorgeous bag.
How you present yourself is as much a part of marketing as your elevator pitch and website bio. A bespoke bag talks about your preference for quality and good taste. If you'll drop a bundle on a tailored suit, you should pair it with a bag that's just as carefully cut.
Bespoke means you get to customize details on a manufacturer's purse by selecting from a limited range. (A "custom" bag, on the other hand, could mean anything from "I am a world famous purse artiste" to "Dude, I made this in shop class.")
Below are a handful of shops and artists delivering a bespoke experience, from a classic monogram to "Oh-My-God."
LARGE SADDLE BAG
The Cambridge Satchel Company
100-plus bags
3 bespoke options
$240
Platitudes are awful, awful things, but I have to employ one here because Cambridge Satchel's Saddle Bag design offers a bold simplicity. It's an elegant bag, something you'd expect a former First Lady would dangle off her arm. Accessories are an important part of the vocabulary of one's professional presentation. This purse says, "I have more class in my hangnail than you've got in your entire firm."
THE MAYFLY
Chapman Bags
6 bags
32 bespoke options
Around $340

Chapman is a trusted British bag maker. If you've ever been hiking in the deep forests of his majesty's reserve and come across a gentleman angler in a three-piece tweed suit sporting a fishing bag (and don't tell me you haven't), it was made by these guys. The Mayfly is a woman's tote modeled on that fishing bag. It's sporty but professional with just enough style to raise an eyebrow ever so slightly. As you lay it on the conference room table, it'll call out to opposing counsel and say, "I will eviscerate your case like a freshly landed trout."
THE SOFIA 40
De Giudice Roma
68 bags
Color choice only
Around $295

That thing I said about the difference between bespoke and custom gets flipped at Del Giudice. Their bespoke section is for custom work and their custom section is for bespoke. Doesn't matter; their bags belong in the frikkin' Louvre — though what you'd have to pay for one might be anything since the bespoke and custom prices aren't listed. Their Sofia 40 leather handbag with strap in a faded seafoam turquoise with silver trim is 240 Euros. It's elegant with a hint of severity, and you just know if it could talk it would sound exactly like Helen Mirren and say something like, "Honestly, did you really think you could win this case? Please give up and save us all a lot of embarrassment."
MY SADDLE
Atelier
10 bags
8 choices
$950 to $5,000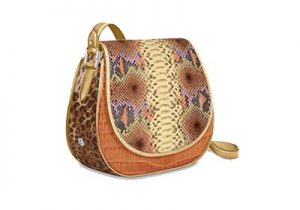 Now we're talking. Atelier's online bespoke experience is fantastic. You start with one of 10 blanks (I picked the saddle purse for the illustration) and build it as you like it. Their user experience is as well-designed as their purses, with simple directions and a rewarding visual of your creation being born right before your eyes. Atelier's unique design is perhaps more conspicuous than the previous examples. I can't imagine Mirren with it, but I am convinced Kim Kardashian owns at least nine. Walk in, drop it on the table, and with a faint Manhattan clip this purse will say, "Don't even sit down, I've already won."
THE SMERREL HANDBAG
Caroline Groves 
16 bags
3 choices
$3,600 to $23,000
I will admit here and now I found out about Caroline Groves from an article about her custom shoes. Her bags are equally dramatic. They are imaginative to the point of being elven. In the short promotional film on Grove's website, they're promoted by a member of British royalty. One of Grove's bespoke bags can cost as much as $23,800 bucks and you'll wait at least three months once she starts making it, entirely by hand, probably while sitting on a tuffet and drinking tea with the Queen. When you set that baby down on the conference table at least one person in the room will decide to hate you forever and another one will forget to breathe. So it's worth it. This bag doesn't say a word. It doesn't have to.
Illustration ©iStockPhoto.com. Photos © Cambridge Satchel Company, Chapman Bags,Del Giudice, Atelier, and Caroline Groves.
Related TOPICS on Attorney at Work
Subscribe to Attorney at Work
Get really good ideas every day: Subscribe to the Daily Dispatch and Weekly Wrap (it's free). Follow us on Twitter @attnyatwork.