What best practices are emerging for online court appearances and trials?
In June, the College of Law Practice Management hosted the webinar "Litigation, ADR, ODR — The Next Normal?" In addition to discussing the pros and cons of virtual courtrooms and how to apply lessons learned once things return to "normal," panelists offered several practical suggestions for lawyers and judges. (You can view the complete webinar here, or watch below.)
Virtual Courtrooms Are the New Norm
Moderator Jordan Furlong, panelists Nicole Auerbach, New Jersey Superior Court Judge Sohail Mohammed, and Darin Thompson of the Civil Resolution Tribunal agreed that virtual courtrooms are here to stay, no matter how quickly we recover from the COVID-19 pandemic.
Most likely, we'll see a hybrid system that adopts the best from both the physical and the virtual worlds. For example, preliminary motions and other orders could be handled virtually, and opening statements could be prerecorded and then shown during a live jury trial.
And, based on Judge Mohammed's experience, it can happen fast. In New Jersey, he has blazed trails in courtroom technology and was asked to oversee training on virtual appearances for judges, courtroom staff and the bar during the COVID-19 crisis. "We saw a tremendous embracement of technology," he said. "This new norm is going to be our new norm."
(Related: "Sohail Mohammed '88, Tech-Savvy Judge, Helps Usher in COVID-Era Virtual Courtrooms.")
Adapting to Online Court Appearances
Not every judge or lawyer is ready for virtual court appearances, but according to Judge Mohammed, the public is. The key, he said, is to continue training judges and then for judges to train the lawyers. Meantime, here are five tips for navigating the new world of virtual courtrooms.
1. Be Prepared and Come Early
First and foremost, said Judge Mohammed, test all of your devices well before the event. Check in to the videoconferencing platform at least 10 to 15 minutes before the session. Turn on your camera, test your audio, position yourself in relation to the camera, and get acquainted with the "court" and its various meeting rooms. Also:
Find out the court's preferred format for documents. Judge Mohammed asks for PDFs five days in advance so that all parties have a chance to review them online.
If you have a case that requires an interpreter, let the court know because setting it up requires advance preparation.
Take advantage of Zoom's breakout rooms feature to consult with clients and check in with court staff. (Judge Mohammed sets up at least eight private rooms for counsel, staff, witnesses, parties, and judge's quarters.)
Auerbach noted that as a litigator, one challenge to online appearances is dealing with files and exhibits, especially if you are used to having documents at your fingertips when in court. It will take time to adapt to accessing materials online while also appearing online. Practice, make sure your documents are easy to find, or consider printing out what you need at home.
2. Plan for Communications Failures
We've all seen presenters talk on without realizing their audio is fading, or listened as nervous presenters talked too fast or way too slow. How do you get the word to them without interrupting, or communicate when your audio isn't working? Judge Mohammed goes analog, holding up premade signs that say:
POOR WIFI 
FASTER
SLOWER
LOUDER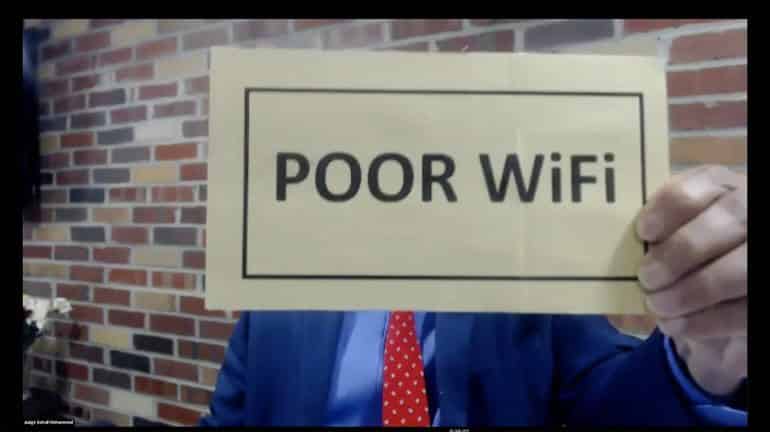 3. Red Light! Be Creative to Stop Interruptions
Managing your court appearance also means taking care that you aren't interrupted while your video is live. Most of us aren't alone at home: "My wife is a physician, so we have a hospital in our home. We have a court in our home. And we also have a university because two of my kids are in college. We're all doing the same thing." To prevent interruptions, the judge puts a bright red blinking light nearby to signal that court is in session.
4. Make Your Appearance Professional ("This Is Not a Baseball Game")
As Auerbach pointed out, stories of lawyers Zooming in their PJs are legion. You might not wear a suit or even shoes, but remember you're in court. Wear plain, dark clothing … maybe throw a jacket on over the T-shirt.
The same goes for the aesthetic of your office. If your bookshelf is filled with personal photos, or a large fan is rotating over your head, it is easy to choose a different background in Zoom. "I do not want you to come in with a background that is very distracting, and that will give me jitters. The other day, counsel came in with a live baseball game, and I reminded him to change the background," says Judge Mohammed. Just like your clothes, keep the background simple. "I have a brick background because nobody wants to look at bricks, so their attention is focused on me."
Another tip: Keep your eye on the camera. Auerbach has found that when people are using multiple monitors, they tend to forget which screen has the camera. It's disconcerting when presenters are looking away from the camera while speaking.
5. Always Have a Backup Plan
Technology will fail. If your internet doesn't work, have a backup. Wi-Fi can be spotty in busy households, so keep a jetpack or other hotspot nearby. In case your laptop crashes, have another one on hand. And remember the judge's premade signs. They work much better than using a sticky note or a yellow pad.
What's Your Experience With Online Court Appearances?
Here's a tip I overheard this morning in a video my son was watching about online job interviews: Choose a stationary chair instead of one that swivels or rocks. Watching someone speak while nervously swiveling is quite distracting. Also distracting? Constantly sweeping hair out of your eyes. Check that before the video starts.
What's your advice for appearing in court?
More Tips for Representing Your Clients and Yourself Online:
"Advocacy Through Computer Screen: Best Practices for Effective Remote Advocacy" by Hon. Mark A. Drummond (Ret.) contains excellent and practical tips for representing clients in court (Litigation News, ABA Section of Litigation)
"Seven 'Public Speaking' Tips for Videoconferencing During the COVID-19 Crisis" by trial communications consultant Marsha Hunter
"Zoom Backgrounds: Looking Good in a Tiny Square" by Bull Garlington
"Converting 'Resting Bitch Face' to 'Neutral Alert'" by Marsha Hunter
Illustration ©iStockPhoto.com