During the ABA TECHSHOW 2017 program "The Startups Are Coming," Andrew Arruda suggested we reframe the sentiment to: "The nimble companies are here to help you." Not as sexy but a lot more accurate than an analogous popular refrain: "Robot lawyers are coming to take your jobs."
Andrew exhorted legal professionals in another session to sit next to the engineers in the room, learn from them, team up and work together to innovate. So, I dutifully ran down to Startup Alley in the expo hall to interview some of the nimble companies, and was able to catch a few before the hall shut down. They were great sports.
Here, with minimal editing, are their stories in their own words.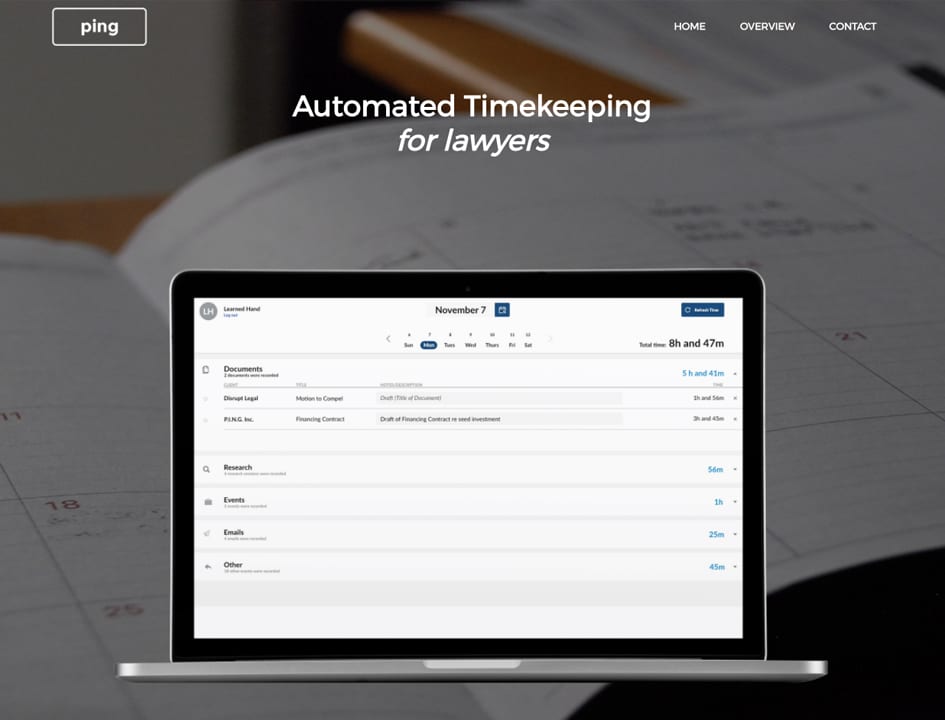 Ryan Alshak:
What's your elevator pitch? Ping automates timekeeping for lawyers. As a former BigLaw attorney, I hated timekeeping and couldn't believe we had to do it by hand, so we built software that does it for you. It's completely automatic — no start and stop timers are required. We use machine learning to learn the way you work. So not only are we automating time entry, but we learn your workflow and are able to predict where your time is going.
What has your TECHSHOW experience been like? First conference. First time in Chicago. And an amazing experience. Everyone has been incredible and the Startup Alley is very cool. I got exposure to other legal technologies. The other startups are fantastic, with great networking opportunities.
What developments do you have planned for the coming year? To become enterprise-ready by the summer. Our market will be the AmLaw 400.
Editor's note: Ryan was too modest to mention that Ping placed first in a competition between the 12 companies in Startup Alley.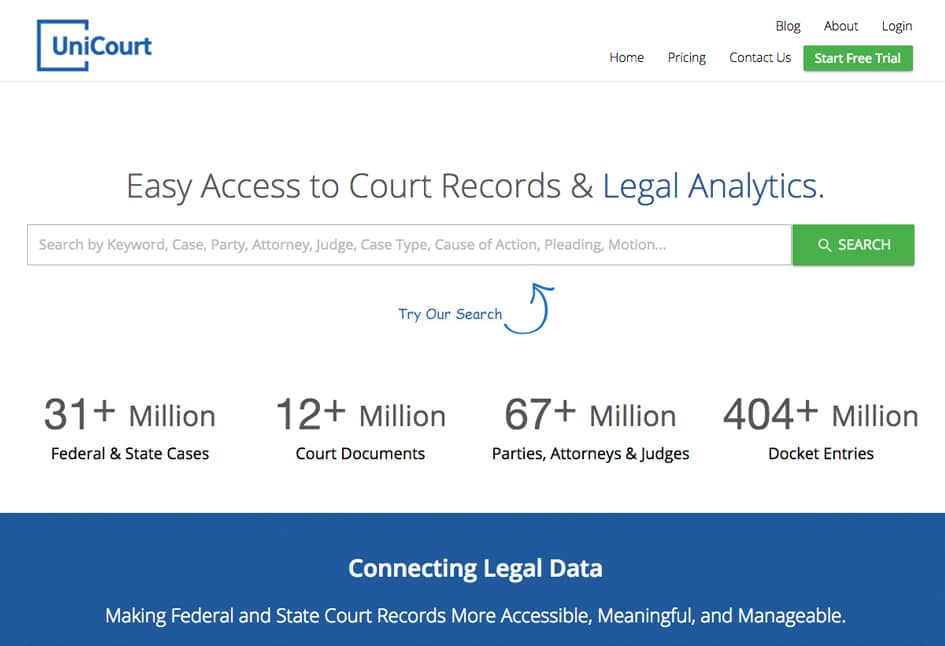 Josh Blandi and Prashanth Shenoy:
What's your elevator pitch? We aggregate data from state and federal courts, index all that information, and provide global search functionality across jurisdictions. In addition to case research, we're creating legal analytics for parties, attorneys and judges that can be used for legal research and for business development. In addition to using Pacer as the back end for all federal court filings, we have 50 jurisdictions in state courts.
What has your TECHSHOW experience been like? It's been great. A lot of cool innovation is happening. There's a lot of people looking to solve problems using technology and we're really thankful for Startup Alley. We've been working on this since 2012, and it was really cool to get some recognition on some of the challenges we're facing.
What developments do you have planned for the coming year? We're going to add a lot more jurisdictions and focus on legal analytics.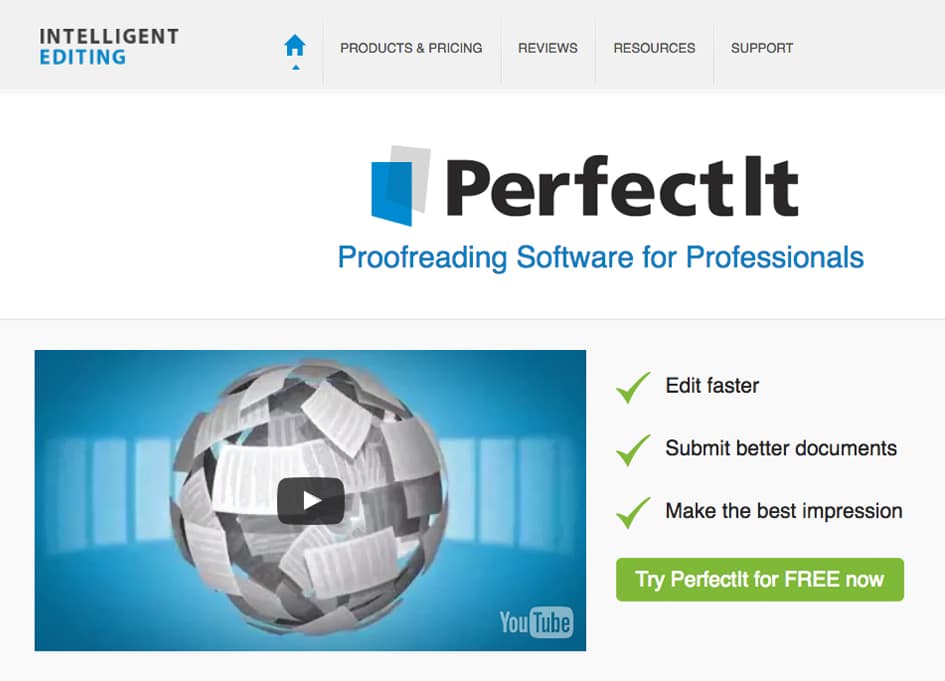 Daniel Heuman and Ivy B. Grey:
What's your elevator pitch? American Legal Style for PerfectIt helps to reduce the amount of time lawyers spend proofreading. It enforces the rules that lawyers know, from the guidebooks that lawyers trust, and works in Microsoft Word, which is a program that all lawyers use. Our program runs from the ribbon and guides you through the prompts while assisting with proofreading in a familiar manner like spell-check. With American Legal Style, lawyers can take a one-hour proofreading job and cut it down to six to 10 minutes.
What has your TECHSHOW experience been like? It was a wonderful experience. It was exhilarating to be around so many lawyers, entrepreneurs and creative thinkers who are shaping the future of the legal profession. Overall, I felt energized and ready to find creative new ways to influence and improve the future of my profession.
What developments do you have planned for the coming year? This summer, we're releasing a cloud version that will put PerfectIt on Macs for the first time. After that, we plan to develop a new interface so it's easier for firms to customize their house style.
Editor's note: PerfectIt wasn't part of the 12 in Startup Alley but they were right next door and new in the legal space. In other words, a legal tech startup.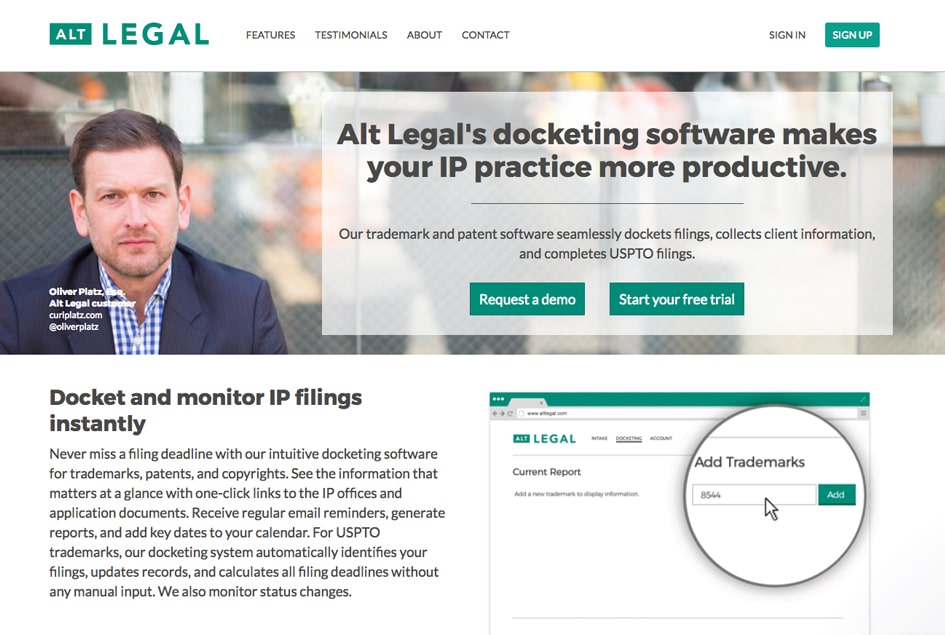 Nehal Madhani and Hannah Samendinger:
What's your elevator pitch? Alt Legal is IP software that helps companies and law firms create and track their IP filings. It's done automatically by connecting to government databases so that lawyers don't have to do manual data entry and we can identify all of their filing deadlines.
What has your TECHSHOW experience been like? This has been our first time exhibiting here. We got to meet a lot of great people from bar associations and some IP attorneys. It was an easy setup for us. Overall, a great thing. Nice that they support the legal startup community.
What developments do you have planned for the coming year? We're adding support for Europe and Canada to automatically retrieve their IP filings and serve global IP attorneys. We're also in the middle of a complete rebuild, rewriting every line of code for release in the summer. This will provide a much more flexible, automated platform.
Bring 'Em On!
I wish I'd had more time to walk around and hear the stories of more entrepreneurs, but this is a good indication of the energy, creativity and super hard work coming out of this space. The nimble legal tech startups are coming!
Related: Tips and Takeaways from ABA TECHSHOW 2017
Illustration ©iStockPhoto.com
Subscribe to Attorney at Work
Get really good ideas every day: Subscribe to the Daily Dispatch and Weekly Wrap (it's free). Follow us on Twitter @attnyatwork.