In honor of Julie Andrews, spring, and in hopes of making your home office a better place to work, these desk gadgets are a few of my favorite things.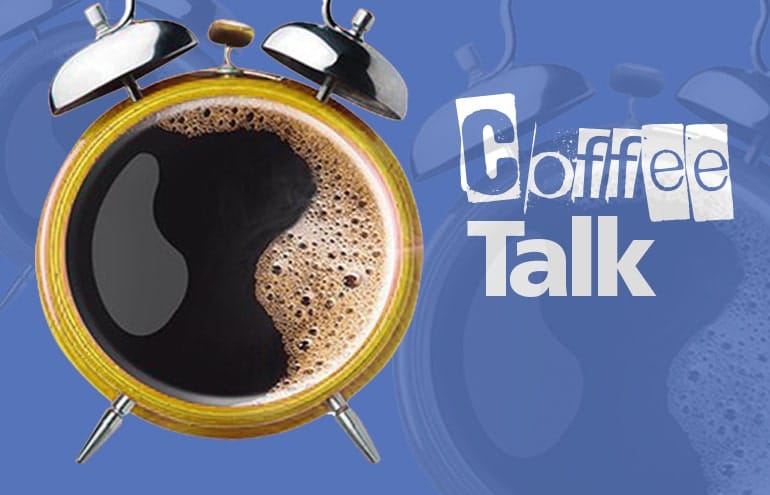 "The Sound of Music" is considered a winter movie, but every spring I think about how much I would love to find a verdant hilltop somewhere and release my inner Julie Andrews. With arms outstretched, I'd take a deep breath, spin till I'm dizzy and be thankful for all that is around me.
Unfortunately, it seems we are all trapped inside for the duration and the places where we're now constrained to work are not yet the places where we want to work! So, in honor of Julie Andrews and spring (cleaning) time — and in hopes of making your home office (h-office) a better place to work, these are a few of my favorite things.
1. Desk Cable Management Clips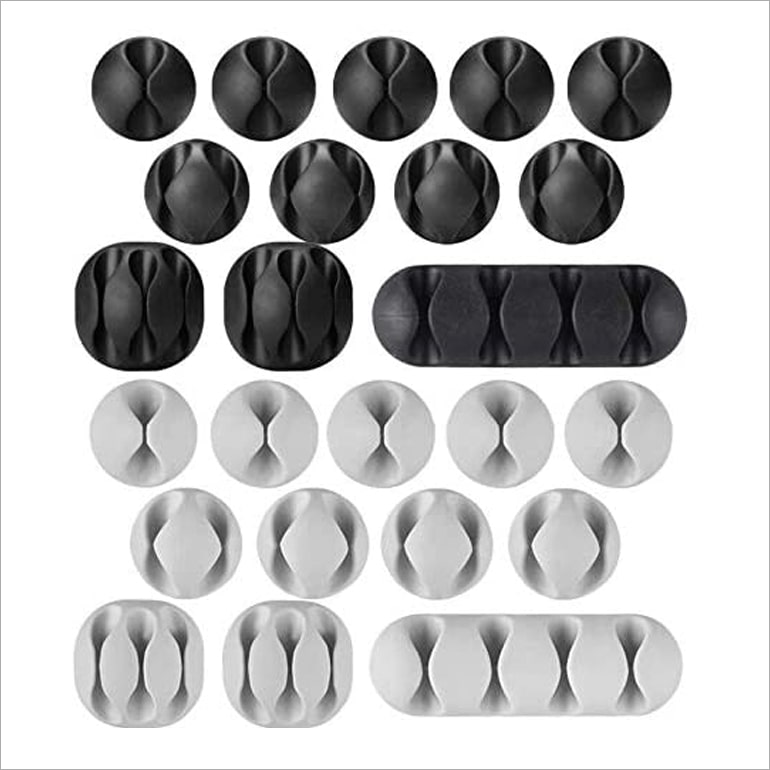 I can link back to several articles I've written over the years highlighting how much I despise wires. Wires in an office are a rat's nest of dirty, scary connections and remind me of worms all over the floor. Given my personality, I don't do clutter, and wires are visual clutter. Even more than my distaste for clutter, however, is my hate for waste!
One daily frustration is having to take time to find a charging cable for one of my many devices of life. When you have a phone, laptop, digital speaker, tablet, e-watch and so on, they move around to different spots but usually only come with one cable to charge.
The solution to both problems? Desk cable management clips.
For devices like your laptop, use these clips to snake the wire under and up the back of your desk. This way, the laptop cable rests exactly where you need it, without it being strewn across your work surface or, worse, disappearing into a faraway space that can't be reached without moving furniture.
You can use a cable clip for each charging cord you own and hang them along a wall, inside your desk or even on the inside of a door or closet. Once you have a spot and start to use it, you'll realize what I mean by how much time you waste looking for the proper cord on a daily basis!
2. Retro Handset and Adaptor
I talk on the phone — a lot. In fact, my entire practice is based on the phone. Until recently, I used a hard landline into my h-office and pointed my unified messaging service to both my landline and my cell. I would only answer the cell if I was away from my desk and the call was important, as I never want to use my cellphone to hold an actual conversation. Let's face it (pun intended), cellphones are not designed to be used as an actual phone. For example, when I hold my iPhone to my head to talk, I invariably hit the mute button with my face.
Last year, our landline went kaput and I was forced to find a better way to use my cell so I wouldn't keep muting callers. I remembered an item I used many moons ago, when cellphones were too small to be useful. A quick check of Amazon showed this retro-style handset is still available. It looks just like the one you held in your hand when phones were attached to things like walls and desks. I love that it can be cradled on my shoulder and neck while I type out a quick URL or jot down a note.
And I'm pretty sure my callers are happy that I am able to smile as much as I want, without disconnecting the call!
3. It Truly Is Remarkable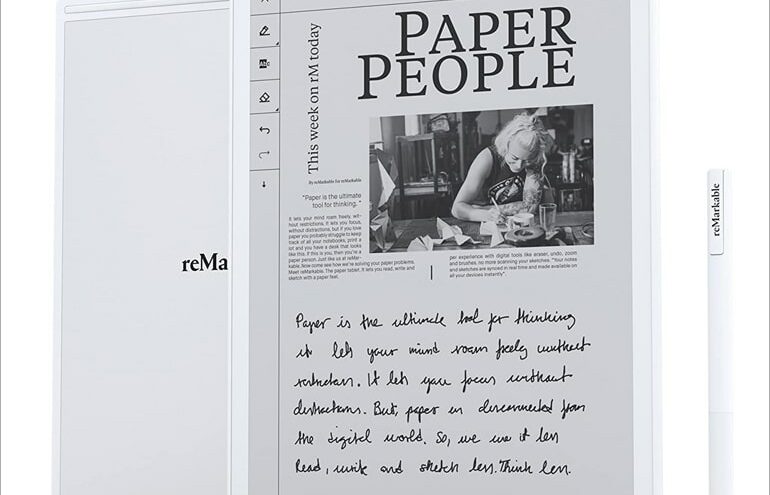 As long as I have been virtual, I have taken notes on paper. Not that I didn't try to find a digital replacement. In fact, over the years there has been a bit of a running joke between me and Apple-everything guru Brett Burney. He's tried to convince me that the latest Apple whatever is "just like paper" more than once. Maybe it's because I write with a pencil, but there is a certain feel to writing on paper that even the Apple Pencil didn't give me. Fact is, I've tried every type of writing utensil and added all the sticky films over the screens. But no matter what I tried, the digital writing experience was always too slippery.
Then I discovered a post on The Future Lawyer about the reMarkable 2 and how the experience was really just like writing on paper. I was skeptical — and $600 is a lot to pay for a new and unproven gadget. However, when a client told me she had purchased one and that I had to get it, I decided to give it a try. I am so glad I took the leap, as the reMarkable 2 is just that — freeking remarkable!
It truly is a replacement for your yellow notepad. It's about the size of a regular sheet of paper and almost as thin, very lightweight, and it has amazing battery life. It is easy to carry and since I happened to have a cover that was suitable, my reMarkable is protected (and looks like an antique book). You get to select the type of utensil you want to write with — from pencil to fountain pen.
According to Chico, California, attorney Jennifer Ellingson, "The RM2 is simple, clean, easy to use and keep organized. You don't need a training session or to call any kind of support team. It just works. In a time where legal tech seems to grow ever more complicated and expensive, the reMarkable 2 makes my job easier without a steep learning curve or ongoing maintenance or expense."
Now everything I ever need to jot down is properly jotted (including my Ctrl Journal process) and completely accessible and searchable across several devices. It is amazing!
I recommend the RM2 to many of my clients and it is a definite add to the tech stack at Law Firm Solutions. One caveat: Keep the box for at least 30 days. One of my contacts had issues with their RM2 and needed to return it for a replacement. All good now, but a real PITA if you don't have the original packaging.
Illustration ©iStockPhoto.com
Also on Attorney at Work
Subscribe to Attorney at Work
Get really good ideas every day for your law practice: Subscribe to the Daily Dispatch (it's free). Follow us on Twitter @attnyatwork.