For legal technology, it's been a year focused on start-ups, disrupt-style events, legal hackathons and competitions aimed at improving delivery of legal services. Meantime, developers of law practice management software want to help improve the business side of your practice, too — steadily adding features and apps that help track time and email, and handle invoicing, documents and client communications — and making it all seamlessly and securely accessible online. And on the features front, September is shaping up to be a busy time for announcements.
"Disrupt" Practice Management Tech
Last week during TechCrunch Disrupt's Startup Battlefield, $50,000 in funding went to "Alfred" — a "butler" app that helps manage other personal service apps for dry cleaning, grocery delivery and the like. (Are similar features in the cards for practice management apps? Think of the productivity gains.) Inspired by TechCrunch's Startup Alley, here's a roundup of the news coming out of "Law Practice Management Alley."
Rocket Matter debuts its iPad edition today. Rocket Matter has announced the release of the first practice management platform natively built for iPad. Rocket Matter created the first cloud-based practice management software for lawyers, starting up in 2008, and is known for its clean interface and elegant design. "We're excited to announce today our evolved platform and sleek new look," says CEO Larry Port. "The Rocket Matter iPad Edition is not just a mere 'app' — it's an entire tablet-based solution that ties into Rocket Matter's cloud data storage."
With the iPad Edition, lawyers can turn on their iPad and instantly see everything going on with their matters, even offline. Dashboards provide quick, at-a-glance overviews of cases and clients. Lawyers can work with their calendars, add notes to matters, stay on top of their own or delegated tasks, and view trust account balances and other critical billing information.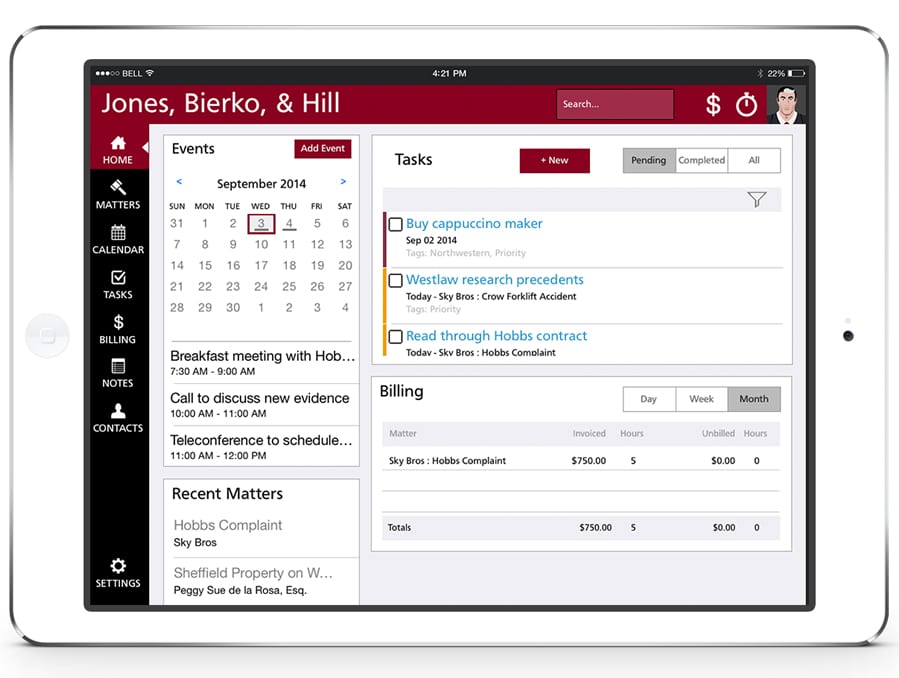 Lawyers with Rocket Matter subscriptions will be able to download the iPad Edition from the Apple iTunes store by early October, says Port. The company is currently testing for compatibility on iOS 8, which was released today. Visit www.rocketmatter.com for details.
Amicus Cloud to add "precedent workflows." Amicus Cloud added several new features recently, including integration with Box.com, a mass billing feature that streamlines billing processes, and document assembly functions that allow you to combine client and file data with standard text to create legal documents and emails — and send them straight from Amicus. Coming soon, Amicus will also add "precedent workflows," allowing you to save a series of steps that can be reused for any client file. Workflows can contain a series of appointments or tasks involved in any transaction. For details, visit www.amicusattorney.com.
MyCase is rolling out a new Accounts Receivables report. With MyCase's new accounts receivable and aged invoices report, you will be able to quickly get a look into you firm's financial status and gain invaluable insight into firm billings. To learn more, visit www.mycase.com.
LexisNexis beefed up Firm Manager this week by adding custom invoicing. Firm Manager's new functionality provides a series of settings and templates that allow small law firms to create personalized legal bills and invoice clients by email through the system. Firm Manager is a practice management tool hosted in the cloud and launched earlier this year. Visit www.firmmanager.com for more information.
CosmoLex 2.0 now includes integrated tasks and calendaring. CosmoLex has announced a major update to include fully integrated calendaring, task-tracking, billing and trust accounting — meaning users needn't use third-party software for disbursements, check printing or three-way reconciliation reports. "CosmoLex takes it even further," says CEO Rick Kabra, "making sure each function is fully integrated with the others. Completed calendared meetings and tasks automatically flow to billing workflow, ensuring every billable activity actually gets billed. Earned fee checks drawn off trust accounts updates trust ledger balances as well as invoice balances." For more information, click here, or visit www.cosmolex.com.
Abacus has introduced Abacus Private Cloud (APC). APC is a virtual, hosted desktop service for law firms (reviewed here by Jared Correia) built exclusively to run any of the software a firm might need in a fully managed, secure private environment and mitigate the risks posed by public cloud and SaaS applications. According to the press release: "APC can take any local IT infrastructure, desktop software application and data and weave it into a fully integrated, virtual workplace, which is accessible remotely from any device, anywhere, anytime." Go to www.abacuslaw.com for information.
Clio continues to pump up features, along with third-party services. Clio recently upgraded its task management features and interface (via the "Clio Next" release) and announced third-party integrations with JurisPage, PromptAppointment, Okta, Invoice Sherpa, RightSignature and Viewabill. Meantime the Clio team is getting ready to host its Clio Cloud Conference, September 22-23, in Chicago. (Learn more and register with the Attorney at Work discount here.) Visit www.goclio.com for information.
HoudiniEsq is now on revision 1.9.4, which includes a new native mobile interface for iPhone and iPads users, workflow automation improvements and features as well as a new document automation engine with features similar to HotDocs and the ability to generate a document in either a PDF or Word format from a single template. For details, visit www.houdiniesq.com.
PCLaw, also from LexisNexis, launched version 14 last month, adding a version 14 new batch email billing feature. Users can now choose from among a range of options to pre-configure, create templates and customize both invoices and outgoing email messages. For more information, visit www.lexisnexis.com/getpaid.
Say What You Really Mean
The most embarrassing writing flubs seem to happen in email — especially when tapping out messages on your smartphone. (Stupid auto-correct!) To that end, two new products can help you say what you mean more clearly.
WordRake for Outlook reviews your email messages right in Outlook. Aimed at helping to streamline and clarify your messages, Wordrake for Outlook edits your emails online, and you can choose to accept or reject each edit. The technology is the same used in the popular legal writing software WordRake 2 for Word, which now features millions of edits and even greater accuracy. The software works on any device running the PC version of Outlook 2010 or Outlook 2013. For details, visit www.WordRake.com.
Swiftkey Keyboard for iPhone, iPad and iPod Touch launches today. Swiftkey, the popular "predictive" keyboard for Android, will now help iOS users customize their online typing (or finger-dragging). Swiftkey uses predictive technology to "learn" from you for a "super personalized" experience, which also helps reduce those auto-correct errors. In addition to learning your particular voice and slang, the keyboard will sort out those long strings of letters you enter on the run, and even supports "multilingual" typing. (As in "Ciao for now.") Plus, it distinguishes slang from more formal prose. So, for example, it learns what words you might use with your boss versus your best friend. Swiftkey Cloud backs up your keyboard preferences and dictionaries, and syncs across devices. See www.swiftkey.com.
Favorite practice management tech tip or news to share? Send a note to the editors.
Joan Feldman is Partner/Editorial at Attorney at Work and a Fellow of the College of Law Practice Management. Follow her on Twitter @joanhfeldman.