ABA TECHSHOW 2020 may be a wrap, but the tips keep flowing. This year's conference, held Feb. 26-29 in Chicago, included over a dozen tracks on topics from artificial intelligence to the human side of technology, to using tech tools to attract new clients and responding to change to recession-proof your law practice.
For our annual TECHSHOW roundup, we asked some practice management technology experts to share a mix of tips and takeaways from the conference and expo floor. In addition to TECHSHOW 2020 Co-Chairs Heidi Alexander and Catherine Sanders Reach, here's the scoop from Sheila Blackford, Brett Burney, Sharon Nelson and John Simek, Courtney Troutman and Megan Zavieh.
Heidi Alexander: TECHSHOW Is More Than Just Tech
This year at ABA TECHSHOW, we added a variety of tracks that don't fit in the traditional scope of what you'd see at a technology conference. In the TECHSHOW Planning Board's view, technology is now mainstream and should be integrated into everyday practice. As such, it is connected to the management of our business and the practice of law. So at this year's TECHSHOW, we tackled how to improve well-being as a practicing lawyer, teach the next generation of lawyers, understand and address implicit bias, bring innovation and design thinking to your practice, and more.
Seeing the discussions and solutions come out of our "Untrack for Doers," I left knowing this wasn't your typical conference and that attendees gained knowledge that could be directly implemented in their practices and would change the way they practice law and do business.
Side note: In celebration of the conference, I bought myself an 11-inch iPad Pro with Apple Pencil and Smart Keyboard Folio. My iPad Air fell by the wayside years ago when I purchased a MacBook. I never thought I'd return to the iPad world, but I'm sure glad I did. Now I understand how the iPad Pro could serve as a laptop replacement. The multitasking features and gestures are fantastic. If you were holding out, I'd suggest you take the leap. You will not be disappointed.
Heidi S. Alexander (@heidialexander) is Deputy Director of Lawyers Concerned for Lawyers, where she also leads the Massachusetts Law Office Management Assistance Program (LOMAP). She is Co-Chair of the 2020 ABA TECHSHOW Planning Board and sits on the Massachusetts Supreme Judicial Court's Standing Advisory Committee on Professionalism. Heidi is the author of the ABA book "Evernote as a Law Practice Tool."
Megan Zavieh: Innovation Doesn't Have to Be Complex
What inspired me most at TECHSHOW 2020 was a discussion that began in my session with Lori Gonzalez, titled "Breakthru Change: Rules and Innovation." (The session considered how the rules of professional conduct have kept pace with advances in technology.) An audience member asked, "What do you mean by innovation?" The question was asked because the word was used in a hypothetical scenario on which we were polling the audience. The question led to a broad discussion of innovation that continued long after the session ended.
Key takeaway? Innovation is not necessarily tech-driven, does not have to be complicated or difficult to achieve. It can be any change from the standard operating procedures of the past that has a net positive impact on the practice of law or access to justice. A court changing its regular scheduling to allow a single lawyer in a rural community to serve more clients efficiently is innovation; so is an artificial intelligence-driven app that drafts briefs. If we keep in mind how broad the word "innovation" really is, it can expand our horizons and thinking for how to bring change to the profession.
Megan Zavieh (@ZaviehLaw) focuses her practice exclusively on attorney ethics, providing representation to attorneys facing disciplinary action and guidance on questions of legal ethics. She podcasts on Lawyers Gone Ethical , blog on ethics at California State Bar Defense and writes Attorney at Work's "On Balance column.
Brett Burney: Apps Help You Carry on Your Practice Anywhere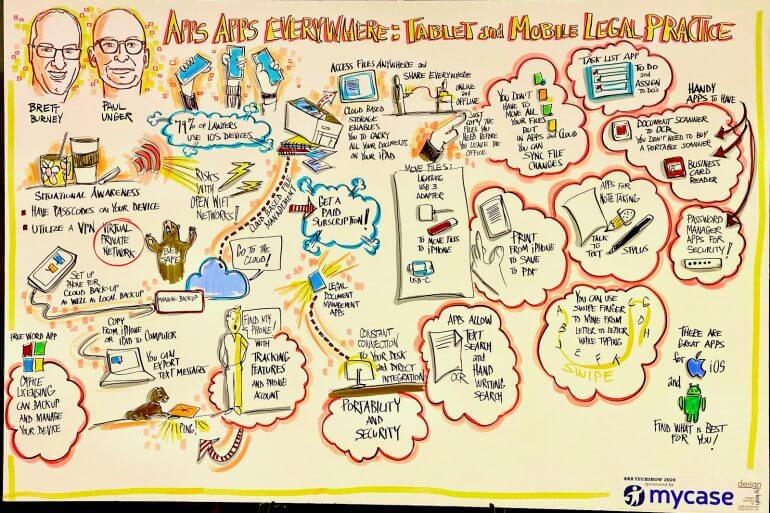 What are the best apps for lawyers? Paul Unger and I shared all kinds of apps and tips for mobile practices in our session "Apps Apps Everywhere: Tablet and Mobile Legal Practice." Here are a few takeaways for Attorney at Work readers:
It's easier than ever before to edit Microsoft Word documents on your mobile devices. Paul showed how seamless it is today to open a document from the NetDocuments app, create a new version, edit in the Microsoft Word app, then upload it right back to the source. In the past, we had to jump through so many hoops to do this!
Use a VPN. Every lawyer should know what a virtual private network (VPN) does and how to use one when they're mobile. There are dozens of options on the market, but start with the free version of Tunnel Bear because it's approachable (cute teddy bears!) and easy to understand.
iThumbdrives! The room was surprised to learn that you can now access a USB external hard drive or thumbdrive from your iPad or iPhone using the built-in Files app (iOS 13 recommended). This opens so many more options for effectively accessing and managing files.
Plus we got drawn! Thanks to Design by Leah and MyCase, you can "see" our entire presentation in the illustration above!
Brett Burney (@BBurney) is Principal of Burney Consultants LLC, an independent legal technology consulting practice. He is also a sought-after trainer and presenter for lawyers who seek to integrate Macs and iPads into their practice. Brett is a past ABA TECHSHOW Planning Board Chair and a popular speaker on legal technology. 
Catherine Sanders Reach: Super Easy E-newsletters
Here's a tip from the "60 in 60" panel. If you send out a newsletter for your clients or prospects, Goodbits.io can help speed along with the generation of content, expecially if you include links to relevant articles and news from the web. Sign up for an account and then get the Chrome extension. As you see articles you want to add to your newsletter, capture them with the Chrome extension. When you put your newsletter together, create a template and then add the articles in your collection by dragging and dropping them into the template. The articles you add will automatically display the link, an image and a brief description.
You can use your current mailing list manager as Goodbits integrates with several products including MailChimp, Active Campaign, Drip and others. There is a 14-day free trial and then it is $19 a month, but the product can save you massive amounts of time! (Ed. note: A version of this tip appeared in Catherine's excellent "ICYMI" e-newsletter for the North Carolina Bar; you can sign up for it here.)
Catherine Sanders Reach (@catherinereach) is Director of the Center for Practice Management for the North Carolina Bar Association, providing practice technology and management assistance. She is Co-Chair of the 2020 ABA TECHSHOW Planning Board. She was previously Director of the American Bar Association's Legal Technology Resource Center for over 10 years and was one of the inaugural Fastcase 50.
Sheila Blackford: Use Those Business Cards to Expand Your Tribe
Here's a takeaway from someone who stayed home from TECHSHOW 2020, but this one's ingrained from many other years. The most valuable thing you bring back from TECHSHOW isn't the swag from the expo hall or illegible notes from the keynote speaker's session. It's the connections you have made at the sessions and group dinners you attended. How many business cards did you collect? Hopefully, you jotted a brief note on each one so that you can, and will, follow up. Don't just toss those business cards aside: You have met your practice management technology tribe.
Sheila M. Blackford (@SheilaBlackford) has been a Practice Management Attorney for the Oregon State Bar Professional Liability Fund since 2005. She is the author of the ABA book "Trust Accounting in One Hour For Lawyers," co-author of "Paperless in One Hour for Lawyers," and a contributing author to "Flying Solo: A Survival Guide" and the Oregon State Bar "Fee Agreement Compendium." 
Sharon Nelson and John Simek: Lawyer Well-Being — A Course Correction Is Due
Lawyer well-being has been a hot topic for a couple of years now, but we have seen a sea change in the interest given to getting a practical understanding of the topic and effective steps to help impaired lawyers. The most common issues lawyers report are anxiety, depression and issues with alcohol.
ABA TECHSHOW 2020 featured an entire track on "Lawyer Well-Being." The presenters on this topic were blunt. Lawyers do not have easy jobs. They feel like they are always on call and unable to disconnect. Often they suffer secondary traumatic stress from the problems of their clients. They have billable hour pressures, intense and constant client demands, and they don't sleep enough. Add addiction or mental health problems to the mix and you've got a disaster in the making.
Violations of ethics rules often are symptoms of underlying problems. (Sharon co-presented the session "The Intersection of Ethics and Well-Being" with Jennifer Gerstenzang.) Missed deadlines, missed appointments, last-minute continuance requests, absenteeism, failing to respond to client phone calls, emails or texts, inappropriately taking client trust funds, unprofessional conduct — all can represent a silent cry for help.
There is a stigma attached to asking for help and a fear that one will seem "weak" or not worthy of rising with the firm. On the other hand, law firms are frequently complicit in silence even when there is clear evidence that a lawyer has a problem. And yet, as ABA Formal Opinion 03-409 states, "mental impairment does not lessen a lawyer's obligation to provide clients with competent representation."
The good news? Law firms seem to be interested in a course correction. Firms are building relationships with lawyer assistance programs. They are hiring directors of wellness, especially at large firms. They are offering non-alcohol alternatives at firm functions. Some are offering fitness centers and yoga space. They are offering employees training and retreats about wellness. And some are establishing maximum billable hours and lowering minimum billing hours.
It seemed that everyone at ABA TECHSHOW had stories about lawyers who are or were in trouble. Everyone seemed to agree that we need to do two very important things:
Remove the stigma around asking for help.
Be watchful for signs that colleagues may have a problem and reach out to the individual, stressing that getting help will remain confidential. Many lawyers are so afraid "of the word getting around" that they simply will not seek help.
As the National Task Force on Lawyer Well-Being concluded, in part: "To preserve the public's trust and maintain our status as a self-regulating profession, we must truly become 'our brothers' and sisters' keepers,' through a strong commitment to caring for the well-being of one another, as well as ourselves."
Sharon D. Nelson (@SharonNelsonEsq) and John W. Simek (@SenseiEnt) are President and Vice President of Sensei Enterprises, Inc., a digital forensics, legal technology and cybersecurity firm based in Fairfax, Va. They have written 16 books published by the ABA, including "The Solo and Small Firm Legal Technology Guides" and "Encryption Made Simple for Lawyers." 
Courtney Troutman: Office 365, GMB and a Magic Table
My top takeaways from ABA TECHSHOW 2020? Here are my favorite sessions.
Lawyers are ready to get real about using Microsoft Office 365. In fact, they're so eager to learn about Office 365, some sessions at this year's ABA TECHSHOW were literally standing room only. One attendee who came to TECHSHOW with the intention of learning about another type of software told me he was amazed by all 365 could do, even though his firm already subscribed to 365. Judging by the number of attendees who didn't quite grasp what OneDrive is, he was probably typical. As presenters demonstrated Add-ins and Connectors, audiences added the apps on their computers in real-time. Automation and collaboration tools such as FindTime, Power Automate (formerly "Flow"), Teams, Templates and Groups were hits. Based on the popularity of the 365 sessions and the sheer number of features to cover, next year's TECHSHOW might do well to have a basic and an advanced Office 365 track.
How do you get lawyers to attend an 8 a.m. session on a Saturday? Explain the secrets of Google My Business and they'll be there with bells on, questions at the ready. Presenters Joy Hawkins (author of "Expert's Guide to Local SEO") and Gyi Tsakalakis of AttorneySync had attendees Google their own law firms, then walked them step-by-step through everything they need to improve their Google presence. Add points if you have a group photo of your legal team instead of your building. Are you in the same location with similar businesses? Subtract points. If you missed TECHSHOW 2020, Google My Business Help has a guide to help optimize your online presence. (Related: "The State of Legal Marketing Search Trends for Lawyers.")
Magic in the expo hall. This year's exhibit hall was packed with great law office product vendors, including many newer companies. But the "whoa, cool!" pièce de résistance for me was the Magic Table from PQ Labs. It's an AI-powered "smart table" reminiscent of gesture-based computers in sci-fi movies. Although it has a four-digit starting price, it could appeal to any lawyer who needs an attention-grabbing visual aid or just wants the world's best waiting-room coffee table.
Courtney Troutman(@SCBar_PMAP) is Director of the South Carolina Bar Practice Management Assistance Program, which she founded in 2002. A former practicing attorney, she is a frequent author on technology topics, including numerous articles for ABA publications. She is a Fellow of the College of Law Practice Management and a recipient of the 2014 Fastcase 50 Award.
And for tips from the popular conference wrap-up session, read "Favorite 5 from ABA TECHSHOW 2020's '60 in 60.'"
Illustration ©iStockPhoto.com
Also from our experts:
"Small Firm Tech Trends: What's Coming Down the Pike in 2020?"
"Productivity Tools and Tips to Jump-start Your Year"
"Make the Most of Tools You Already Have"
Subscribe to Attorney at Work
Get really good ideas every day for your law practice: Subscribe to the Daily Dispatch (it's free). Follow us on Twitter @attnyatwork.