Friday Five
Winning Websites
Marketing experts say the best marketing strategies demonstrate how we are different from our competitors. And they roll their eyes and sigh when lawyers ask, "Who else has done this before?" in response to their amazingly unique concept ...
The Editors
- April 29, 2011
How Do I Look?
Someone once said that we are happiest when people see us as we see ourselves. But that's not always easy to control on the Internet. It gets easier, though, when you are armed with information. Today's Friday Five ponders how we look ...
The Editors
- April 22, 2011
ABA TECHSHOW 2011 Favorite Five
We spent the first part of the week up to our eyeballs in legal technology at the 25th Annual ABA TECHSHOW conference and expo, and brought back more than just a bunch of highlighters! Here are just five of our favorite things from the conference.
The Editors
- April 15, 2011
Quality Time
We've all had those weeks (and months) when quality time with the kids meant pressing the mute button during American Idol to help with math homework. Feels good, doesn't it, when things finally slow down enough that you can center on the ones ...
The Editors
- April 8, 2011
The Fear Worse Than Death
If you're like most people, learning that you have to speak to a big group is the closest you ever come to peeing your pants. Yes, there are a few who just seem to thrive on it. But they're rare. And they aren't us, right? So, since we know ...
The Editors
- April 1, 2011
Words from the Wise
We've always figured that when really smart people talk, it's generally a good idea to stop talking and listen. This Friday Five is an opportunity to do just that. Let's eavesdrop on what some of our Attorney at Work Advisors have been doing ...
The Editors
- March 25, 2011
Be the Best Boomer You Can Be
Another U.S. baby boomer turns 50 every 8.5 seconds. And if you run the math, it's also the case that baby boomers are turning 60 at the rate of 1 every 7 seconds. Yes—you in the back there, hiding your issue of Rolling Stone behind the Wall ...
The Editors
- March 18, 2011
Cruise Myths Debunked
It's Friday! Why not make today the day you finally do something about that vacation you keep putting off? Block out the time on your calendar, pull out the brochures and just make a decision. If taking a cruise has long been on your list but ...
The Editors
- March 11, 2011
Your Own Stress Busters
In last week's Friday Five, we asked readers to share their favorite antidotes to stress and anxiety. Many did just that, and we've become extremely mellow here at Attorney at Work, sampling all of those wonderful ideas! This week, we're sharing ...
The Editors
- March 4, 2011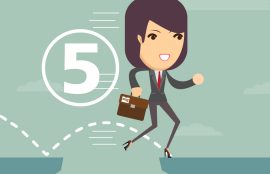 Stress Busters
Sometimes the stress gets so bad you think your head will explode. Oh, we know the feeling. For this week's Friday Five, we've found some terrific resources and ideas for things you can do to get some relief. Relax and check them out.
The Editors
- February 25, 2011