Beyond standard-issue snap covers, there are some pretty sleek, practical and just plain fun ways to accessorize an iPad (or whatever king-sized or fun-sized tablet is your pleasure). So if you've just snagged a new iPad or Mini, or feel like splurging on add-ons for your ol' iPad2, dive into this special Halloween edition Daily Dispatch, chock-full of sweet treats for users like you. Many of these companies create cases for other brands of tablets, too.
Bewitching and Bedazzled
A bewildering number of cover and case options have surfaced—and you can even custom-design your case or "skin." On the glamorous side, Net-a-Porter has a dreamy collection of designer cases, including this from Bottega Veneta, a spiked edition from Christian Louboutin and, if it's bedazzled or nothing for you, there's Jimmy Choo's glitter-finished leather iPad sleeve (a steal at $495). Personally, I'm coveting luxe stationer Smythson's brilliant violet case. (There's a pocket inside—totally worth it). On the practical side, Tumi's cross-body option is intriguing, too. So many colors!
If bespoke is your thing, SkinIt's Lenu protective snap cases and skins offer "endless possibilities" to choose from, including lines from fabric designer Amy Butler and cartoonist-designers David & Goliath ("Come to the Dark Side, We Have Cookies!"). Or, opt to upload your own artwork or photo or brand your gadget with your logo. Our ghoulish customized example below comes courtesy of artist Elizabeth Fay-Babb.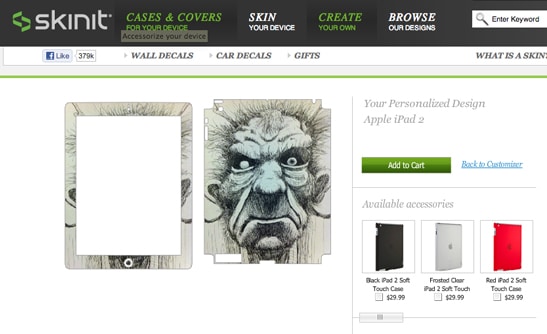 Feel Funky, Feel Good Choices
Artisans are turning out amazing handcrafted—and hand-carved—smartphone and tablet cases. Grove bamboo cases, handmade in Portland, have that Northwest aesthetic, meticulously crafted and "oiled to perfection" with the precision of a Chinese puzzle box. (The iPhone case feels so fine in your hand, you won't want to put it in your pocket.) Choose from a plain case, from the artist series, or a custom design. Beyond bamboo, Miniot hardwood iPad covers, made in the Netherlands, are available in seven wood species. (Look at how they roll into a stand!)
DODOcase uses traditional bookbinding techniques for its chic tablet covers—handcrafted in San Francisco, they have the feel of a moleskin notebook. The cases are customizable, of course, and the new Creator line is sweet.
On the crafty side, Etsy.com handbag designers are churning out clever cases, like these by Mr. and Mrs. Wallet, and—just in time for the holidays—West Elm has felted bunny or fox tablet holders. Still not measuring up to your crafty standards? Go ahead and knit your own.
Touchy Subjects: Adding a Keyboard … and a Pen
Beyond the fun factor, most of us want to get as much mileage from our tablets as possible—adding apps to help us get work done, plus a wireless keyboard for intensive typing and note-taking. (Here's how a few high-profile iPad users have solved the keyboard problem.) For convenience, three-in-one keyboard cases provide protection, a stand and a Bluetooth keyboard. The downside? Some are bulky—or heavy, like my beloved first-generation ZAGGfolio. The new "ultra-thin" aluminum  ZAGGkeys Pro and ProPlus models are lighter—and, hey, backlit keys….
Kensington and Logitech offer similarly sleek keyboard covers and cases. Logitech's Ultrathin Keyboard Cover snaps onto the iPad, and Kensington has a new KeyFolio Pro 2 removable keyboard, case and stand. Another keyboard case option is the Ipeveo Typi folio case, reviewed here, in the GPSolo eReport.
If typing isn't your forté, you might try a digital pen for recording and converting your handwritten text so that you can manipulate it on screen. LiveScribe just announced its new Sky Wi-Fi smartpen—with full cloud integration, it digitizes and syncs notes across iOS and Android devices. The IrisNotes Digital Pen is a nice pick, too. Unlike LiveScribe, it doesn't require digital paper.
"The Stand"
It may not be the primary reason you own an iPad, but there will probably be times when you want to use it solely for watching stuff—say, all past episodes of "The Walking Dead," or perhaps a post-apocalyptic horror film, or even old music videos. And you'll want your viewing to be hands-free. This is the moment you'll grasp the importance of a proper stand and curse the minor failings of those groovy snap-on covers. Keyboard cases aren't a bad option. In addition to some of the cases noted above, Targus' newest line of iPad and iPad Mini cases look promising—with multiple viewing angles. (Check out this handy comparison chart.) There are none-case options, too, that attach to the back of your device, like the Octa Whaletail vacuum dock and the iKickstand.
Oh, How We Carry On 
To wrap up, I thought about pointing to a bunch of new carry-alls to accommodate your tablet. Instead, I'll point you to this post on top checkpoint-friendly brief bags, identified by the world travelers profiled in our Field Guide for the Mobile Lawyer (shameless plug, but it's free). Because otherwise, the only bag we're interested in at my house today is the pumpkin-shaped one my son is carrying all his candy in from door to door. So, Happy Halloween from Attorney at Work!
Joan Feldman is Partner/Editorial at Attorney at Work. Follow her @joanhfeldman.
Dig Deeper
A few apps and ideas to help keep you operating smoothly.
Illustration © Elizabeth Faye-Babb
Sponsored Links
»How I Increased My Billable Time by $2,000 Each Month (and Actually Worked Less)
»Learn More About the Easiest Way to Get Paid.
»Quality Attorney Leads. Reach Prospects Online. 10 Free Leads.
»Free Demo: JuraLaw for Case, Calendar and Docket Management.
»Automate Your Documents. Save Time. Save Money! Free 90-Day Trial.