What's the best way to ask for a review? Deal with the unfair ones? Take the survey and learn how your peers are handling Google Reviews. You could win a great prize.*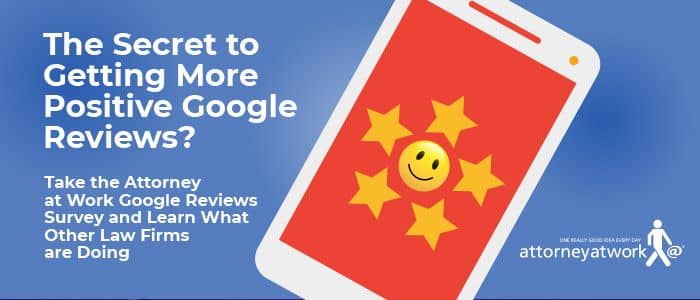 Sound Off About Google Reviews
Attorney at Work and Kenect are conducting a brief survey to learn about your experiences with Google Reviews. We will report back with information on how firms like yours are using Google reviews and other tools to monitor their reputations, improve client satisfaction — and help attract new clients.
Complete the survey here and you'll be contributing to our report on valuable best practices.
Thank you for participating!
Be sure to include your contact information at the end of the survey to enter our prize drawing.
For more details on prizes, sweepstakes rules and the Google Reviews Survey schedule, keep scrolling. And don't forget the survey closes on July 30.
*You Could Win a Nice Prize
As a thank you for completing the Google Reviews Survey, you will be entered into a sweepstakes drawing for one of these prizes:
Amazon $100 Gift Card (1)
Amazon $50 Gift Card (1)
Your choice of Attorney at Work's marketing books (2)
Note: Attorney at Work is conducting this survey with assistance from the reputation management platform Kenect — we relied on their knowledge to prepare the survey questions. Your personal data, answers, and any identifying information will remain confidential and will not be shared. Results will only be shared in aggregate form for informational purposes. Recommendations by specific individuals will only be published with permission.
How to Enter
Just click this link https://www.surveymonkey.com/r/GoogleReviews to begin the survey. You must fill in the questions at the end of the survey to enter the prize sweepstakes (your name and a valid email address). The survey should take no more than 7 minutes to complete.
Winners will be notified by email before August 15, 2023. Your responses to the survey are confidential, and your name will not be published if you win a prize unless you grant express permission. See the "official" Sweepstakes Rules Terms and Conditions.
*Sweepstakes Abbreviated Rules and Conditions
The Attorney at Work Google Reviews Survey Sweepstakes ("Sweepstakes") begins at 8 a.m. CT on June 6, 2023, and ends at 8 p.m. CT on July 30, 2023 (the "Sweepstakes Period"). Open only to legal residents of the USA who are 18 years of age or older. To be entered into the Sweepstakes and qualify for one of the listed prizes, you must complete the Survey (subscribers may have received an email from AttorneyatWork.com, or you can access survey link here: https://www.surveymonkey.com and include your name and a valid email address as requested. Sponsor is Attorney at Work. ("Sponsor.") Sponsor will award 2 Amazon Gift Cards (ARV: $150). 2 marketing books published by AAW. (ARV: $20-42). NO PURCHASE NECESSARY. VOID WHERE PROHIBITED.