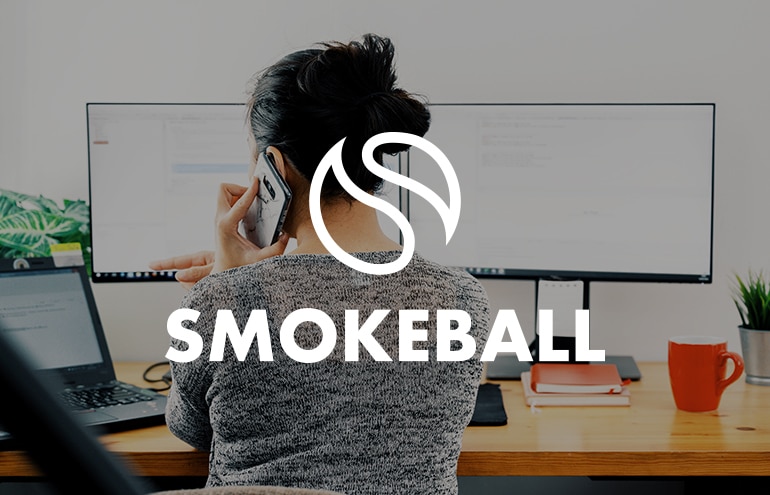 Like most law firms, COVID-19 took us by a bit of a surprise. What started as a temporary move out of our offices in March quickly turned into a long-term residency in our own homes. Fortunately, Smokeball is inherently legal software that was made for remote work, so having remote legal software there are fewer bumps along the way. Having case management, document automation, a library of 17,000+ court forms, and online billing at your fingertips makes any place—even your bedroom—a great remote law office.
But like you, we've learned a lot, too.
We're excited to share our latest release today, featuring improvements to Smokeball that will make WFH easier and more natural than it already was —all while ensuring that your firm maintains productivity, accountability, and profitability.
Remote Legal Software with Zoom Integration
In the current circumstances—and for the foreseeable future—many businesses are required to work remotely. Most have already made the transition to working from home, and those who have not yet done so are practicing a "closed-door" office environment where they no longer take in-house client visits or walk-ins.
Videoconferencing is imperative in maintaining face-to-face client and colleague contact. However, most law firms have never had to face a remote working situation before and videoconferencing is new to them. Remote legal software can help.
With videoconferences, attorneys need to manage meetings in their calendar and create time entries as well. Tracking these video meetings involves setting a timer and manually describing the meeting, assigning a matter, and entering the time spent after each meeting.
With our new Zoom integration, however, law firms can use Zoom directly in Smokeball — you no longer have to use a third-party app, and no longer have to take extensive notes to save back into a matter later. It's all in one place.
Zoom is now in your Smokeball. Smokeball now provides a seamless way to continue your day-to-day work with a Zoom integration. You can:
Add meeting links to Smokeball Events
Start meetings directly from Smokeball
Accurately track time spent in Zoom meetings
Record meetings (where applicable)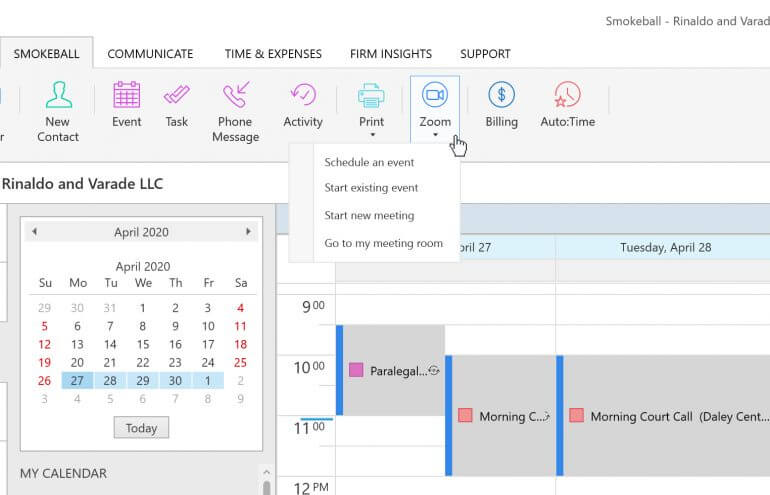 Individual Employee Accountability
Among several updates prompted by COVID-19, we have refined our Activity Intelligence (AI) feature, giving law firms the most robust functionality to date for designing and overseeing individual accountability.
Given the current climate, it is harder for firm owners and senior lawyers to know if their staff is being productive while at home. Firm leaders tell us they want to understand if someone is starting work late or has large gaps in their day so that they can follow up with staff to keep them productive. They also want to know whether or not someone is not really using Smokeball so that they can get them to work more efficiently.
To respond to these concerns, we updated the AI tab to include more efficient tools and information that firm owners can digest quickly. Now firm leaders can see when their employees started their day, what parts of the day they weren't active, and what they spent the bulk of their day working on from a matter or activity type perspective.
These improvements in remote legal software allows for full transparency between colleagues. They also provide a check on productivity should a client question why they were charged for certain work performed on their case.
eSigning and eFiling
In the latest version of Smokeball, we matched our powerful eFiling integration with InfoTrack by improving our eSigning capability through DocuSign.
Smokeball offers an easy way to get party e-signatures via our DocuSign integration through InfoTrack. This is essential in normal business operations, but even more so now that clients can't come into the office to sign documents. Attorneys need to be able to send documents for signature online securely for clients to respond quickly, and then have the signed documents appear back in their matters right away.
Beginning in March 2020, courts in nearly every state moved to allowing—if not requesting—eFiling for certain cases, especially those in civil and family law matters. While some states, such as California, had long required many cases to make use of legal technology to conduct court filing electronically, the coronavirus pandemic made the process more widely accessible and accepted.
Companies like InfoTrack and One Legal (in California), have been offering e-filing services for years. They work with case management software such as Smokeball to automatically pull information from your matters and populate PDFs for electronic delivery to your local or state court. Our latest release offers the most powerful eFiling capability to date, including a search bar that will allow you to see if your local courts require electronic filing.
With eFiling you can rest assured that your materials are delivered quickly and securely, eliminating not just paper, but stress, from your office.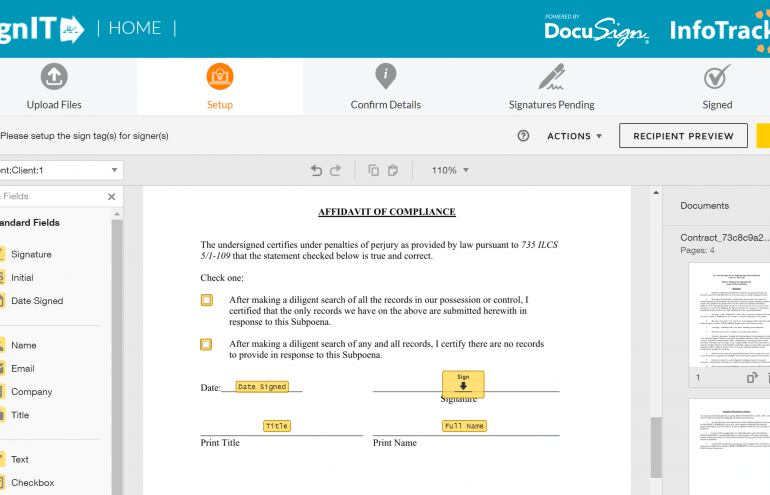 Check out the latest version of Smokeball remote legal software to enjoy boosting your practice and productivity whether at home or back in the office.


SPONSORED CONTENT. Product Spotlight showcases content provided by Attorney at Work sponsors and advertisers. This does not constitute endorsement by Attorney at Work. See Terms and Conditions for more information.