Last time, in part four of our Local Marketing series, Mike Ramsey outlined the components you need to "Design the Best Law Firm Website." Obviously, the goal is to attract potential clients to your site. And that begs the question, "How do you know it's working?" In part five, Mike points out which stats to mind, along with a Google Analytics primer.
If you have a website you want to know the answers to the following questions. Do you?
How many people visited your website this month?
What were some of the search terms or websites that brought them there?
How many people called you or filled out a form?
How long does the average person stay on your website?
Which are the most popular pages on your site by total visits?
Which pages do people stay on the longest?
Which pages do people leave the fastest?
What part of my site are people clicking on the most?
These are all questions that can help you understand the effectiveness of your site, find areas for improvement and even calculate return on investment from the various places bringing traffic to your site.
Know How Well Your Website is Performing
Google Analytics is a free web analysis tool that will answer these questions for your website. It can easily be installed by adding a simple piece of code to every page of your site. Or if you use a web platform like WordPress, there are plenty of free plugins that can add the code automatically.
Let's take a look at a few sample screenshots to demonstrate the kind of information you can find in Google Analytics.
Website Content
As you can see, the second most visited page on this website is the one talking about the attorneys and staff in the office (the most visited is the home page). This is the case for almost every lawyer's website. So, how much effort have you put into your attorney profile? This specific site got 10 times the traffic to the profile pages than to the pages talking about how the firm represents clients who have been in a car accident. The information that is generally most attractive to potential clients is about the attorneys.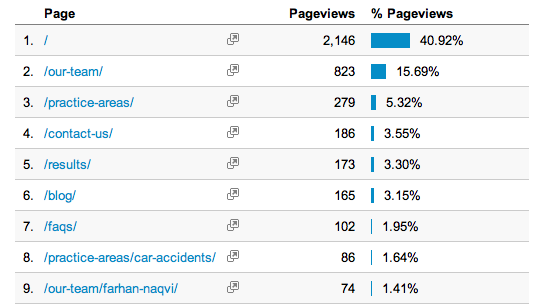 Where Traffic Comes From
Have you ever wondered if it's worth paying for a certain directory listing, or if anyone is paying attention to your social media accounts? You can find out by seeing how much traffic each is driving to your website and, more importantly, what that traffic is doing. In this instance, Avvo sent 20 visitors who stayed on the site an average of 5 minutes and 30 seconds and visited 3 pages, compared to Lawyers.com, which sent 9 visitors at 3 minutes and 30 seconds. You can even take this a step further and see who filled out a form or called your firm.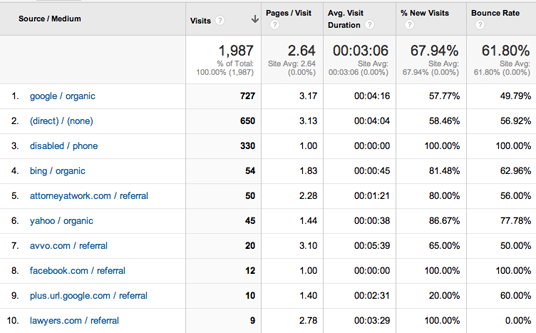 Where Searchers Come From
This is one of my favorite reports. Look at Las Vegas. It's clear that more traffic is coming from surrounding communities. So, armed with that information, you could take a look at the pages you've built to see if you are doing anything to target a place like Spring Valley, or Paradise. If not, you might want to take the opportunity to do so. For instance, people from Paradise aren't looking at as many pages, staying on the site as long, and are bouncing away a lot faster than other locations. Figuring out why and fixing it could improve your call and lead volume.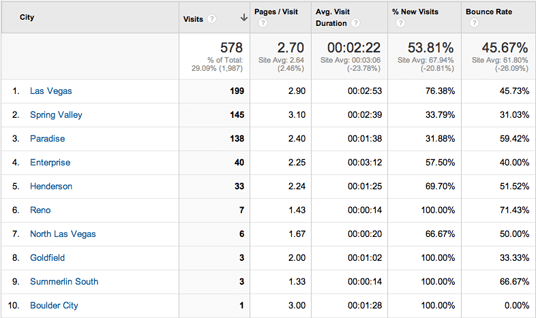 I feel so strongly about the need to know and understand this information that I have every person on my staff take part in the Google Analytics IQ program and pass the test to become qualified. It helps us understand what, why, how, when, and where and to test different ideas and get data on what works best. Don't just rely on a marketing agency to give you this kind of information, though. Become familiar with it yourself at the Google Analtyics Training website, which is free to use.
Testing and Heatmaps
We use a tool called Visual Website Optimizer to run heatmap click tests and A/B tests that show where people are clicking on a website. Does anything stand out to you in this example? What would you test or do differently?

You might add call functionality to dial the phone number because it appears that many people are clicking on the number and nothing is happening. I might also make the recognition boxes link to more information about the awards this firm has received. I can also verify that the "our team" navigation link is the top choice for people on the home page. Because of this, I want to make sure that this link is easy to find on the navigation bar — I might even consider adding another link to it in the content "below the fold" of the website so that you don't lose access when scrolling down.
Call Tracking and Conversion
More law firms are using call tracking on their websites. If you do it, just know there is a big debate about how to do so without hurting your local map rankings.

If you care about local map rankings, then you need to be careful where and how you use a call-tracking number. We will use them in images on a website and through a javascript dynamic insertion that can changes out phone numbers based on where the searcher is coming from. This way, a search engine won't crawl the number and confuse it with the primary phone number that you use in online directories. ( NEVER EVER use a call-tracking number in a local search directory listing where they ask you to type in your business name, address and phone number. This is the information Google uses to identify your business and determine your search rankings, so you need to use your primary phone number.
We use CallRail.com for basic tracking numbers. If you are looking for more of an all in one solution, I've been impressed with how AvvoIgnite can basically track a phone call or a form-fill on your website all the way through the process of signing them as a client.
The Key? Never Be Done Improving Your Website
It is impossible to improve on something that you don't track or understand, so take the time to familiarize yourself with the analytics. You can go so much deeper than what I have shown here, but if you are just getting into the world of online marketing just keep it simple, improve where you can, and you should begin to see a difference.
Once you have a plan of action for improving your site, the next step is to promote it. I will be covering that in part six of the Local Marketing for Lawyers series.
Mike Ramsey is President of Nifty Marketing, a local search marketing company in Burley, Idaho. Mike is passionate about helping good people and good businesses grow, and recently launched NiftyLaw as a place to learn how to handle online marketing. He takes part in the local search ranking factors study and speaks on the GetListed.org Local University tour. Outside of search, Mike moonlights as the publisher of The Voice, a weekly newspaper in Southern Idaho. He has a wonderful wife, a rascal of a little boy and a beautiful new baby girl. You can follow him on Twitter @mikeramsey or +Mike Ramsey.

You Might Also Like …