If you have a blog, chances are it is powered by WordPress. These days, more law firm websites use WordPress, too. For those who do not know, WordPress is an open source blogging platform that has matured in many ways to a lightweight content management system. It is used by over 19.5 percent of the top 10 million websites as of August 2013, according to usage reports by W3Techs.
You can set up a site two ways using WordPress: through its hosting services at WordPress.com, or by downloading a copy and installing it on almost any web host. What makes WordPress appealing is that it works right out of the box but can also be customized with themes for look and feel, and plugins for functionality. Themes and plugins can be free, or cost some money for support and licensing. If you started your website or blog right out of the box, it would work and you could be online in minutes. Plugins, however, can really take your site to the next level.
The Plugin Breakdown
A common criticism of plugins is that they may hurt the performance of your website, making it slow and difficult to manage. Those concerns are real — if you don't pay attention to what you are installing and how you plan to use them. However, with the right balance of plugins, hosting and security, you can have a great website or blog that delivers results.
I've put together a list of plugins that I personally use and recommend when I talk about WordPress and websites with lawyers. I've broken these down into categories by the purpose they serve:
Social Sharing
Comment Management
Search Engine Optimization
Site Performance
Contact and Lead Generation
Analytics
Backup and Security
In part one, I will cover the first three categories. Part two will cover site performance, contact and lead generation, analytics, and backup and security.
You will notice that there are multiple plugins listed in each category. DO  NOT install all of these at once. Try one at a time to find the one you like the best. I have noted whether the plugins are free or cost money. If you must pay for one, I have included a free alternative. Note that if your site is hosted by WordPress.com, you may not be able to install some of these plugins.
Final disclosure: While I personally use and recommend these plugins, I do not have any affiliate programs associated with them. You may also find alternative plugins that work better for you. These recommendations are based on personal preference and experience using them.
Social Sharing
Social sharing tools have become a staple on websites today. They serve two purposes. First, to offer your visitors a way to share your website, and hopefully your great educational content, with their networks. Second, to provide links to your site that will have some impact on your search engine rankings. One is dependent on the other. Here are two free plugins that offer you a simple, configurable, way to add the ability to share to your website or blog.
Digg Digg. Simple and configurable in several ways, Digg Digg allows you to have social sharing icons on your website.
Sociable. Similar to Digg Digg, Sociable has alternative icons for you to choose from, among other features.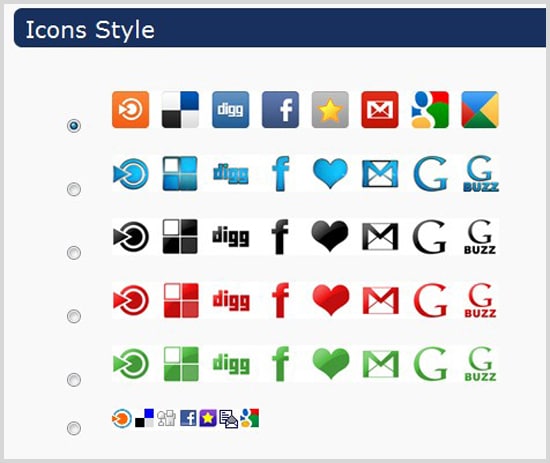 Sociable offers a few different social media icon styles to choose from.
Comment Management
Depending on how you want to manage your site and engage with prospective clients, you will turn on or turn off comments on your website or blog. If you do keep comments on, you will want to protect yourself from comment spam. There are three very effective tools that assist with this.
Akismet. From the creators of WordPress, Akismet was one of the first comment spam tools. This plugin is intended to work with the out-of-the-box comment system in WordPress. Free for personal sites, and a small monthly fee for business sites.
IntenseDebate. It's another tool from Automatic, but this one replaces the default comment system inside WordPress and replaces it with a new tool. It allows for customization of design, but also requires an account at WordPress.com to manage comments. Free.
Disqus. Similar to IntenseDebate, Disqus replaces the default comment system inside WordPress. It offers many of the same features of IntenseDebate, can be managed from within WordPress, and has great moderation features. Free.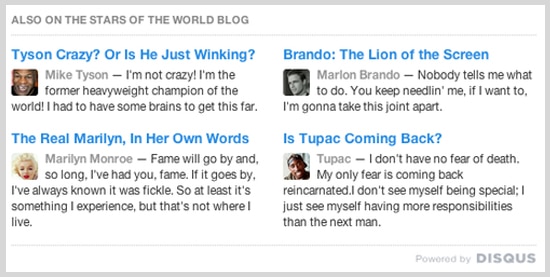 Disqus lets you customize your comments section, with tools for more active discussions.
Search Engine Optimization
Search engine optimization is an art and a science. There are many factors that affect your search engine rankings, some of which are called on-site and some that are called off-site. Luckily there are some great plugins that assist you with the on-site optimizations to give you the best foundation possible.
WordPress SEO. Probably one of the most popular SEO plugins for WordPress sites, WordPress SEO covers all the basics and then some related to on-page SEO factors. WordPress SEO adds a set of fields to your blog entries that allows you to customize the link text and description that would appear on the search result and gives you a preview prior to publishing your post. If you add certain keywords you want the post to be found on, it will run an analysis of your content to make sure those keywords are present and in the right way. This can be very powerful if you want to know exactly how your site will look online. Free.
Google XML Sitemaps. On-page SEO is half the battle. You also want to let Google (and Bing and Yahoo) know that your site exists and the content it should index. That's where the Google XML Sitemaps plugin comes in. It will generate a properly formatted sitemaps.xml file. This will be published on your site as a reference as well as allow you to use that link when submitting your sitemap to search engines through their webmaster tools. As your site updates, the XML site map updates as well, keeping your site indexed appropriately. Free.
With these plugins and the ones we'll cover in part two of this post, you can build yourself a full-featured site or blog for your law firm. Remember, each plugin has pros and cons to their use, so be sure to implement one at a time, see how your implementation reacts, and move on from there.
Click here for part two: site performance, contact and lead generation, analytics, and backup and security.
Frederick Faulkner IV is Principal at AIE Digital, LLC, and helps organizations be more successful online. Previously, Fred was Manager of Digital Marketing at the American Bar Association, where he was responsible for the association's website and many digital efforts, including working on creation of the award-winning ABAJournal.com. Fred is a Google Analytics Qualified Individual, loves the Internet, and is an amateur photographer. Connect with Fred on Twitter, LinkedIn and Google+.
Coming Soon to Chicago
Fred will be presenting on "Marketing Your Law Practice" at the Clio Cloud Conference September 23-24 in Chicago, along with other Attorney at Work contributors Steve Matthews and Gyi Tsakalakis. Attorney at Work is a Media Sponsor of the event, which means you get a nice discount if you use the code "attorney@work" when registering. To learn more about the agenda, click here.
You Might Also Like These Posts …
Sponsored Links
»Top cloud-based practice management software: Free 30-day trial!
»Attorney Flies Solo—and Soars—with Online Practice Management.
»Register today for the 2013 Futures Conference, October 3-5, in Chicago.
»Manage my legal practice from anywhere on any device—HoudiniEsq.
»Get connected with law firm managers! Association for Legal Administrators (ALA).
»Quality attorney leads. Reach prospects online. 10 free leads.
»Learn more about the easiest way to get paid.
»Simplify your practice with legal practice management in the cloud.
Illustration ©iStockPhoto.com.