What makes WordPress so appealing for blogs and even your law firm's website is that it works right out of the box but can also be customized with themes and plugins. In part one of "Top WordPress Plugins," Fred Faulkner recommended social sharing, comment management and SEO plugins to help take your plain-vanilla blog to the next level. In part two below, he has favorites in four more categories.
With the right balance of plugins, you can build a full-featured WordPress-powered blog or website for your law firm. Here are a few I personally use and recommend in the categories of performance, contact forms, analytics, and backup and security. Remember, each plugin has pros and cons, so be sure to implement one at a time, watch how your site reacts, and move on from there.
Performance
Have you ever bailed on a website because it loaded too slowly? Do you want that to happen with your website visitors? A site's performance is just as important as the content that is published on it. WP Super Cache and W3 Total Cache are two free plugins that will help speed up your site. These are not necessarily silver bullets, but one part of the larger performance puzzle. Both allow you to optimize portions of your site with proper caches, rules on when to refresh them, how to compress images and more.
Contact Forms
There are lots of ways to create a form on your website or blog to capture an inquiry or lead. Here are two plugins you can use to create all types of forms.
Gravity Forms. Although it's a paid plugin, Gravity Forms offers a lot of options — from custom form creation, multistep forms and custom design, to integrations with several email service providers, which is crucial if you are capturing email addresses for an e-newsletter list. Also, with a paid plugin you get support. Each submission is logged in the WordPress database and can be viewed and managed within the WordPress interface.
Contact Form 7 with Really Simple Captcha. Similar to Gravity Forms, Contact Form 7 is a very popular contact tool. The interface isn't as elegant, but it definitely gets the job done. And it's free. Combining Contact Form 7 with the Really Simple Captcha plugin will help keep the spam down. As with Gravity Forms, you can create all types of forms, but without the direct integration to email providers and other tools.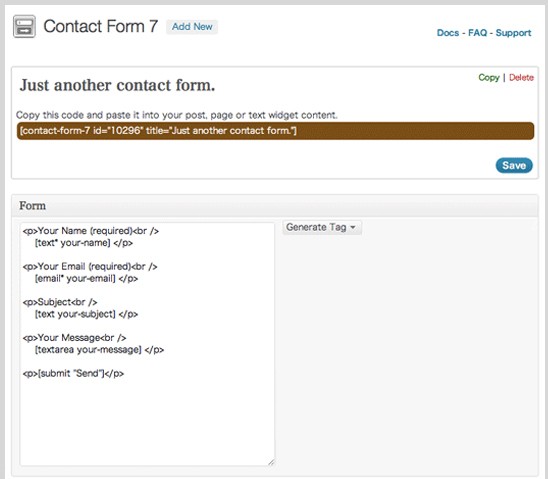 The ability to customize forms expands your online marketing options.
Analytics
If you are going to spend time building up your website and blog, you should take the extra time to make sure you are gathering all the data you can. Google Analytics is a free analytics tool that is easy to set up, though it can at times be complex to configure. There are several plugins that can help, but here is the one I think does the job best.
Google Analytics for WordPress. You will need to create a Google Analytics account prior to configuring this plugin. However, Google Analytics for WordPress covers all the custom configurations I recommend to lawyers, and it will allow you to suppress your activity from the logs when you are logged into WordPress. You can easily configure tracking events like downloads and external links, and much more. It makes getting the data you need easy so you can worry about analyzing, and not about programming JavaScript.
Backup and Security
The downside of using a popular tool is that it will be targeted for hacking and other malicious activity. That's why it is just as important to properly secure and back up your site as it is to optimize and fine-tune it. Here are some plugins that can help.
VaultPress and Backup Buddy. VaultPress and Backup Buddy are tools that you can use to secure and back up your site at regular intervals. And you can set up routines that send you a copy of your configurations to an XML backup of your content. You can do this via email to your inbox or even connections to sites like Google Drive or Dropbox. Paid.
LimitLogin Attempts. If you've read about brute force attacks against blogs, this tool was created to help deflect those. It works just like the name says, limiting the number of login attempts before it blocks you out. Don't forget your password or fat-finger it too many times or you will fall victim to the tool yourself. Free.
Better WP Security. It's a comprehensive tool to secure your website or blog with features of all the plugins above. Free and paid services available.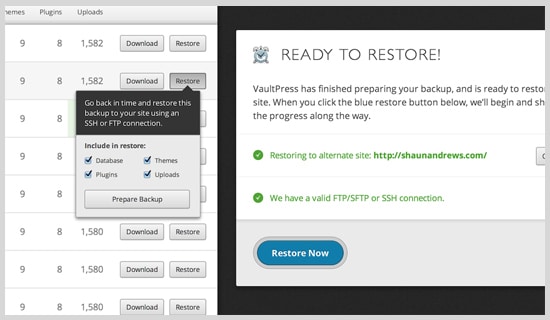 VaultPress allows you to back up and restore remotely.
Jack of All Trades
JetPack by WordPress. Finally, if you want a plugin that offers a lot of the features discussed above and then some more, JetPack is for you. From the creators of WordPress, JetPack bundles several useful features you will find if you use WordPress.com to host your site or blog — analytics, stats, social media management, writing tools and a host of useful widgets. You can get it as a stand-alone plugin for your own hosted blog or site and use some or all of the features. Each is configurable. Free with paid features available.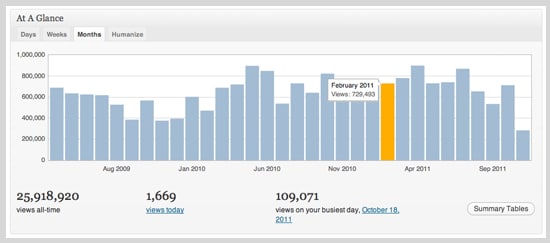 Among other features, Jetpack's easy-to-read dashboard helps you track your site's stats.
Bonus: If you do not have a mobile-responsive designed theme, I suggest you look at getting WP Touch, which will automatically apply a mobile theme to your website so it's easier to access by people using mobile devices.
Frederick Faulkner IV is Principal at AIE Digital, LLC, and helps organizations be more successful online. Previously, Fred was Manager of Digital Marketing at the American Bar Association, where he was responsible for the association's website and many digital efforts, including working on creation of the award-winning ABAJournal.com. Fred is a Google Analytics Qualified Individual, loves the Internet, and is an amateur photographer. Connect with Fred on Twitter, LinkedIn and Google+.
Coming Soon to Chicago
Fred will be presenting on "Marketing Your Law Practice" at the Clio Cloud Conference September 23-24 in Chicago, along with Attorney at Work contributors Steve Matthews and Gyi Tsakalakis. Attorney at Work is a Media Sponsor of the event, which means you get a nice discount if you use the code "attorney@work" when registering. To learn more about the agenda, click here.
You Might Also Like These Posts …
Sponsored Links
»Top cloud-based practice management software: Free 30-day trial!
»Attorney Flies Solo—and Soars—with Online Practice Management.
»Register today for the 2013 Futures Conference, October 3-5, in Chicago.
»Manage my legal practice from anywhere on any device—HoudiniEsq.
»Get connected with law firm managers! Association for Legal Administrators (ALA).
»Quality attorney leads. Reach prospects online. 10 free leads.
»Learn more about the easiest way to get paid.
»Simplify your practice with legal practice management in the cloud.
Illustration ©iStockPhoto.com.