You've gotten aggressive about marketing. You're winning the game, but mostly (and I say this in the kindest, gentlest manner) you're clueless. You're meeting with lawyers and community leaders to build your referral network. You're advertising on Google AdWords and doing a little on Bing as well. You've got a listing on several websites and you've built a Facebook page for your practice.
The good news is that your phone is ringing and the calls are turning into revenue.
Life is good.
Then, one day, an opportunity comes along to do something different. You've got a salesperson on the line pitching you on search engine optimization for your website. He talks a good game, but he wants you to spend some money and you're not sure if it's a smart move. He hits you with a question: "What kind of return are you getting from what you're spending on Google AdWords?"
This Is the Part Where I Demonstrate Your Cluelessness (Sorry)
You realize that you don't know the answer. Sure, you know that people are clicking on your ads and some of them mention the ads when they call the office. You also know you're spending a ton of money on marketing and getting complicated reports from your vendors. But you realize that you really have no idea what's working and what's not, or what matters when it comes to your marketing spending. Yep, you're clueless.
Are the lunches with referral sources more important than the ads?
Are the directory listings more important than your website?
Should you keep screwing around with the Facebook page?
How much does each lead cost—and are some new clients costing you more than others?
These are all good questions but you don't know the answers. What if, for a reasonable price and a minimal effort, you could know?
What if, automatically, every call to your office was tracked and analyzed so that you could know where the call came from, how much it cost you and how likely the caller is to hire your firm?
What if you could flip through reports that showed you the value of your Facebook page compared to your website compared to your advertising?
What if you could instantly access information about every caller's prior calls to the office and track their interactions with every element of your online presence? What if you could immediately determine their current status in your new client pipeline? What if every member of your team could easily access that information from any computer?
Having that information available would be revolutionary for most law firms. Avvo Ignite can give that information to you. And, remarkably, that's just the tip of the iceberg of what the product can do for you.
Avvo Ignite in Action
Avvo Ignite is a new product, released this week, that does several important things.
First, it provides (if you want it) a nice, basic website (with a blog if you like). You can stick with your existing site if you prefer. This isn't really about websites, but if you don't have a nice site at present, then Avvo Ignite justifies the cost with that one feature. You'll get your site and blog for less than what many other vendors charge for the site alone. Avvo Ignite goes well beyond the basic template and assists you with making sure the site is well written and effective in marketing your business.
Second, it gives you a handful of special phone numbers and shows you how to insert them on your website, your Facebook page, your LinkedIn page, etc. You can use the numbers wherever you have an online presence. You'll place a unique number in each location.
Third, Avvo Ignite gives you a very impressive, hosted system for tracking everyone who calls your office. There's no software to install, and everyone in your practice can access the information as you move the prospective client from the initial call to the consultation to the retainer agreement.
Let's watch the magic happen. Here we go:
A prospective client visits your website, calls the special number, and boom! A record for the caller instantly pops up on your screen as the phone rings.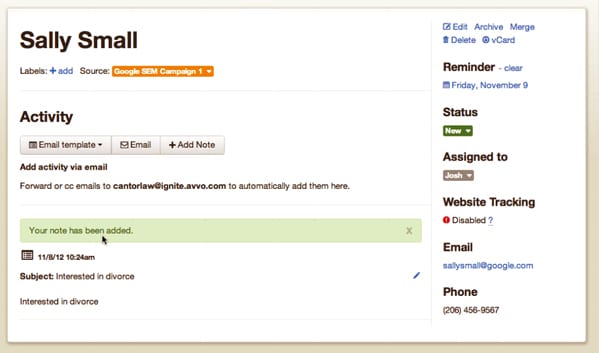 You start filling in information as the prospective client talks. Of course, the caller ID system has captured the number and you'll see a record of which of your web outposts she has already visited. You can keep gathering info on the call and, if you like, assign the caller to a particular staff member for follow-up.
Let's say, at the end of your chat, the caller says "let me think about it" and disconnects. Tomorrow, when she calls back, the screen pops up again. You'll immediately note that the person spent more time on the site browsing additional information. Now you can arrange the consultation and record your notes in the system.
Of course, you can keep using the system as the client moves along with making a decision about hiring your firm. You'll have everything you need in one central repository, available to your entire team, from any web browser. Avvo Ignite helps you guide the client from the initial call to a productive relationship with your firm. Very nice.
But wait, there's more. Remember, how I was calling you clueless earlier? Avvo Ignite to the rescue—so you won't be clueless anymore.
While you're busy talking to the client, Avvo Ignite is preparing reports so you'll know the answers to those annoying questions from the SEO salesperson. You'll know which parts of your marketing program are working and, more importantly, which parts aren't. (Seriously, why were you spending the money if you didn't know whether it was working?)
Now you don't have to operate in the dark anymore. You'll get simple, actionable data that tells you where to spend more and where to spend less. You'll optimize the effectiveness of your marketing and stop wasting money on useless advertising.
Avvo Ignite isn't a revolutionary technological advancement. The technology behind every element of what they're offering has been around for some time. It's all well established, tested and reliable. What Avvo Ignite is doing, however, is making complicated technology available to the law firm so that the system and the data are actually useable. They're taking complicated information, like that available from Google Analytics, and making it actionable for the law firm. That's huge.
In addition, they understand, after years of working with attorneys, that we're busy with other things, that this isn't our primary focus and that we need lots of customer support. They've created a team to help.
The system starts at $199 per month and the price increases based on the number of phone numbers you require, or channels you want to track. They also charge a setup fee that is waived by committing to a term. So, whether you're an experienced marketer or brand-new to growing your business, Avvo Ignite has a package that will likely meet the needs of your practice and help you more productively spend your marketing dollars.
Lee Rosen has practiced family law for more than 20 years. With four offices, Rosen Law Firm serves Raleigh, Charlotte, Durham and Chapel Hill, North Carolina. Lee is widely known for his Divorce Discourse blog. He's an ABA James Keane Award winner for elawyering and has been featured as an Attorney at Work Enterprising Lawyer. Follow Lee on Twitter @LeeRosen.