Let's start with a bold statement: It would be better to have no website at all than to have a poorly designed one with bad content and missing information.
With that in mind, stop and ask yourself the following questions about your law firm's website.
Are potential clients getting the information they need from your site?
Are potential clients impressed with how you present your practice online?
Are you satisfied with your site?
Answer honestly. Then ask a few clients (not staff) for their honest opinions.
Here are the factors I think are most important for a law firm website.
Your Law Firm's URL and Branding
Plumbers and storage companies used to start their businesses' names with "AAA" or "A1" in the glory days of the Yellow Pages, so they'd be placed at the head of the entries. But today naming your business so you can rank first in the phonebook is irrelevant.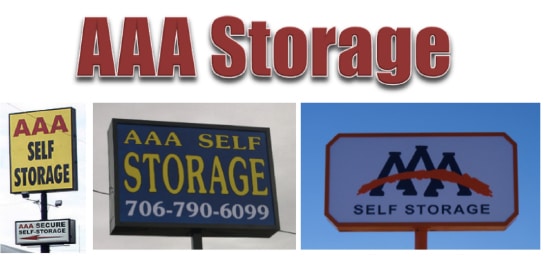 Lawyers face the same situation choosing website URLs to accomplish rankings. Here are a few examples:
chicago-personal-injury-attorney.us
los-angeles-criminal-defense-attorney.com
rhodeislandpersonalinjuryattorneyblog.com
While these and other "close to exact keyword match" domains might have enjoyed a search engine boost in times past, they won't much longer. Google has already made one algorithm update that punished low-quality keyword-stuffed domains, and I'm sure there will be many more. Instead, try to get a domain name and URL that represents your brand — preferably your exact business name. It should be something you can use as your email address too. It will be easier for potential clients to remember and more professional in most cases.
For example, Naqvi Injury Law just switched from "personalinjuryofnevada.com" to "NaqviLaw.com." It's shorter and easier to remember, and it's this particular lawyer's actual brand. Moving away from a keyword-stuffed domain didn't have any negative effects — he actually saw a major ranking increase.
Your Platform: Content Management Systems
A content management system (CMS) is simply an online program that allows you to write, edit, publish and organize content on your website and blog. There's no better CMS than WordPress for lawyers. It's free to build on, has an amazing community behind it, and has become the standard for most portfolio-based websites online. A CMS doesn't have to look any certain way either, so you aren't stuck with one design. Here are some examples of law firm WordPress sites.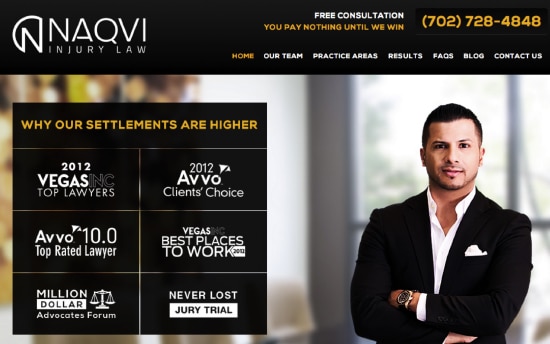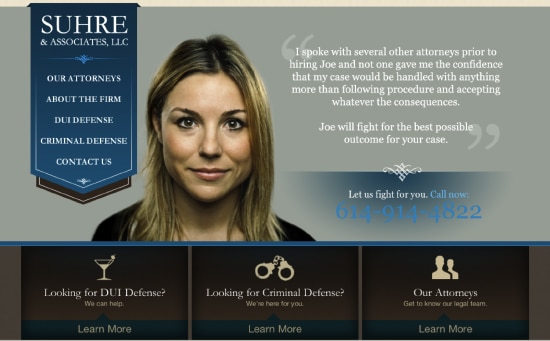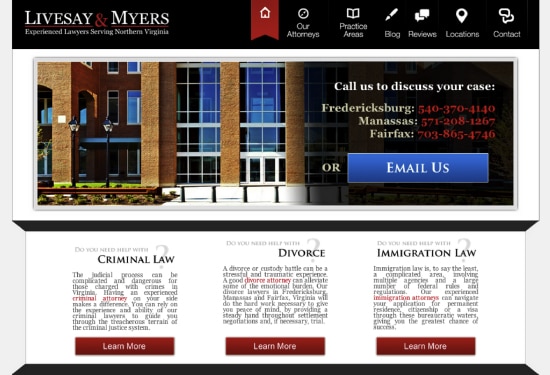 Desktop vs. Mobile Design
I've seen stats for many lawyer sites showing 20 to 35 percent mobile traffic. Yet many of these sites have flash animation and little to no mobile-user design. Not surprisingly, about 80 percent of the mobile visitors leave within seconds of loading the site.
If you are going to invest in a new site, I advise you go straight to responsive website design, which is based on building one design that responds to the width of whatever device a visitor is using — desktop, laptop, tablet, iPhone or Android.
If responsive design won't accomplish what you want, then go with m.mobile site design (example: m.arnoldtlkin.com), which has been the traditional option for websites. The idea here is that you redirect mobile devices away from the desktop version of a page to a new URL that's located on a subdomain of the site. That page is typically designed for one size of mobile device.
The advantage of responsive design is that, unlike m.mobile, your site never redirects. It simply responds to the device and keeps the same URL. Also, search engines prefer responsive design.
SEO and Local Search Must-Dos
Local listings, reviews and links will all help your site achieve better rankings and results in search engines, but optimizing your website itself is absolutely necessary if you want to rank at all. Onsite optimization points the ship in the right direction, while listings, reviews and links act as the fuel to continually move the ship forward.
Here are the basic areas of a website that need to be optimized. Whole books could be written about these subjects, but I will try to cut right to what you should do:
Title Tag. Your title tag is an HTML tag that determines what the search engines show for your page in their results. Simply put, it's the title of your web page. I recommend "Practice Name, location information and keyword." Keep it under 70 characters. Here's an example of Naqvi's title tag:
Navqi Injury Law: Law Vegas Personal Injury Attorneys
Description. Your description is your chance to explain your page in more depth than the Title tag, and to get someone to click on the site. While it might not help rankings, it definitely helps with the click-through rate. I recommend adding your phone number to your description, since it's clickable on some devices.

Header tags. You will usually have headlines for your content. Your main headline is your h1 tag (i.e., Head 1). You only use one h1 tag per page. Head 2, or h2, tags and beyond can be used multiple times.
Internal linking. The Internet is built by links — as in links to other websites, and even links within your site pointing to other pages. The rule of thumb is that if you mention something on your site like "car accidents" and you have a page about car accidents that could add value for the visitor, then link to it.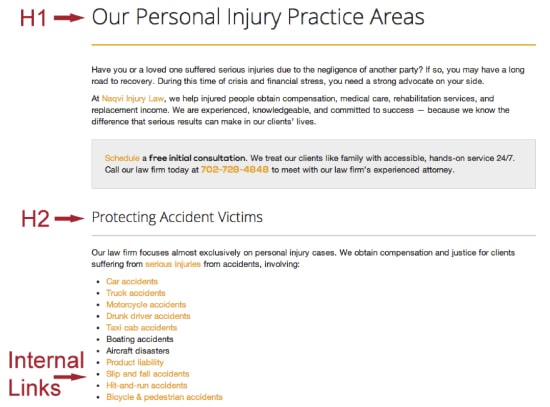 Content: Make It Awesome
For the best optimization, make sure your site's content is designed for users first. Think about how much information Amazon includes about each product it sells. For a law firm, lawyers are the product. Now, the question is: Do you give potential clients everything they might want to know about you to make an informed decision before picking up the phone?
Content really is king, and if you can make it awesome you will have a better chance at ranking over the long haul than anyone who takes shortcuts. Never copy content from other sites — even if you own them. Make it 100 percent unique on every page. Design it.
Here are some examples.
Accomplishments
It's easy to simply make a list of accomplishments over on a lawyer's bio page or on the firm's "About" page. In this example, NaqviLaw uses typography and places the logos in boxes, making the content more digestible and readable. The message above the boxes draws your attention in and your eye travels across the boxes.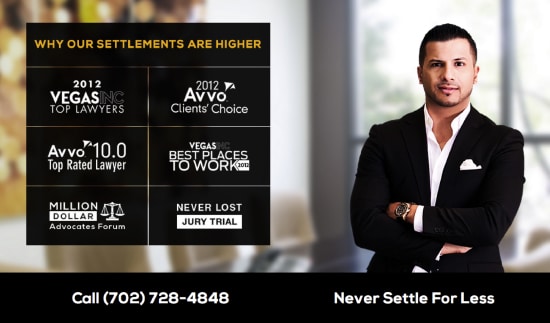 Testimonials
To make a bold statement about the benefits of hiring your law firm, try creating a page that backs up your mission or values with testimonials (complying with your state's ethics rules, of course). But beware of using so many testimonials that they won't be read. This example uses just two. If visitors want more, they can easily "read more."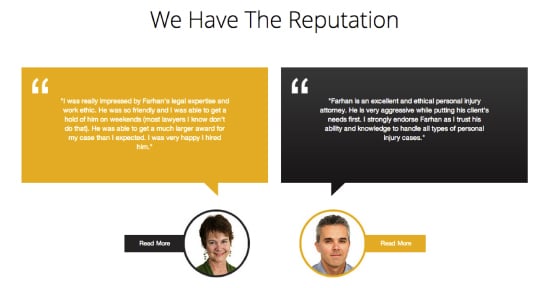 Lawyer bios
Attorney profile pages are usually some of the most visited pages on a practice's website — and they are often the most neglected. For NaqviLaw's "Our Team" page, they had a professional photographer take amazing individual shots of all the staff so visitors know exactly who they will be dealing with, and then went into detail about education, recognition and admissions.
Site navigation
Make sure your content is organized through your navigation in a way that makes sense. Here are the main navigation pages that you want to consider:
Home Page
Bios/About the Firm
Practice Areas
Locations
Contact Page
Testimonials/Results
Feedback Page
Blog
Each of these sections could have many subpages, but on their own easily allow a visitor to navigate the site and give search engines a guide on how to crawl and organize your content in their index.
Local information
One of the main reasons people look up your website is to get your address and phone number. Make that info readily available. If you are a single-location firm, you can list it on every page of the site — though definitely on your contact page.
Never Stop Improving
You should always be striving to make your content better. And since there aren't many other marketing or business development activities that give you the raw data a website can, making it better shouldn't require a lot of guesswork. Next time we'll dive into tracking and testing your site's performance so that you can understand its effectiveness, find areas for improvement, and even calculate ROI from the various places that bring traffic to your site.
If there's one secret to designing a great website, it's to "never be done." It's also the best advice I ever received: Never stop testing. Never be 100 percent satisfied. Never stop improving.
Now, back to the questions, I asked at the beginning of this post:
Are potential clients getting the information they need from your website?
Are potential clients impressed with how you present your practice online?
Are you satisfied with your site?
More Posts on Local Marketing for Lawyers
Illustration ©iStockPhoto.