Ignore online reviews and you leave the door open for naysayers to ruin your law firm's reputation. Tips for a proactive review strategy.
When I ask lawyers where most of their clients come from, the answers I hear range from fridge magnets to radio, but most law firms tell me their business comes from "word of mouth." That's not surprising. After all, other people recommending your services tends to be more believable than your own ad saying you're the greatest thing since the slinky.
And while it's great when friends talk to friends about your practice, you don't have any control over it. You can't dictate when it happens, and you need a lot of clients to get the word out to potential new ones. Overall, it simply doesn't scale fast enough to be the stand-alone marketing activity for a law firm.
How to Get Online Reviews: The New "Word of Mouth" Marketing
A June 2013 study by BrightLocal found that almost 80 percent of consumers trusted online reviews as much as personal recommendations. With those numbers trending up each year, and the understanding that Google alone could be 10 times the size of the entire yellow pages industry, it is clear that online reviews have become the new word-of-mouth marketing. It is more important than ever to have clients spreading good news about you on review sites. If they aren't, the haters will be.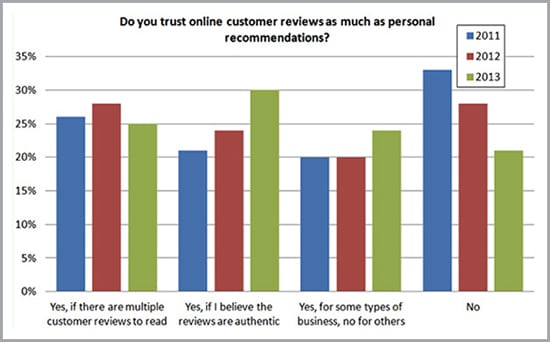 Strategy for Building Your Stock of Online Reviews
You can't stop people from saying things about your practice online, and if you ignore that feedback and the existence of review sites, you leave an open door for naysayers to destroy your reputation. It's true that people tend to only send feedback and write reviews after a negative experience. To counter this, you need a proactive strategy to make sure reviews of your practice are balanced across the web. Plus, a good stock of positive reviews makes it more likely that prospects will click to your site when your firm shows up in their search results.
The following steps for managing and controlling online reviews will work — if you follow the steps religiously. But keep in mind that a good review strategy is a marathon, not a sprint. Also, before diving in, be sure you understand your state bar's rules surrounding how a law practice may acquire or display reviews.
Step 1: Assess Which Reviews Matter Most to Your Firm
Naturally you want to know what reviews are out there, and which directories already include your firm. More important to your strategy, however, is pinpointing which directories are most influential in your geographic area and practice area. To find out, do this:
First, search for your practice (and personal) name on Google. Here's an example of Suhre & Associates. Most likely, you will see a list of sites like Google+ Local, Avvo, Yelp, YellowPages, Yahoo and even LinkedIn and Facebook. Make a list all the results that show up on page one that allow reviews to be posted.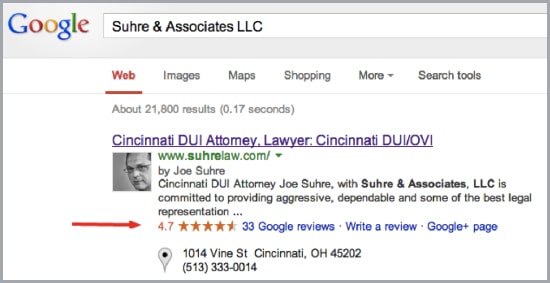 Second, search for your practice's keywords in Google. If you have an SEO strategy for your website or blog, or use Google AdWords, then you are familiar with your keywords — for example, "dui attorney coronado, ca." If not, start with your practice specialty and location. Look at the links that show up on page one of your search results, and make a list of the websites that allow reviews. These might be the same sites that showed up when you searched for your firm name, but you will begin to see which review sites are most important. For a Cincinnati DUI attorney, for example, the two most important review sites are Google+ Local and Avvo. It won't be the same in every market.
Step 2: Claim Those Directory Profiles
In "Take Control of Your Firm's Local Directory Strategy," I discussed the importance of claiming your profiles. It's especially important for online reviews, because once you claim all the profiles that allow for reviews and "own" them, some sites (like Google) will allow you to respond to positive and negative feedback.
Side note: I never recommend responding to a negative review the same day you read it. Take a couple of days and remember the following:
Express empathy. If you come out guns blazing, you will look like an idiot. My friend Matt McGee always says, "We don't live in a five-star world." That's true. I have a hard time trusting lots of five-star reviews with no ones, twos, threes or fours mixed in. If someone had a bad experience, try to look at it from their perspective.
Stick to the facts. Explain how your processes work and how you try to avoid issues without confrontations.
Make things right. People reading your response will be impressed if they see you trying hard to make things better. It creates confidence that if something goes wrong, you won't leave people high and dry.
Step 3: Monitor the Online Reviews
You can't improve something you aren't tracking. Here are sites that can help automate this process:
GetListed.org. GetListed doesn't send you email notifications, but it shows reviews across major sites. (Free.)
ReviewPush. ReviewPush is great for a multi-location practice. It sends email alerts and tracks trends. (Paid.)
GetFiveStars. This is a brand-new service that has major promise for law practices, especially those with multiple locations. It's designed to help you with the process of getting reviews and monitoring them. (Two-week free trial.)
Step 4: Make Reviews Part of Your Daily Routine and Client Process
It's always easier to achieve a goal if you incorporate small steps into your daily routine. But there's another reason why you shouldn't save your online review activities for one big push: It can set off alarm bells on the Internet. The major review sites all have some type of filtering process to guard against fake reviews or spam. For Google, it's getting a ton of reviews all at once, or reviews from the same IP address. There are also strict guidelines for soliciting and posting reviews. For example, offering any type of reward is against Google's policy, and even asking for a review is against Yelp's policy.
So, the answer is to make reviews a natural part of your process — in a way that doesn't involve solicitation with money or prizes. Here's how:
During your client intake process, have printed reviews on hand (or email them) so potential clients and referrers can read about your practice. Let them know that you ask for feedback from everyone so you can continuously improve your practice. This will get people in the right mindset.
Build a feedback page on your website that is not accessible through the site navigation — for example, www.yourlawsite.com/feedback—and send the link to every client as part of your end-of-engagement or matter-closing process. I recommend asking just a single question on the page. To show how this works, I built an example on NiftyLaw that asks, "How would you describe your experience with NiftyLaw?"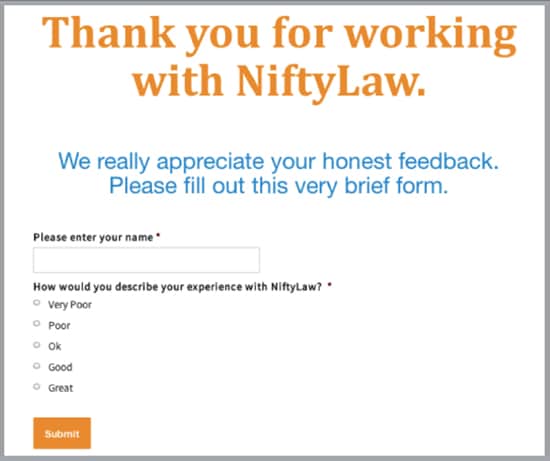 If clients choose anything between "Very Poor" to "Good," they are then taken to this page, asking for more specific feedback: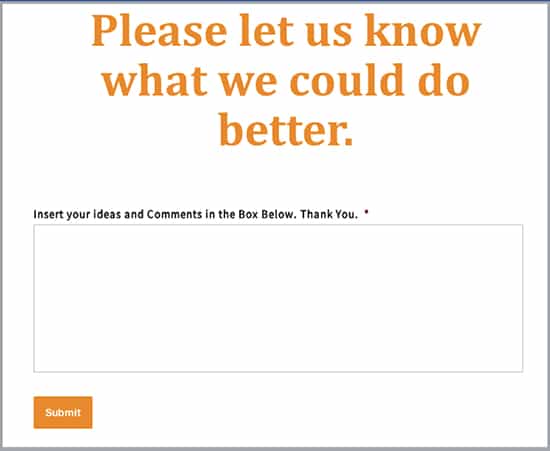 This provides a space for great feedback that you should be getting to make your business better anyway, and it keeps it offline so it's not visible to the world.
On the other hand, if someone chooses the "Great" option, you can send them to a page like the one below, which thanks them for their feedback, asks nicely for a review — and links them directly to the review sites.
(Remember to be careful with the wording of your requests and comply with both the review sites' guidelines and your state bar rules. Look at how we worded the link to Yelp, for example. We don't ask for a review, we simply invite them to look at our reviews, since asking for a review is against Yelp's rules.)
You can build lots of variations of this, of course. Maybe you want to send clients with Google emails to pages where they can only review on Google, or Yahoo emails to Yahoo Local. Or, you could list three to five review sites on a single page and let the cards fall where they may.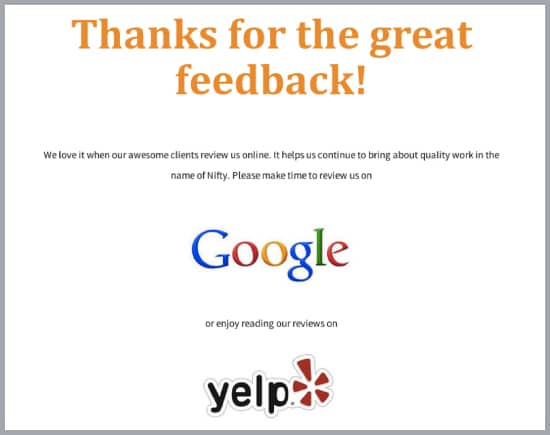 Step 5: Rinse and Repeat
If you get just one review per month on Google with this method, in five months you will have enough reviews for stars to show up next to your business listing — and those stars will help attract more clicks on your listing.
If you get more than 10 reviews, you will probably be in the top 5 percent of total reviews in your market. Remember, though, it's more about quality than quantity. And if you continue to get at least one review per month, then any bad reviews will work their way off the first page of your Google search results because of the constant flow.
This is a process to encourage reviews that will work for the long haul. It will take time, and it will take a change of process, but I can promise that it will create the "word of mouth" marketing that will help you get better rankings, get more clicks and, most importantly, bring in more clients.
Mike Ramsey is President of Nifty Marketing, a local search marketing company in Burley, Idaho. Mike is passionate about helping good people and good businesses grow, and recently launched NiftyLaw as a place to learn how to handle online marketing. He takes part in the local search ranking factors study and speaks on the GetListed.org Local University tour. Outside of search, Mike moonlights as the publisher of The Voice, a weekly newspaper in Southern Idaho. He has a wonderful wife, a rascal of a little boy and a beautiful new baby girl. You can follow him on Twitter @mikeramsey or +Mike Ramsey.
Illustration ©iStockPhoto.com.