Buying gifts for the analog-leaning attorney in your life might seem like an impossible task. In a digital-forward gadget universe, finding something cool that doesn't need batteries or a software update is kind of maddening. Get one of these gifts for your retro-tech friends and they'll say thanks for such a remarkably thoughtful present. Probably with a handwritten card in perfect cursive.
Best Pencil Sharpener in the World …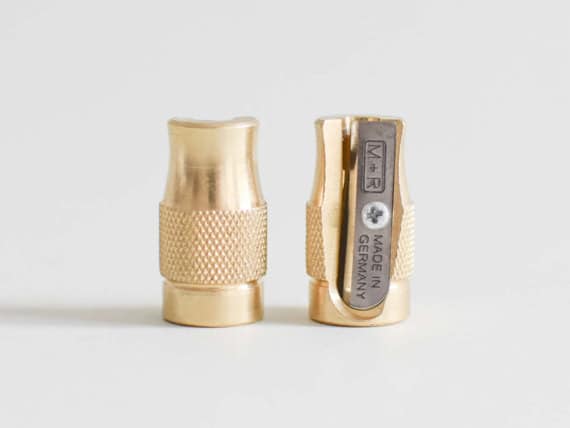 You don't normally think of a pencil sharpener as a luxury gift but I assure you, handing your favorite analog attorney a Mobius & Ruppert Pollux will make them cry. The Pollux is the best hand-held pencil sharpener in the world. Instead of a perfectly conical point, the Pollux shaves a slight curvature into the tip of your pencil so it's just barely concave. This gives a longer point so you can write more between sharpenings. Other sharpeners do the same thing but the 18.5-degree curve of the Pollux is unquestionably superior. Solid brass German craftsmanship. Heavy. Will survive a nuclear blast. Price: $35 on Amazon.
And the Best Pencil in the World
The Blackwing 602 is arguably the most famous pencil in pencildom. John Steinbeck burned through 60 a day. Chuck Jones drew Bugs Bunny with a 602. Quincy Jones composed with them. A vintage 602 can go for over $100 on eBay, but you can get one for less. Palamino Pencils resurrected the Blackwing with obsessive (and poetic) attention to detail in craftsmanship and lead composition. They are not cheap: A set of 12 runs around $28, but they are worth every penny and come in black, gray and pearly white. Go with the starter set, with metal caps and the patented Blackwing two-stage sharpener. Price: $27 on Blackwing, also on Amazon for slightly more.
The Perfect Notepad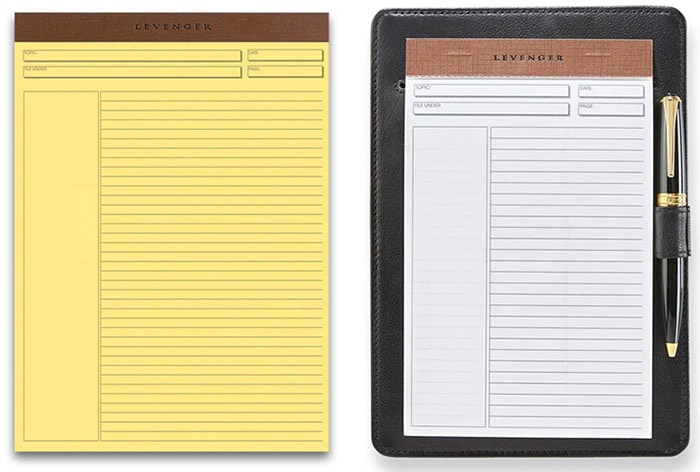 I searched a long time for the perfect legal pad and these brilliant yellow pads from Levenger are among the very best. Designed for busy, organized professionals who appreciate quality, they represent all the best design someone could find in a legal pad: perforated pages, quarter-inch ruled lines in gray so they're easy on the eyes, a stiff heavy back so they won't bend, and heavy acid-free paper that archives well. Each page's preprinted layout emulates the classic Cornell note-taking style, though it is missing the summary box. I've reviewed a number of notebooks and legal pads in this space, and they are almost all very good, but my everyday carry includes one of these in my briefcase and one on my desk because they are simply outstanding artifacts of useful design. Price: $36 for five. Level up: Add Levenger's leather freeleaf leather pad backer for $90.
A Fountain Pen is a Perfect Gift — for Any Budget
Fountain pens are kind of my jam, so, of course, I'm recommending one as an analog gift. A really good gift. It doesn't matter if you're getting one for your nephew who just got accepted into Princeton or your niece who made partner. A nice pen works. To the new collegiate, it implies a future of beautifully written words full of sincerity and promise. It is a token of maturity — you're not gonna doodle emojis with this instrument. To the new partner, it signifies a milestone. It is a badge of experience and an emblem of new status. It is the perfect attorney gift.
The following represents a selection of pens Analog Attorney has written about over the past few years, from affordable everyday options to holy cow.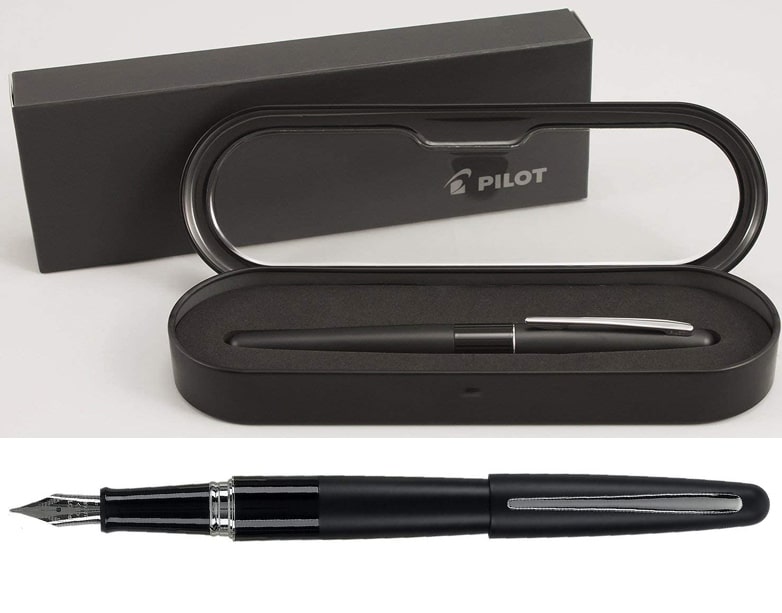 The Pilot Metropolitan
Japanese mega stationer Pilot introduced this workhorse pen in 2012. As much as I love expensive collectible fountain pens, I don't carry any of them around with me. I carry a Pilot. Fountain pens are touchy and for the newbie scribbler, poor pen usage can lead to stained fingers, stained pockets, and generally ink everywhere. Worse, if you buy a $300 fountain pen and lose it, you might start crying, which doesn't play well in a meeting. Lose a Pilot fountain and you'll be irritated but only out $20.
We've discussed Pilot's brilliant introductory pen in past posts. The Metropolitan is a perfect pen. Every aspect, from its balance to the nib to the very heft of this writing instrument is flawless. Pilot could easily ask for more than a Jackson for them, but somehow they keep this pen in the easily affordable range. Yet, because of its design and craftsmanship, it remains an elegant gift. The fountain pen newbie will be rendered speechless. Hopefully, they can scribble a shaky, emotional "thank you" on a piece of paper.
You can get one from the Goulet Pen store and support small businesses, or you can succumb to the borg and get one from Amazon. Price: $18 to $28, depending on finish.
Waterman Hemisphere Deluxe Fountain Pen
This beautiful pen is the next level for the enthusiast. It's a great gift for a new partner, or for that person in your circle who just accomplished something worthy. Where the Metropolitan is a stripped-down perfect representation of a fountain pen, the Waterman Hemisphere Deluxe exhibits sophistication. It comes in several finishes as shown above, including one trimmed in chrome and gold. No one needs this adornment. It doesn't affect the writing experience. But it definitely enhances the pointless luxury experience, which is what such a gift should do. Price: $80.
Pilot Vanishing Point With a Gold Nib
It's hard to describe the difference between a regular nib (usually stainless steel) and this pen's black-coated gold point. There's a lushness to the way it lays ink on the paper, to the way it presses into the surface, and its flex. The Vanishing Point's already a masterpiece of a fountain pen (my everyday carry for four years running), but the gold nib pops it up to a new level of fountain penmanship. Price: $168 upwards to $400, depending on finish.
The Lamy 2000 With a Gold Nib
Lamy's been manufacturing their German fountain pens since 1966 and they are perfect. German students receive a Lamy fountain pen in second grade and use it every day until they eventually get a license. A license. Lamy pens are iconic and the 2000 is their flagship instrument. It's been in continuous production for more than 50 years. It uses piston filling, has a fiberglass and brushed aluminum barrel, and a gold nib. It isn't the most expensive pen out there, but it is a legend. Price: $219 from Pen Chalet.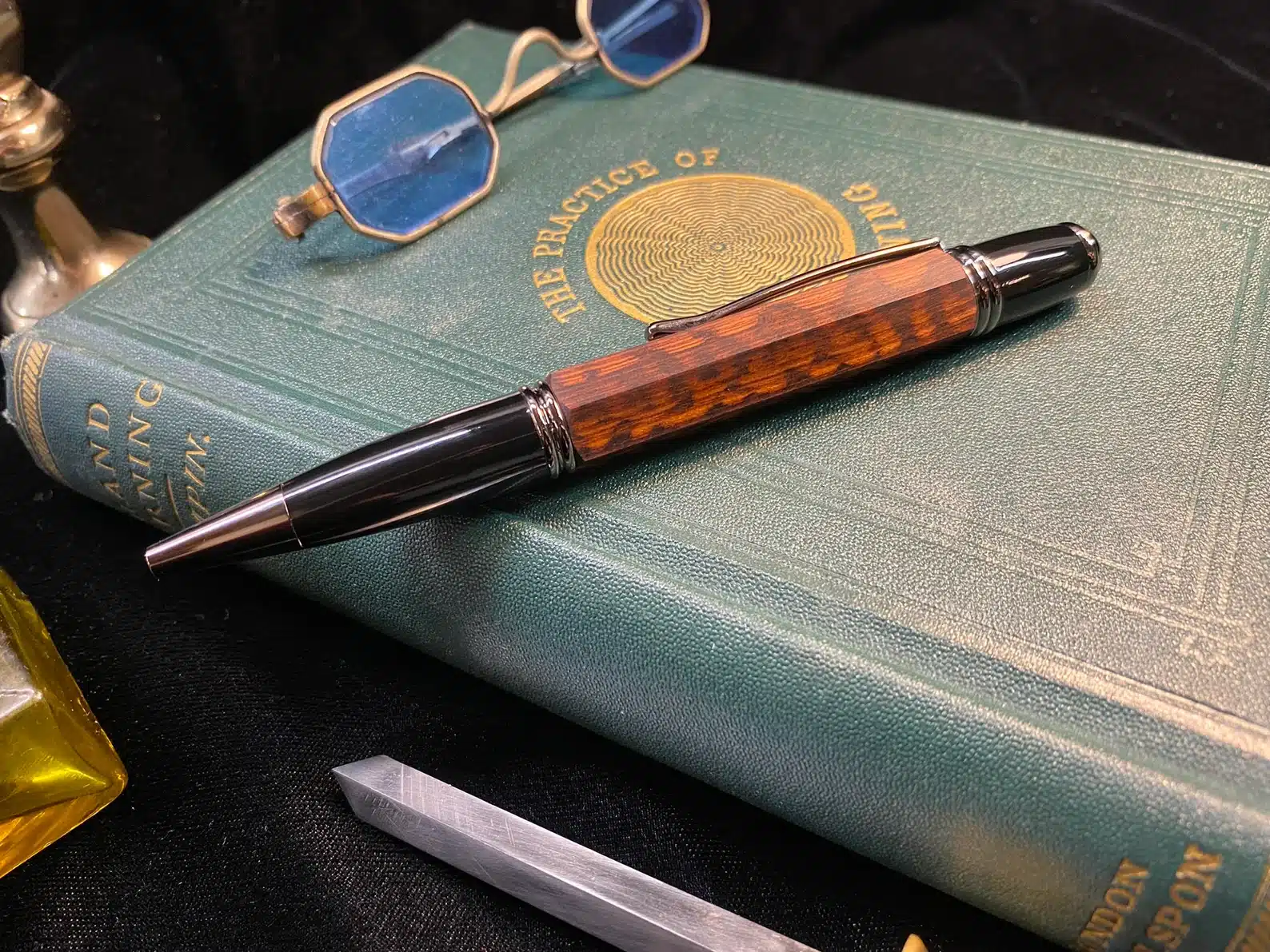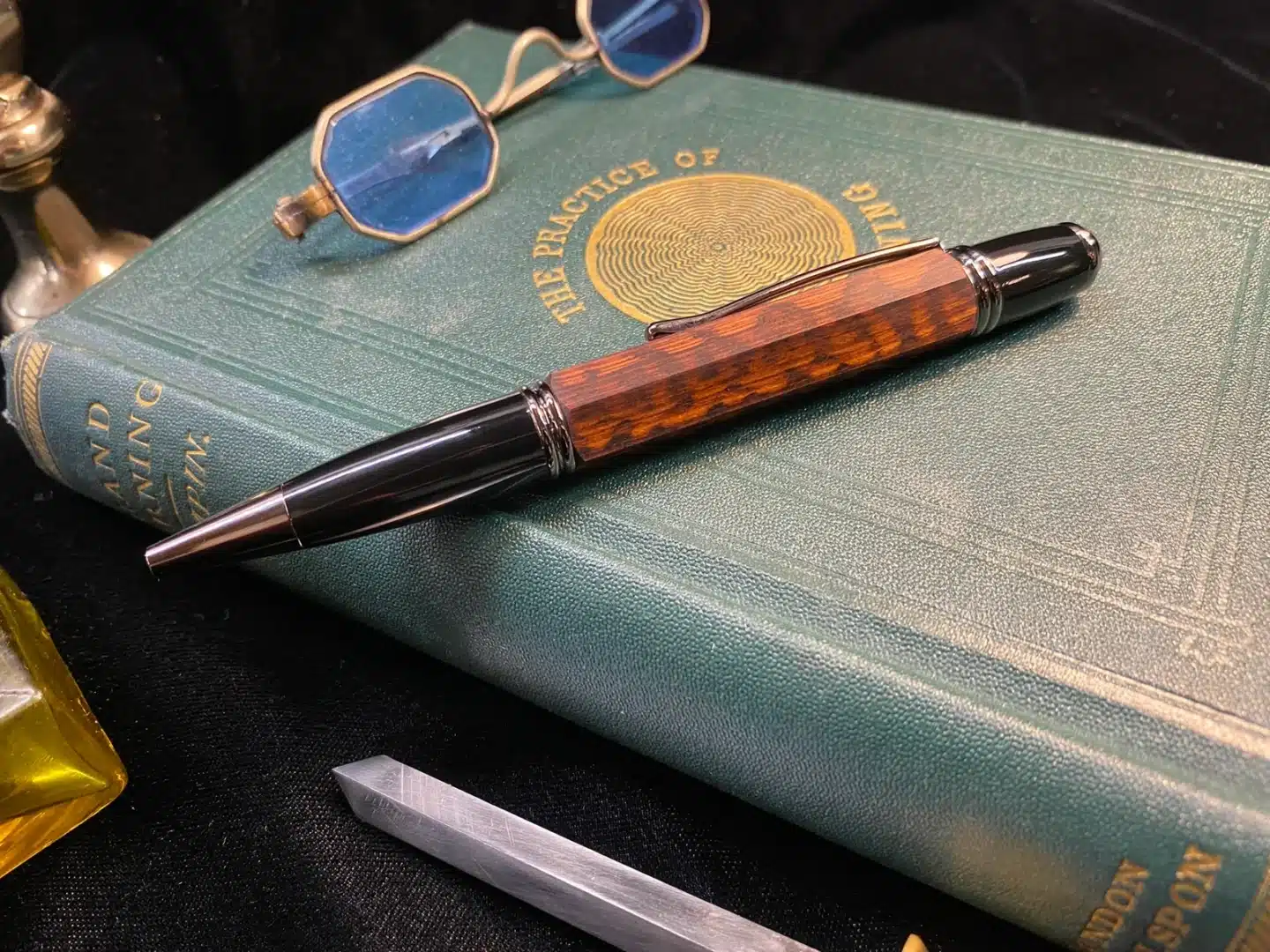 The Steam Writer
A luthier by trade, Spencer Hamann spends his days in his workshop creating timeless and bespoke masterpieces from exotic materials and restoring fine instruments and antique tools. He also makes really, really gorgeous pens. Full disclosure, I know Harmann in real life, and let me tell you, this man is obsessed with antique tools. I can tell you his pens were turned using a 1946 Logan machine lathe he bought from a retired airplane mechanic, and on his grandfather's Austrian Unimat lathe from the 1970s. His craftsmanship is the kind of old-world 'I've never even seen a cellphone' meticulous zen millimeter-by-millimeter work we all dream about in our handcrafted fountain pens.
Visconti Opera Master Polynesia ($973)
In the same way, the Vanishing Point takes the fountain pen enthusiast to the middle-ground of price points, the Visconti Opera Master series takes them to the first level of holy crap, seriously? price points. The Opera Masters are hand-milled in Florence by (I'm guessing here) time-traveling Italian craftsmen trained by Michelangelo. It's hand polished inside and out, has a double reservoir system, a hook safe lock, a white gold nib and … just look at it. It looks like the ocean in Seychelles. As a proud owner of a luxury Visconti, I can tell you the writing experience is as deeply gratifying as the design. These are world-class pens — collectibles — and will knock a pen freak to their knees in gratitude. Price: $995 at the Fountain Pen Hospital.
Sailor Kirikane Fountain Pen
Now we're talking corporate gifts for name partners, and Sailor's Kirikane fills that slot perfectly. It's more than a pen; it is a literal work of art. Kirikane is a technique developed for decorating Buddhist statues and artifacts. Each pen is handcrafted by Kasen Otsuka, a venerated Japanese Kirikane artist. No two are the same, and each one embodies this centuries-old art form in a gift that cannot be duplicated. Such a gift speaks to remarkable skill and craftsmanship but, above all, to a status in one's profession that is unimpeachable. Giving a Sailor Kirikame recognizes a partner's immeasurable value in the firm and the profession. Price: $2,200 at Goulet Pens.
Bonus "We Won the Lottery" Peggy Guggenheim Fountain Pen
I just want to point out, right here at the top, that when you buy a Mont Blanc Peggy Guggenheim Pen, shipping is complimentary. So, savings. This pen is designed with art deco elements drawn from the collection at the famous Guggenheim Museum of Modern Art in Venice, Italy. It has a strong Art Deco symmetry in the straight barrel and the decoration. The cap ring is decorated with lions emblematic of Guggenheim's estate, and if you look closely at the nib, it has paw prints reminiscent of those from Guggenheim's 14 Lhasa Apsos, to which she was devoted.
The pattern on the barrel is rendered in a rare transitional metal, Ruthenium. The metal elements and the nib are all rose gold. The familiar Mont Blanc emblem on the cap is made from white marble. This pen is deeply luxurious, rare, and way over the top. Price: $10,300.
The Ideal Desk Pad and Sticky Notes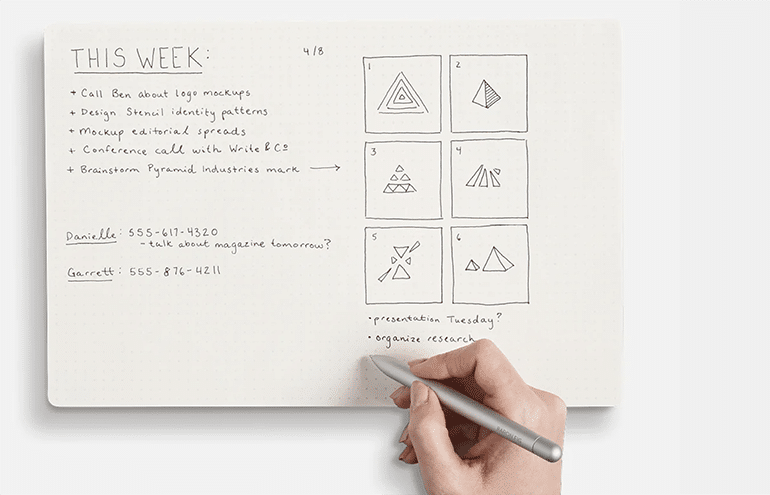 In the daily life of scribbling analogs, jotting is serious business. A notebook is vital on the go, but at your desk, its efficacy is eclipsed by a blotter pad. Think of it as an open-faced notebook. Where the notepad has two, maybe three steps to recording a thought, the desk pad has zilch. It's already there, already open, waiting for you to scrawl "Anne needs the dep!" or "Court at 3?" But the great, wide classic calendar blotter is overkill — and no fun. A better bet is Baron Fig's Mastermind, a truly utile pad with a dot grid matrix and archival-quality paper. For the obsessive sticky-noter and blotter jottist, there is no better gift. Unless you pair the Mastermind with some serious sticky notes.
Price: $16 for the standard size (12″x8″), $8 for the mini (6″x8″).
Sticky notes are a thing. You use them. Your entire office uses them. Future archeologists will use them to label the boxes and boxes of Post-it notes they will unearth when they discover our ancient office supply stores. But the arduous effort of writing on them, the strain of being legible, oh, the horror of writing your ninth draft of "PLEASE DON'T LEAVE USED YOGURT CUPS IN THE MICROWAVE (STEVE)." Well, not anymore. With the Cubinote, you can print perfectly crafted custom sticky notes from your desk or your phone. And just look at it!
Price: $150 for the printer, and $11 for the paper.
Michael Hyatt's Full Focus Planner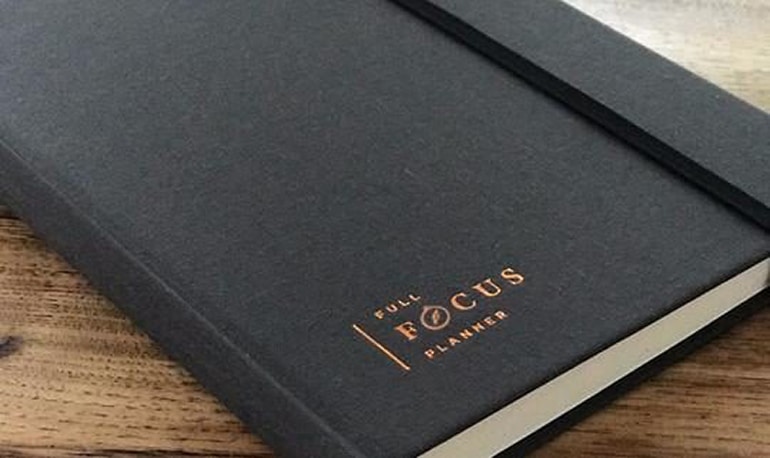 Balancing your job and your life can seem like a distant fantasy for many attorneys. Maybe most attorneys. Your job requires laserlike focus sustained for days, sometimes weeks, as you grind through a case. Finding time to do all those things you want to do and see those people who live in your house who look vaguely like you in miniature (who are they?) is tough. Finding time to sleep is nearly impossible. Unless you draw a line in the Berber and tell your work, you shall not pass! Carving out personal time is the only way you'll ever have any. Using Michael Hyatt's Full Focus Planner makes that a lot easier. It is a comprehensive, science-based, experience-based tool for busy professionals to give their life order and balance. I used one for much of this year and was most impressed by the importance this planner places on sleep.
Price: $125 for the Classic (annual subscription). Budget alternative: Leuchtturm 1917 Daily Planner for 2020, $19.95. Check Attorney at Work's "Ultimate Gift Guide for Lawyers" for more journal options.

Spencer Handwriting Workbook
Sure, it takes longer to write "Get me those briefs now or I will kill you" on a sticky note than it does to type them into your computer — but there is value in that time. Writing in cursive engages more of your executive mind than typing. You can't write without looking at the words you're laying down, and you have to make a lot of microdecisions as you go about shape and clarity and word choice. Beautiful penmanship is merely icing on the cake of writing by hand: Practicing and mastering this skill not only rewards you with a gorgeous script, the actual practice — which you can perform in these incredible Spencerian Method Handwriting Manuals — delivers the same reward as meditation.
Book Darts: The Most Analog Gift Ever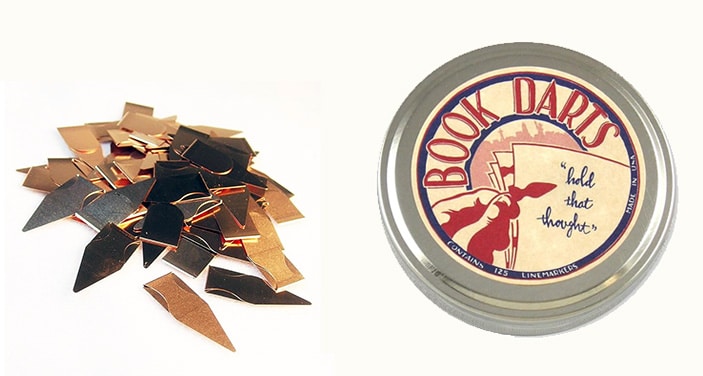 Some analog tools send me over the brink of nerdsmanship and into the abyss of pure analog joy. Book darts are at least three of them. I first learned about book darts when I was but a boy, reading high-falutin' literature and taking notes. Someone gave me a little round tin of paper-thin brass clips to mark my pages and I've had a tin of them in my briefcase ever since. Some of my books have so many book darts they weigh 3 pounds. If you're new to the club, book darts are small brass clips that slide onto a page, providing the merest sliver of a metallic marker on the edge of a book so you can find that awesome passage that really knocked you out. And you don't have to use them for books. Pull them a little bit out from the page of a brief so they act as classy signature markers. Price: $15.95 for a tin of 100 from Book Darts. 
James Bond's Umbrella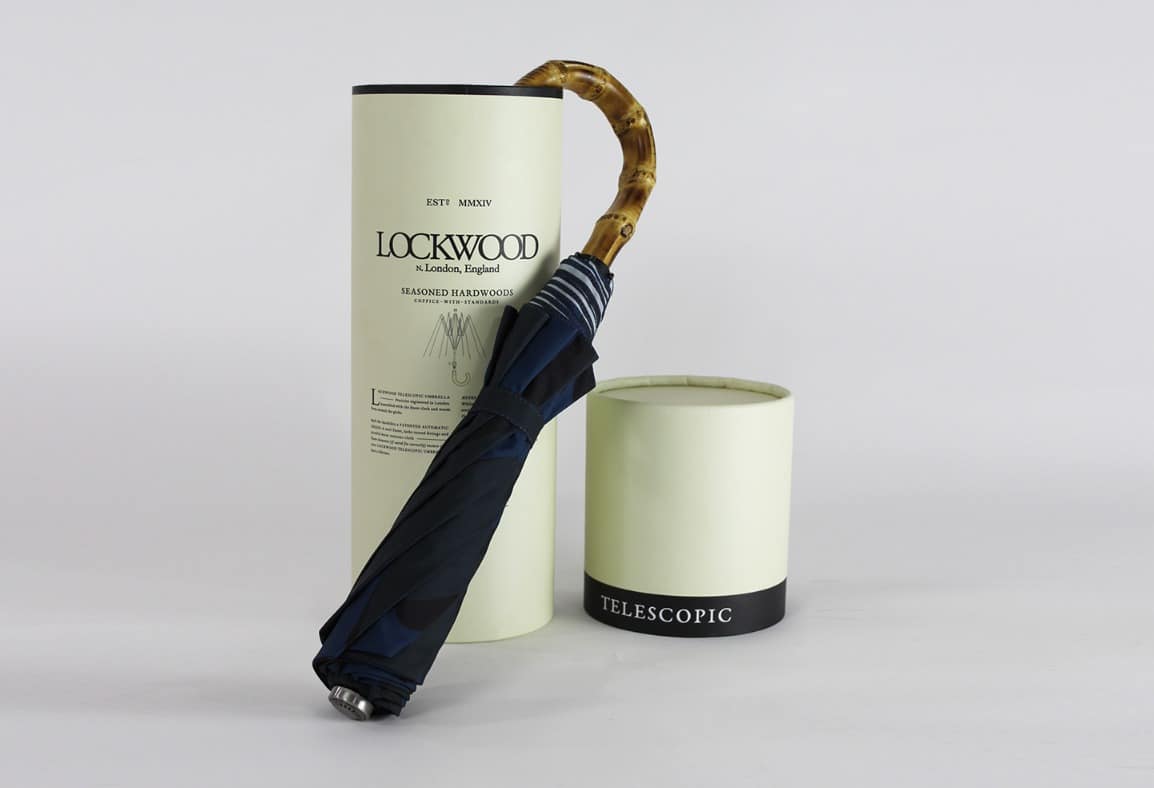 Lockwood Umbrellas is one of those old-school startups that saw an iconic necessity and resurrected it as if they'd gone back in time. These are incredibly well-made and handcrafted according to centuries-old techniques used by master umbrellas makers. They're brilliantly useful and have awesome names, like the Whangee Telescopic umbrella. (So much fun to say in a British accent that my wife is about an inch away from stabbing me in the spleen. With a Whangee Telescopic umbrella.) Even though the company just launched in 2014, the quality and craftsmanship of Lockwoods have made them an international staple for people who fetishize bowler hats and sartorial spies. They are the Rolls-Royce of rain protection. But the best thing about the Lockwood Umbrella experience, in my humble opinion? It is their website, which emphasizes their dignity and bespoke snootiness by using words such as manufactory and a page asking you to sign up to their newsletter that sports a blurry black-and-white picture of this guy, who is ardently well-dressed and just ferociously, magnificently, London-Bridgedly bored. But he has an umbrella. He's got that umbrella. Price: $165 from Uncrate. (Unless the Lockwood Whangee is back in stock.)
At last, a Book: The Obstacle Is the Way
I am a fan of Stoicism. I practice it daily to the chagrin of my neighbors, who are constantly asking why I'm in the yard wearing a toga. It's a useful daily philosophy easily nutshelled by Ryan Holiday's bestselling title, "The Obstacle Is the Way," and an emerging trendy mindset, which is funny since it's more than 2,000 years old. Marcus Aurelius, Zeno of Citium, Seneca and Epictetus were Stoics, as are Bill Clinton, Anna Kendricks and T-Pain. The philosophy seems ready-made for busy professionals who are highly competitive, the kind of people who meet their challenges teeth first. I'm not one of those people. I'm a wishy and rather washy book nerd and the only thing I meet teeth first is a sandwich. Yet I find enormous comfort and strength in Stoicism. It manages to keep me grounded and as humble as I'll ever be. Stoicism has taught me to treat adversities as fortunate lessons.
Price: Between $12 and $15 (used) at Alibris or about $18 new on Amazon.
Attorney at Work's Analog gift guide is updated annually.
More Gift Guidance from Attorney at Work
You'll find gift ideas for analog attorneys in our hand-picked ultimate gift guide for lawyers, and gifts for the new law school graduate in this guide, both updated annually. Check the Attorney at Work bookstore as well for updated ideas, including a wearables section.
Note: The author has not received compensation for these recommendations. In some instances, when you use a retail link to purchase something, we may earn a small affiliate commission. 
Illustration ©iStockPhoto.com