Those of us who love language and value the ability to be well-spoken have every reason to feel, like, depressed. I fear we have lost the battle with mass culture regarding articulate speech. Witness the ubiquity (a wonderful word that feels good to enunciate precisely) of filler words and noises such as "um," "y'know" and especially the infectious "like."
It's not just kids, teens and young adults who pepper their palaver with these annoying and unnecessary sounds. A recent New York Times article interviewed an executive of a Silicon Valley start-up that has created a new social networking app. Keep in mind, this quote is from the CEO of the company, speaking of his young customers' preferences:
"We talked to them and they'd be like, 'Why am I not getting notified when people vote on my stuff?'" Mr. Jones said. "And we'd be like, 'Well, we wouldn't want to do that 'cause we might send you, like, 50 notifications that you got 50 of your friends to vote on your card.' They're like, 'But that's what I want.'"
Let me, like, explain the problem …
If you're developing an app for teens, perhaps you need to think and talk like a teenager to truly understand your customer base. Perhaps this CEO was simply imitating the speech patterns of his customers and wouldn't normally talk that way. Regardless of that rationalization, if you are a young lawyer, working to transition from the casual conversational style of college and law school, speaking to the much more polished and precise professional communication at a law firm, "like" doesn't cut it.
Partners don't want to hear it.
Increasingly we are being asked to coach junior associates at law firms on their interpersonal speaking skills. A surprising number of smart young lawyers remain trapped in this annoying accent of adolescence. The unconscious habits of daily speech are so deeply engrained, that many of them can't even, like, hear the problem.
Surely the legal profession, and those of us who teach communication skills to lawyers, must be the last bastion against this mass culture assault on being well-spoken. Even a CEO who sprinkles four "likes" into three sentences would not want to be represented by a lawyer who stands before a judge and says, "May it, like, please the court." Even a CEO who talks like a teenager doesn't want to hear her lawyer say, "Let me, like, explain the problem."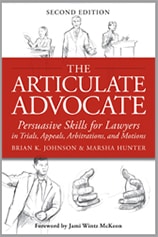 I wouldn't hire a lawyer who talked that way. Would you?
Brian K. Johnson is co-author of the brand-new second edition of "The Articulate Advocate," available today (March 1, 2016). Johnson is a courtroom communication consultant who teaches persuasion to trial lawyers and public speaking to transactional attorneys. His clients include the National Advocacy Center of the U.S. Department of Justice and the National Institute for Trial Advocacy. He tweets @bjohnsonmhunter.
Illustration ©iStockPhoto.com